RIVER RUNNING THROUGH THE GRAND CANYON
Part 1: Introduction
Running the Colorado River through the Grand Canyon provides the excitement of roaring rapids and the tranquility of gliding in silent passages. It rates as one of the world's greatest adventures! A journey through the Canyon by river, with some side hikes, might be the single best way to see and appreciate the grandeur and beauty here. Many beautifully sculptured side canyons, some with lush vegetation, can be easily reached only from the river. Just being at the bottom of the Canyon is a delight, whether riding atop the waves, strolling past convoluted walls of an unnamed side canyon, or enjoying life at camp.
Although explorers of the 19th century feared this section of the river, rendering it in dark and gloomy drawings, boating the Canyon has become a safe and enjoyable experience. It opens up some of the most grand and remote corners of the Canyon. River parties make frequent stops to explore the twisting side canyons, old mining camps, and Indian ruins along the way. Within the Grand Canyon, the Colorado River flows 277 miles, drops 2,200 feet, and thunders through 70 major rapids.
A river trip through the Grand Canyon requires a large commitment in time, whitewater experience, equipment, expense, and permit procedures. About one-third of river runners do it themselves with a noncommercial river trip permit from the park. The easier option, taken by most people, simply involves setting aside the time for the trip and paying a river company to handle the many details.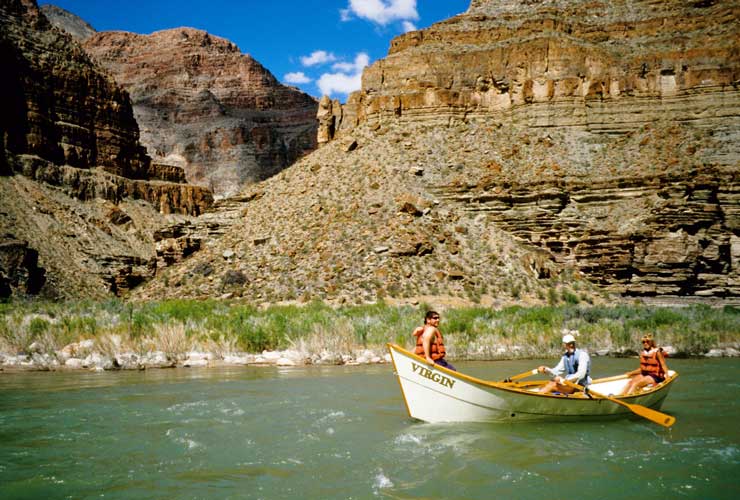 Mark, Eric (at the oars), and Sherry enjoying a ride in the dory Virgin near Whitmore Wash.

This 19-day trip in April from Lees Ferry to Lake Mead allowed plenty of time to explore, including two layover days for hiking.
YOUR OPTIONS
Boats
Both oar-powered and motorized craft run the river. Motor-powered rafts can zip through the entire Canyon in six days, or zoom from Lees Ferry to Phantom Ranch in two days. The oar- or paddle-boat trips take half again as much time but provide a quiet and more natural experience. On these smaller boats, passengers have the advantage of being able to talk easily with the crew and one another. Whether in a little or a big rig, you can be assured that the crew will work hard to provide a safe and enjoyable trip.
All but two of the tour companies use rafts of various sizes; the exceptions are Grand Canyon Dories and Grand Canyon Expeditions, which employ sturdy, hard-shelled boats with upturned ends. The dories ride high in the water as they dance through the waves. They're small, 16-18 feet long, with one person at the oars and just four passengers. Only the most skilled boaters can handle a dory because, unlike rafts, they can't bounce off rocks without damage.
Small rafts typically measure 18 feet and carry four or five passengers plus one crew member to do the rowing. Some companies provide a paddle boat option—not a Mississippi-type paddle wheeler, but a small raft in which everyone has a paddle! The guide sits at the stern to steer and give instructions, but it's up to the passengers to succeed in running each rapid or not.
The motorized rigs can be 30 feet long or more and have pontoon outriggers for extra stability. A small outboard motor near the stern provides steering and speed. Some people dislike the use of motors in a wilderness, but these boats do allow more people to run the Colorado than would be possible if everyone went in nonmotorized rigs.
Routes
Most tours put in at Lees Ferry, just upstream from the park, and end downstream at Diamond Creek or Pearce (also spelled Pierce) Ferry on Lake Mead. You can travel only half the distance by combining river travel with a hike between Phantom Ranch (at the bottom) and the rim. The lower section of river can be left or joined via a helicopter ride to Hualapai Indian land near Whitmore Wash. If you'd like just a taste of river-running, try a one-day smooth-water trip from Glen Canyon Dam to Lees Ferry, just above Grand Canyon National Park, with Wilderness River Adventures, based in Page. Or you can visit the lowermost part of the Grand Canyon and a few rapids with Hualapai River Runners, based in Peach Springs.
A typical commercial oar trip can be done in 12-16 days from Lees Ferry to Diamond Creek, covering 226 miles. The upper half takes five or six days from Lees Ferry to Phantom Ranch, 87.5 miles; the lower half needs eight or nine days from Phantom Ranch to Diamond Creek, 138.5 miles. Continuing to Pearce Ferry on Lake Mead adds just a day or two. Equivalent motorized trips typically run eight days from Lees Ferry to Diamond Creek or Pearce Ferry with three or four days from Lees Ferry to Phantom Ranch and five days from Phantom Ranch to Diamond Creek or Pearce Ferry.
Whitmore Wash, at Mile 187 below Lava Falls, is another place to end a trip or to begin a two- or three-day run in the lowermost Grand Canyon. Although there's a trail from the North Rim here, river parties use helicopters between the river (on Hualapai Indian land) and the Bar 10 guest ranch, where small planes shuttle people to Las Vegas or other destinations.
Other combinations are available too. Extra days may be added to some trips for hiking or layovers, especially early or late in the season. Expect to pay $250 or more per day; discounts may be available for groups, children under 14, early booking, and off-season journeys.
If you've children in tow, check for minimum age requirements; sometimes these are left up to the passenger, at other times operators require minimum ages of anywhere between 8 and 16 years. Trips usually include land transportation; most depart from Flagstaff, Page, St. George, or Las Vegas. Meals, camping gear, and waterproof bags are usually included in the price. Experienced kayakers can tag along with many tours, paying a lower rate.
Seasons
The river-running season normally lasts from April to October, with only nonmotorized craft departing mid-September to mid-December. When you choose to go makes a big difference in the river experience. Most people go during summer because that's when they take their vacation. The Canyon gets very hot then, but a little splash of river water will always be cooling. Hiking at this time is limited to shady side canyons with water. Spring—April to early June—has many advantages. The redbud trees and many plants bloom in beautiful colors, hiking weather will be near perfect, days get long, trips often have a couple of extra days for long hikes or layovers, and it's much easier to get a reservation for a trip. The downside will be the possibility of cold weather, even sleet, which the author woke up to on one April morning in the upper Canyon! Some boaters think that early June offers the best weather for a boat trip, though hiking can get hot then. Autumn brings shorter days, along with cooler temperatures. The Canyon quietens after mid-Sept. when all the motorized rigs have left the river. Heavy-duty rain gear with sweaters underneath can keep spring and autumn boaters warm during cool spells.
A campfire gives off welcome warmth on this April evening; the fire pan ensures a clean beach after we leave.
Rafting the Lower Grand Canyon
This last section, beginning at Diamond Creek, offers beautiful Canyon scenery and some rapids. You can get on a trip here much more easily than in the upper Canyon, either with Hualapai River Runners or on your own. The park's River Trips Office gives free permits for up to two private parties (16 people maximum in each) per day. River runners will need to pay for a Hualapai permit to use the Diamond Creek Road access or to hike or camp on the south shore. The lower canyon bakes in summer, so spring, autumn, or even winter offer better weather for exploring side canyons.
Boating into the Lower Grand Canyon from Lake Mead
Boats—but not personal watercraft—may go up as far as Separation Canyon (Mile 240 on the river) from Lake Mead National Recreation Area without a permit. You can even canoe or kayak in this section of the Grand Canyon by arranging a powerboat to carry the boats from Lake Mead to Separation Canyon. Primitive camping is allowed on the park's (north) shore in this section, though high lake levels can flood all the spots. Check with the River Trips Office to see if you need a permit for shore camping. To camp inland, you'll need a backcountry permit. The Hualapai require a permit to hike or camp on their lands—the south shore.
Canoeing the Lower Grand Canyon
Canoes in the Grand Canyon? Yes indeed, in the last 40 miles within the park. A powerboat is needed to carry the canoes from Lake Mead to Separation Canyon (Mile 240 on the river). Most of the southern shore on this trip belongs to the Hualapai Indians; obtain tribal permits if you plan to camp or hike on their land.

PRIVATE RIVER TRIPS
Step One is to read Grand Canyon National Park's regulations and procedures! Obtain them from the River Trips Office (Box 129, Grand Canyon, AZ 86023, 928/638-7884 or 800/959-9164, www.nps.gov/grca). The best time to reach someone in person is 8 a.m.–noon on weekdays. Step Two—getting the permit—will be the hard part. The River Permits Office has worked out a system for applications that's as fair as possible to everyone.

RIVER COMPANIES
The following companies offer a wide variety of trips through the Canyon, ranging from one-day introductions to adventurous 21-day expeditions. For the latest list, ask at the visitor center or contact the River Trips Office (Box 129, Grand Canyon, AZ 86023, 928/638-7884 or 800/959-9164, www.nps.gov/grca). The Internet works best because you get not only a list, but also links to the companies, which have colorful and informative sites. Try to make reservations six months to a year in advance. It's possible to get on a trip with short notice, especially if there are just a few in your group and you're going early or late in the season. Rivers and Oceans (12620 N. Copeland Lane, Flagstaff, AZ 86004, 928/526-4575 or 800/473-4576, www.rivers-oceans.com) specializes in river trips and will supply information about companies, make reservations, and let you know about last-minute openings.
All of the companies put in at Lees Ferry except for Wilderness River Adventure's day trips, which start from Glen Canyon Dam, and Hualapai River Runners trips, which begin at Diamond Creek in the lower Grand Canyon. Many of the other companies offer partial trips whereby you can start or leave from Phantom Ranch or Whitmore Wash.
Arizona Raft Adventures (4050 E. Huntington Dr., Flagstaff, AZ 86004, 928/526-8200 or 800/786-7238, www.azraft.com) goes to Diamond Creek on 12- to 15-day oar ($2,700–3,000) and eight- or 10-day motorized trips ($1,950–2,300), most with the option of ending or starting at Phantom Ranch. Paddle raft trips go too, either in combination with oar-powered rafts or all by themselves.
Arizona River Runners (Box 47788, Phoenix, AZ 85068-7788, 602/867-4866 or 800/477-7238, www.raftarizona.com) offers a 13-day oar trip to Diamond Creek ($2,685) with an option to end or start at Phantom Ranch and an eight-day motorized run to Lake Mead ($1,910) with the option to leave or join at Whitmore Wash.
Canyoneers (Box 2997, Flagstaff, AZ 86003, 928/526-0924 or 800/525-0924, www.canyoneers.com) rows 12-day oar trips ($2,700) and runs seven-day motorized trips ($1,770–1,800) to Lake Mead; both provide the option of ending or starting at Phantom Ranch.
Canyon Explorations/Expeditions (Box 310, Flagstaff, AZ 86002, 928/774-4559 or 800/654-0723, www.canyonexplorations.com) uses oar boats on runs to Diamond Creek of 13–16 days ($2,725–3,350). Paddleboats always come along too, and some trips are all paddle rafts. Inflatable kayaks accompany the oar boats as well. Some departures have a Phantom Ranch exit/entry option.
Colorado River & Trail Expeditions (Box 57575, Salt Lake City, UT 84157-0575, 801/261-1789 or 800/253-7328, www.crateinc.com) goes by oar-powered raft ($3,500) to Diamond Creek in 11 days and by motorized rafts ($2,740) to Lake Mead in eight or nine days; a paddle raft goes along with the oar trips. You can leave or join at Phantom Ranch on the 9- and 11-day trips.
Diamond River Adventures (Box 1316, Page, AZ 86040, 928/645-8866 or 800/343-3121, www.diamondriver.com) offers 12-day oar trips ($2,480) and eight-day motorized trips ($1,580) to Diamond Creek with options of leaving or joining at Phantom Ranch or Whitmore Wash.
Grand Canyon Dories (Box 216, Altaville, CA 95221, 209/736-0811 or 800/877-3679, www.grandcanyondories.com) features dories on 16-day trips ($4,234–4,314) to Diamond Creek; 19- and 21-day dory trips ($4,314–4,934) run in spring and autumn to Lake Mead. You can join or leave the trips at Phantom Ranch or Whitmore Wash.
Grand Canyon Expeditions (Box O, Kanab, UT 84741, 435/644-2691 or 800/544-2691, www.gcex.com) runs dories on 14-day trips to Lake Mead ($2,995); motorized rafts do this run in eight days ($2,095). All trips go straight through without any passenger exchanges.
Hatch River Expeditions (Box 1200, Vernal, UT 84078, 435/789-3813 or 800/433-8966, www.hatchriverexpeditions.com) runs motorized rafts to Whitmore Wash in six and a half days ($1,850) with the option to leave or join at Phantom Ranch.
Holiday Expeditions (544 East 3900 South, Salt Lake City, Utah 84107, 801/266-2087 or 800/624-6323, www.bikeraft.com) offers oar raft trips on the upper 5/6 days ($1,610/$1,915) and lower 8/9 days (2,330/$2,710) sections. You can also join rafting journeys in Utah, Colorado, and Idaho.
Hualapai River Runners (P.O. Box 246, Peach Springs, AZ 86434, 888/868-9378, http://www.grandcanyonwest.com/white-water-rafting.html) will take you on a one-day motorized-raft trip down the lower Grand Canyon from Diamond Creek, lift you out by helicopter to the rim at Grand Canyon West, then return you by road to Peach Springs for $423. Two-day paddle rafting excursions run on weekends and must be booked at least one week in advance, $740. This is the only company to offer a day trip within the Grand Canyon. Rates during the March–Oct. season cover food, waterproof bag for personal gear, and transportation from Peach Springs.
Moki Mac River Expeditions (Box 71242, Salt Lake City, UT 84171, 801/268-6667 or 800/284-7280, www.mokimac.com) heads down to Lake Mead on 14-day oar trips ($3,130), with an option to end or begin from Phantom Ranch, and eight-day motorized rafts ($2,083) without a passenger exchange.
O.A.R.S. (Box 67, Angels Camp, CA 95222, 209/736-4677 or 800/346-6277, www.oars.com) offers oar rafts to Diamond Creek in 13 or 14 days ($3,607–3,827) and 15- and 17-day runs all the way to Lake Mead ($4,013–4,238) with options to leave or join at Phantom Ranch (and Whitmore Wash, for the Lake Mead trips).
Outdoors Unlimited (6900 Townsend Winona Rd., Flagstaff, AZ 86004, 928/526-4511 or 800/637-7238, www.outdoorsunlimited.com) goes to Lake Mead on oar rafts in 13 days ($2,793) and 15 days (spring and autumn only, $3,129) with an option to leave or join at Phantom Ranch; a paddle raft comes along too, and some trips are all paddle rafts.
Tour West (Box 333, Orem, UT 84059, 801/225-0755 or 800/453-9107, www.twriver.com) runs oar rafts to Whitmore Wash in 12 days ($2,655) without any passenger exchanges; paddle rafts can be added on request. Motorized rafts go to Lake Mead ($2,100) with the option to join or leave at Whitmore Wash).
Western River Expeditions (7258 Racquet Club Dr., Salt Lake City, UT 84121, 801/942-6669 or 800/453-7450, www.westernriver.com) has motorized rafts going to Lake Mead in eight days ($3,000) with a passenger exchange at Whitmore Wash.
Wilderness River Adventures (Box 717, Page, AZ 86040, 928/645-3296 or 800/992-8022, www.riveradventures.com) heads for Whitmore Wash on 12-day oar trips ($2,980) with the option to end or start at Phantom Ranch. Motorized trips take 6–8 days to Whitmore Wash ($1,815–2,370) and can be joined or left at Phantom Ranch. The company also offers a half-day trip from Glen Canyon Dam to Lees Ferry on smooth water.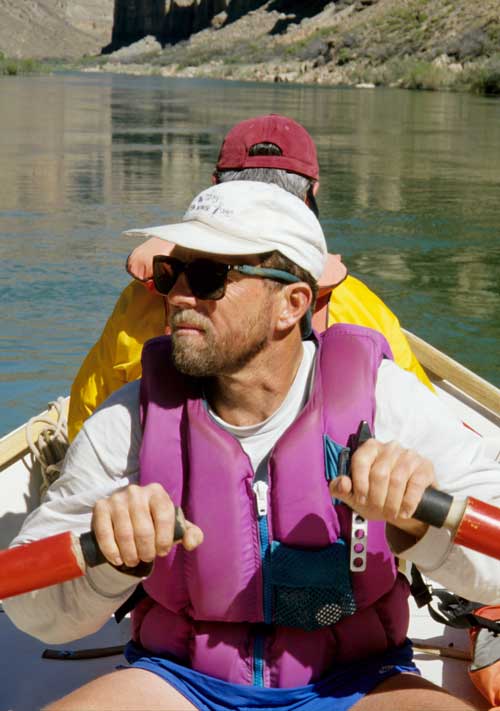 Bronco, of Grand Canyon Dories,
lived up to his name—giving us some
great rides through the rapids.
On to Part 2