Part Four: Cycling in Central India—
Madhya Pradesh, Maharastra, Mumbai, and Goa
Subject: City of Joy and other wonders
Date: Mon, 31 Dec 2001 07:17:31
Aurangabad, India
I have left the desert and camels far behind as I've bounced onto the Deccan Plateau of central India. I'm in the large city named after the last great Moghul leader, Aurangzeb, who built an imitation Taj Mahal here for his wife along with other monuments; the great man himself is buried in a very simple tomb outside of town. For visitors, the big area attractions are the Buddhist caves of Ajanta with wonderful paintings and sculpture 60 miles north, and the Buddhist, Hindu, and Jain cave temples 20 miles to the west. I visited them on my first cycle tour of India in 1984 and 'am enjoying them again now.
Bicycle tourists are rare in the vast land of India, but I did meet three pairs in the Udaipur area. One British couple had toured extensively in Pakistan, but like me were blocked by the Chinese from crossing the border; they went trekking to the Everest area of Nepal, then were cycling across part of Rajasthan. A pair of Holland ladies had quit their jobs for a year or so of cycling in Asia—they started in Lhasa with an organized group ride to Katmandu, then had been winding their way on their own across India. A British couple living in Oman were taking a three-week holiday in Rajasthan, but faced tough choices about where to go in such a short period.
One of the pleasures of India for men is a visit to a barber shop. On my last visit to a barber shop I could have just gotten a haircut, but the friendly barber gave me "the works". Besides cutting hair, he gave multiple head massages along with a facial treatment using a strong camphor soap, plus an arm and shoulder massage. All this ran the bill up quite a bit, to a grand total of about 95 cents! (Women can get fixed up too, in beauty parlors, where staff can also decorate the hands and feet with henna painting.) A dollar is still a lot of money for people of India. One dollar can buy a tasty dinner for two at a basic cafe (forget about table cloths or a clean floor, though), a couple taxi rides (in a three-wheeler taxi), a long bus ride (they all seem long, though), an hour or more on the Internet, more milk tea than you'd want to drink, or even a hotel room (but more likely just a dorm bed).
Heavy traffic plagued the ride south of Udaipur, so I was glad to pull off and see the Jain temple at Rishabdev. It wasn't as large as Ranakpur, but here I could make a night visit, when the main image of a Jain saint was "clothed" in a golden breastplate covered with diamonds.
Dungarpur, the next town, barely makes it into the guidebooks, yet has two old castles. One is now a plush hotel. The other, older and no longer inhabited, rises seven stories above a courtyard. Inside, many of the old rooms have colorful paintings—large and small—of religious themes and the life of the royals. My guide opened a secret door, behind which was concealed a graphic series of Kama Sutra poses, but I had run out of film by that time!
Then into the central India state of Madhya Pradesh, which loosely mistranslated means "land of bumpy roads," it seems. I climbed up the hills to Mandu, known previously as Shadiabad or City of Joy. An Afghan governor started construction in the early 1400s, and the fortified city became filled with huge palaces, elaborate domed mosques, and countless mausoleums. One ruler, Bahadur, built a beautiful pavilion overlooking the plains for his love—Rupmati—whom he later married. But during an invasion Bahadur fled, leaving his unfortunate queen to commit suicide rather than be defiled by the conquerors. India is full of such ancient and abandoned cities.
Next I wound down to the sacred Narmada River, which drains west into the Arabian Sea. About 250 years ago, a benevolent queen had built a bathing area/temple/palace complex at Maheshwar on the north shore, which has beautiful stone carvings of gods and floral designs, especially in the golden light of sunset. A day's ride farther up the Narmada took me to Omkareshwar, a particularly sacred spot. An island in the river has a remarkable resemblance to the symbol for Om, the primeval sound. A morning walk on Christmas Day around the island led past bazaars, countless shrines to the Hindu gods, an old fort wall, gateways, ancient temples, and quite a few easy going langur monkeys. In the afternoon I took a boat tour around, not an easy task for the under powered boat as the assistant boatman had to get out to pull the boat up the shallow rapids. In the evening I visited the main temple and its Shiva lingam, which is one of 12 jyotilinga in India that emits its own power, rather than getting power through ceremonial offerings. I made my offerings anyway—water and colored powders over the lingam—and a priest made prayers. That was Christmas 2001.
Bumping my way south I finally entered Maharashtra state with its smoooth roads, and spent an afternoon at Ajanta, a series of 28 cave monasteries and halls in a bend of a river, sponsored by Buddhist patrons beginning in the fifth century. At the time, Ajanta lay near a major trade route between the sea and interior cities. The finely detailed paintings theoretically portray religious stories of the Buddha and his past lives, but actually show lots of everyday life of 1400 years ago. The community lasted for a couple centuries, then faded away. British hunters discovered the caves, nearly concealed by jungle, in the early 19th century, and now they are one of India's greatest attractions.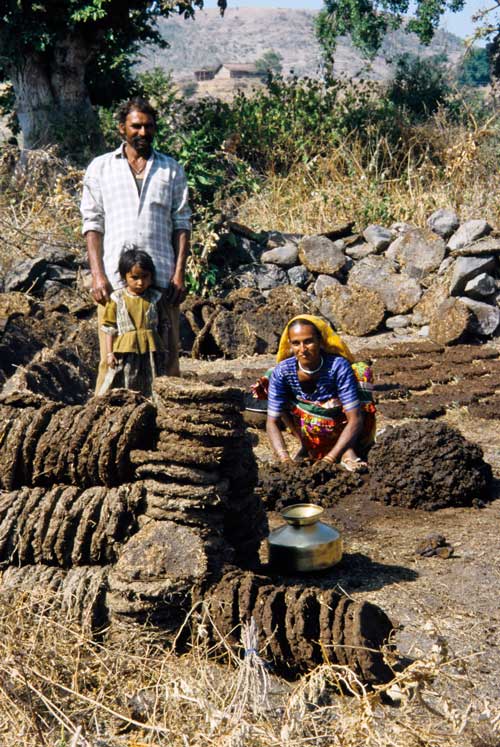 Yes, the woman is making cow pies. They're not fragrant, but they save having to cut down trees for firewood.
We're in Madhya Pradesh state now, on the way to the fortress of Mandu.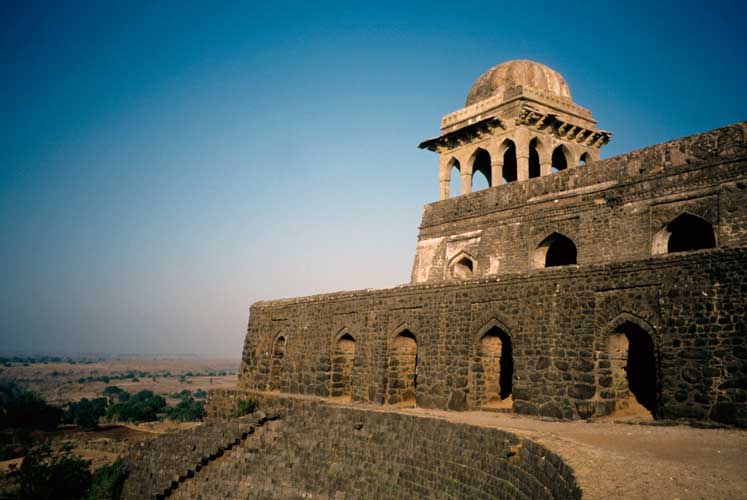 Rupmati Pavilion from the clifftop, Mandu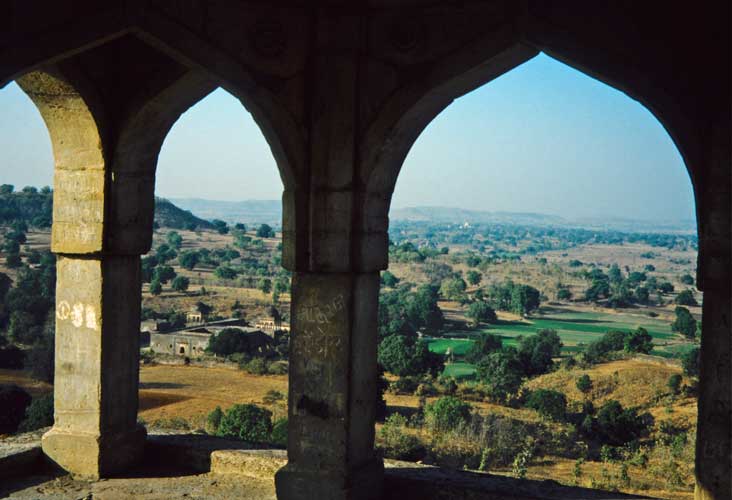 The view from Rupmati Pavilion in Mandu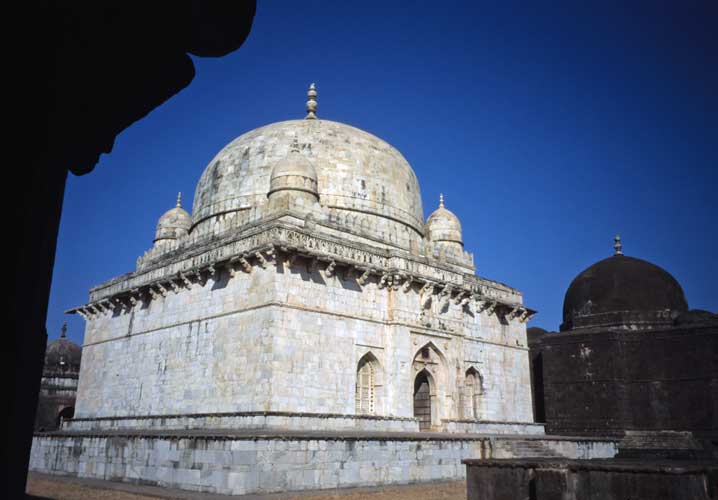 Before building the Taj Mahal, its architects came to Mandu to study this white marble tomb of Hoshang Shah.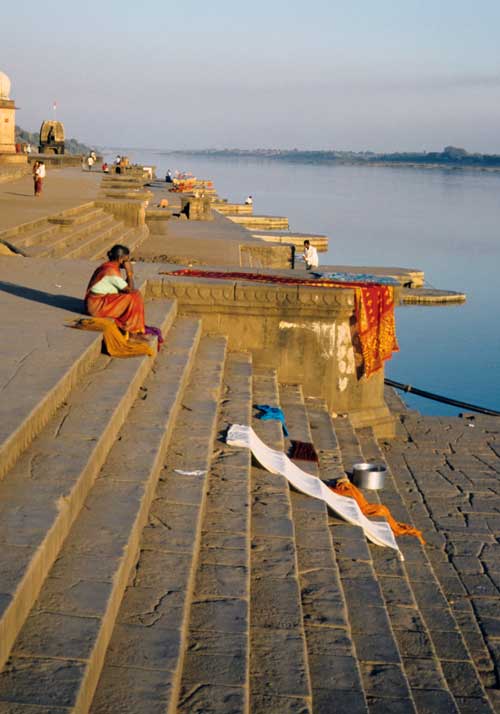 bathing ghats on the sacred Narmada River at Maheshwar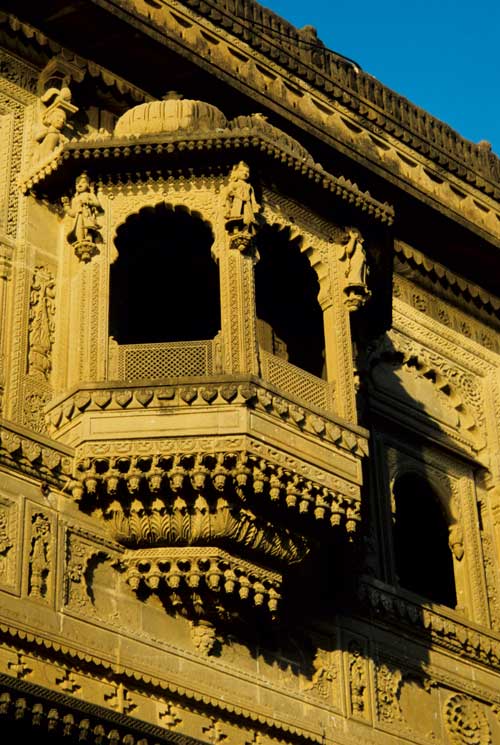 facade of temple enclosure that overlooks the Narmada River in Maheshwar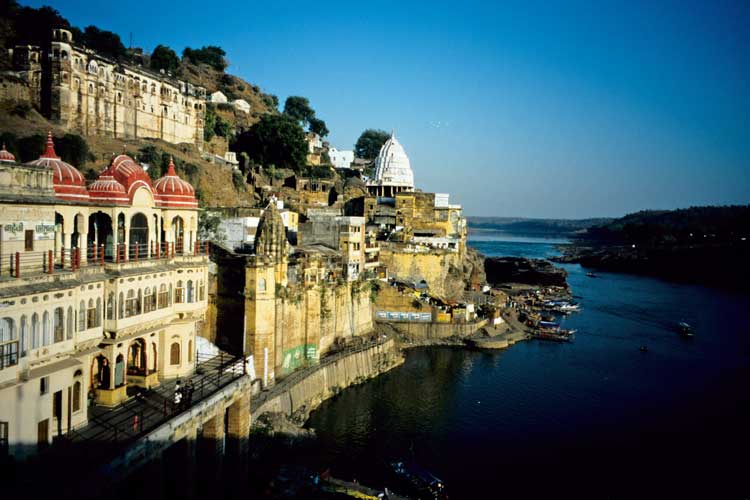 Omkareshwar, an island in the Narmada River, is full of pilgrims, sages, temples, shrines, monkeys, and atmosphere.
It's a great place to visit.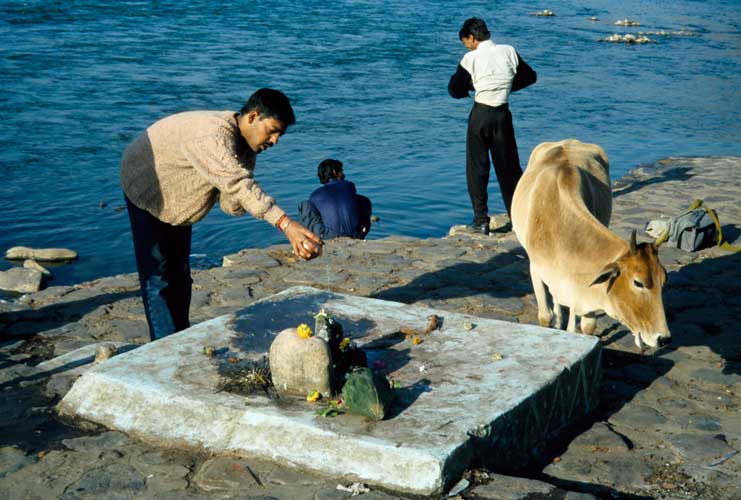 a shrine at the west tip of Omkareshwar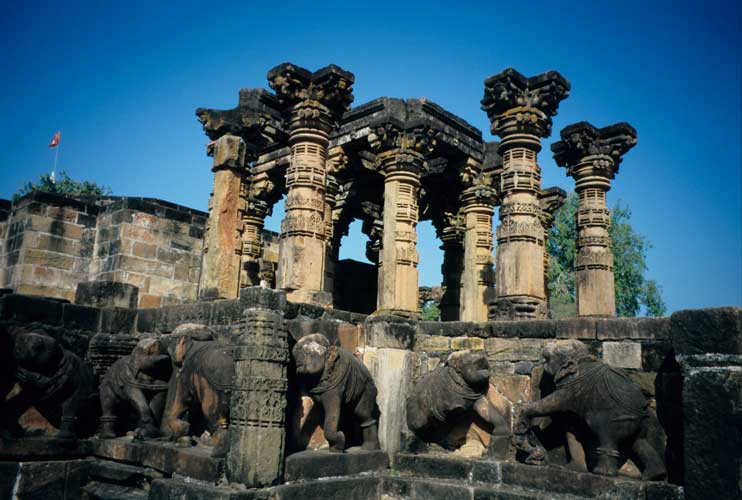 Carved elephants march around the base of this ruined, but still in use, temple atop Omkareshwar Island.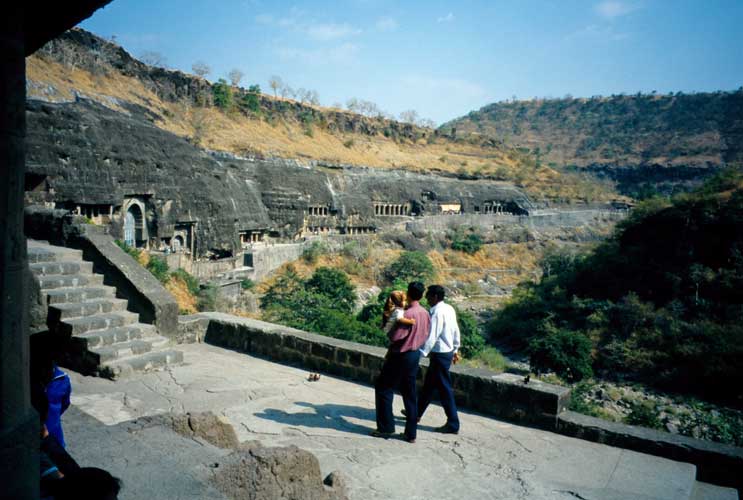 The famous Ajanta cave temples are cut into cliffs of volcanic stone along the Waghore River.
The 29 caves are Buddhist; the oldest ones tend to be near the middle.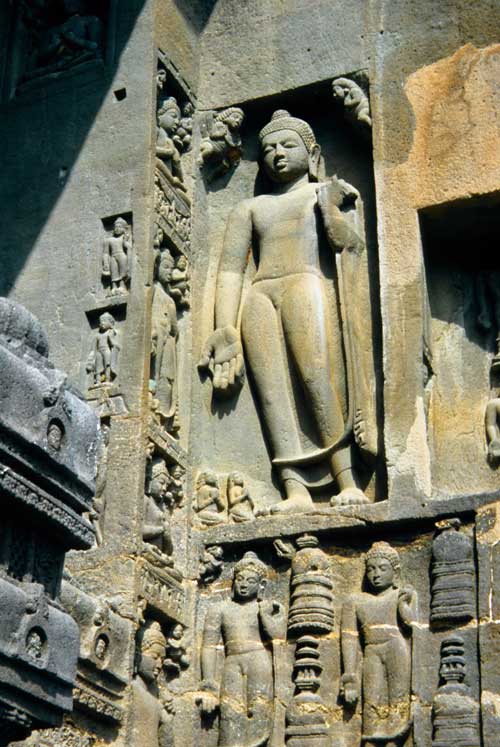 Ajanta's Cave 2 entrance (above) and interior (below)
This is a late Mahayana vihara (worship hall).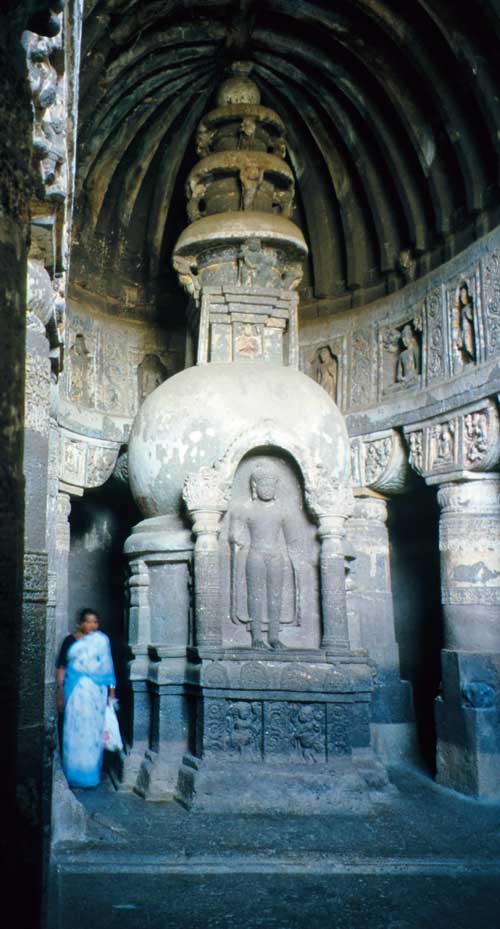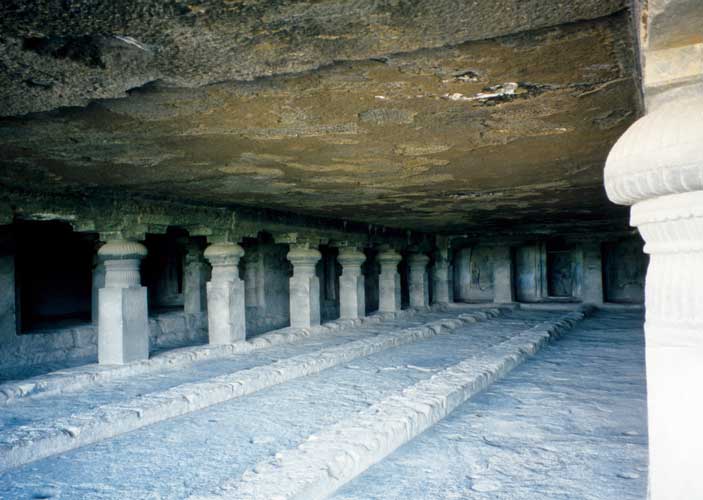 The plain interior of Ajanta's Cave 19 served as a hall where monks could gather for chanting, instruction by their teachers, and meals.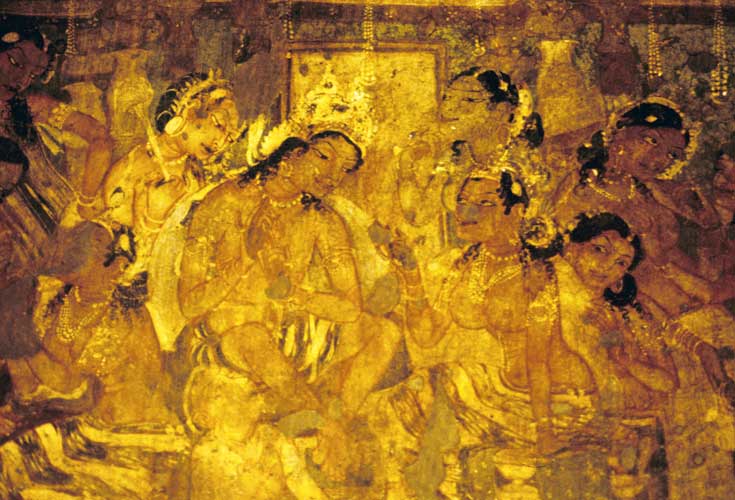 Ajanta's sensuous cave paintings depict stories about the Buddha. Born a prince in the plains of northern India/southern Nepal, he decided to renounce his life of pleasure (above) and ride forth from his palace on his white horse (below).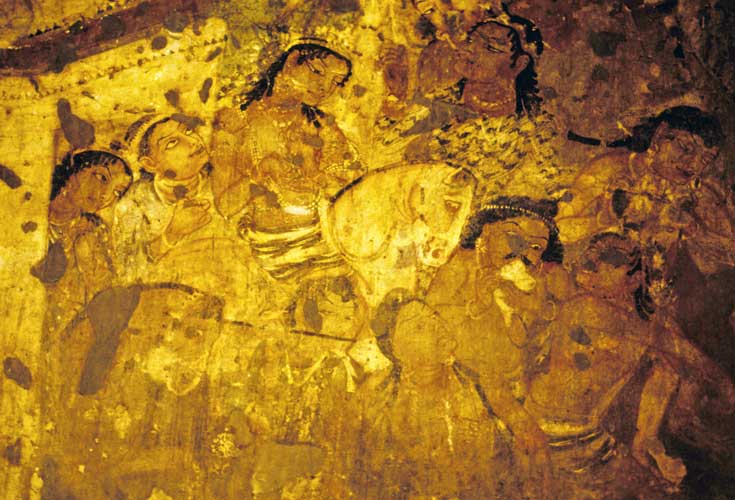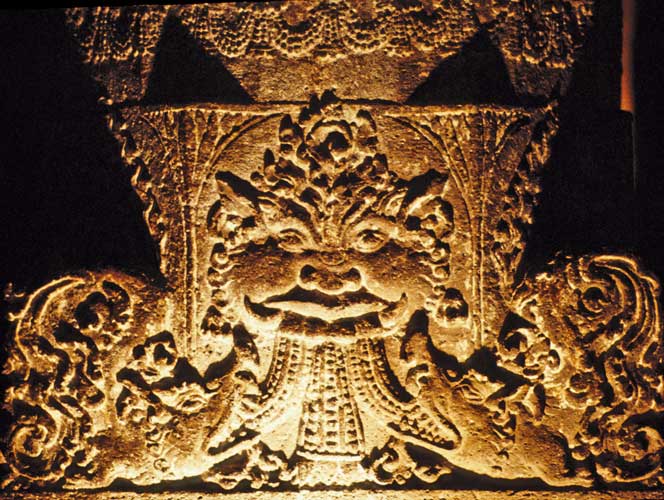 stone carving at Ajanta
---
Subject: Bill and Bessie Too In the big city
Date: Tue, 15 Jan 2002 15:50:04
Bombay (Mumbai), India
I crested the pass where the Deccan Plateau drops steeply to the coastal plain, then flew down broad switchbacks of the new highway while spinning top gear. The air temperature warmed substantially as I spun toward the coconut trees and Arabian Sea. Turning off the main highway, I stopped for the night near Pen, then the next day wound through villages with their tropical gardens to the tiny port of Mandwa. Here I hopped in a little passenger ferry for the one-hour cruise across the bay to the Gateway of India and Bombay. I've never approached a city so pleasantly. In olden days most travelers arrived by ship, and here I did too.
After climbing up the steps from the boat to the Gateway of India, a massive stone triumphal arch commemorating the first visit of a British monarch to India in 1911, I rolled a few blocks along the shore and easily found a hotel room. Bessie Too got parked in the room while I roamed the city seeing the sights. There's a group of neat interactive computer exhibits on Benares at the National Gallery of Modern Art, and across the street is the Prince of Wales Museum full of ancient statutes, miniature paintings, and other treasures of India and beyond. It was also fun wandering through some of the market areas, so jammed with goods and people that merchants used porters (carrying piles of stuff on their heads) or handcarts to move cargo. For greenery and views, I strolled in the hilltop Nehru and Hanging Garden parks. A little to the north it's said, were hidden the Towers of Silence where the Parsis laid out their dead for vultures to eat. The idea being not to contaminate fire (by cremation), water (by burial at sea), or earth (by burial).
The British, as if they never planned to leave, left a great many fine stone buildings behind in Bombay. One of the best is a train station, the 1887 Victoria Terminus, which looks like a cathedral, complete with spires, gargoyles, and statues. Over the last several years, the current political party in office has been busy changing nearly all of the old British names to Indian ones—often with a mouthful of syllables. So now Bombay is Mumbai, the Victoria Terminus is Chhatrapati Shivaji Terminus, and the Victoria Gardens has become Veermata Jijabai Bhonsle Udyan. Ouch! Needless to say, even many locals prefer the old names.
Bombay is also a great place to stock up on exotic items, such as sunscreen, and to get my latest batch of 16 rolls of slides processed. I've been in town five days, but tomorrow I'll get back on the ferry to Mandwa and continue south along the coastal plains until the road runs out at Kanyakumari. I'll be seeing more of Maharastra state, then Goa, Kerala, and a bit of Tamil Nadu states.
Maharashtra state is famous for its thousands of cave temples, and I've been doing a lot of "spelunking" in some of them. All were carved out of basalt by hard-working stone masons. Ajanta Caves, north of Aurangabad, are Buddhist and famous for colorful paintings in some of them. Ellora Caves, northwest of Aurangabad, have the crowning glory of carved temples—Kailasa Temple, an elaborate structure carved out of rock from the top down. It's the largest stone monolith in the world and took some 100 years; stone carvers had no room for error and had to carefully plan what was to go where as they "released" the temple from the rock. It's a Hindu temple dedicated to Shiva with his mount, the bull Nandi in a first chamber, a large columned hall in the next part, then the sanctum with a large lingam. The multistory temple was covered with carvings on the towering exterior. Ellora also has many cave temples divided into Buddhist, Hindu, and Jain sections. For awhile around the 8th century A.D. all three groups apparently were in friendly competition building and worshipping contemporaneously.
More Buddhist caves were just outside Aurangabad, and there was even a Hindu cave temple in urban Pune. Nearing the edge of the Deccan Plateau I visited three more groups of early Buddhist cave temples. They were simple affairs—either groups of monks' cells or a chaitya hall with columns around the U-shaped hall and a stupa at the focus. And Bombay's top sight is a huge Hindu cave temple, Elephanta, on an island to the northeast. Large relief panels illustrate stories about Shiva and other gods.
You can always tell that you're in a touristy area if there are piles of toilet paper displayed in shops. That was the case in the tree-shaded northeast part of Pune where I stayed a week ago, not far from the ashram of Bhagwan Rajneesh (www.osho.com). You probably remember reading about his controversial Rajneeshpuram settlement in Oregon back in the 1980s. He returned to Pune and his ashram still attracts hundreds of foreigners and Indians, even though he died in 1990. The meditation program there is designed for people with modern, active lifestyles. There are several stages of vigorous movement and breathing, before doing quiet sitting meditation. I took a brief tour at the ashram. The program looked interesting, but I didn't stay. Pune has a fine pair of tribal and folk museums, but the city wasn't comfortable for me. A big problem with the Europeans is that so many smoke like chimneys and couldn't care less about the health of others. I had to keep dodging clouds of smoke in the restaurants and cafes!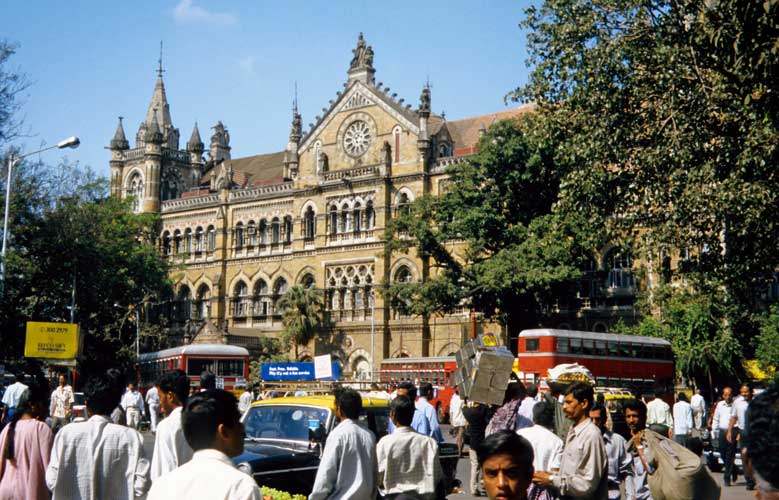 Victoria Terminus—Yes, this is the local railway station for downtown Bombay!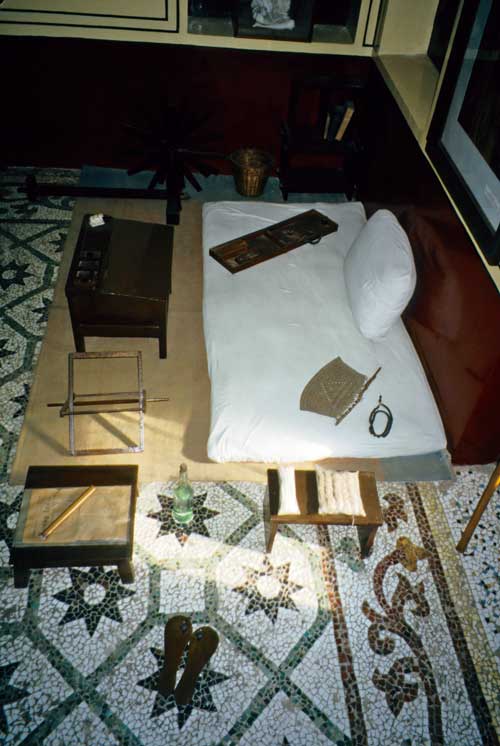 In travels across India, you'll have many opportunities to visit memorials to Mahatma Gandhi.
Photos and his few, simple possessions here at Mani Bhavan tell about his life. He used this
room on visits to Bombay before beginning the Quit India campaign nearby in 1942.
---
Subject: Bill and Bessie Too on the beach
Date: Mon, 28 Jan 2002 08:47:28
Palolem, Goa, India
Leaving Bombay was as easy and pleasant as arriving. In just over an hour of cruising by ferry across the bay, I was back on palm-shaded country lanes heading south along the coast. A bamboo shack at Murud provided a home for the night. The next morning I headed for Janjira Fort on an island just offshore. Sailor-traders from the Horn of Africa had built it in 1140, and the 12-meter-high walls rise directly out of the sea. No invaders ever conquered the fort, though not for lack of trying. A local fishing boat with a lateen sail took me across for a wander around the walls and exploration of the ruins inside. The fort is very atmospheric with waves crashing into the base and cannons rusting on the battlements. Green parakeets and pigeons flew around the walls. Only a shell remained of the four-story palace inside, but a mosque was in good shape. A motor ferry took me across a wide estuary and I continued down more village-lined roads. Later in the afternoon locals pointed me to a guest house near a long empty beach, a place that few westerners have ever visited. The next morning I visited a local temple famed for its gold Ganesh--1.3 kilograms of the shiny metal.
Getting back on the main highway south was a bit of a shock with its heavy traffic, but things got quieter as I sped south through green hills to Goa. A "back door" set of roads led off the highway and on pretty lanes through coconut plantations and coastal views to Terekhol, a Portuguese fort in the extreme northwest corner of Goa. After enjoying the views, I hopped a ferry across the Terekhol River and rode half an hour to Arambol, an isolated beach resort. Arambol had just the basics, which nowadays includes plentiful Internet terminals! It had a mix of long-term travelers and a few families. Some hippies still hung out—my favorite was a middle-aged Swiss couple decked out in hippie clothes. The man's head was crowned with a floral wreath plus a live crow. No, I'm not making this up!
The Portuguese came to Goa around 1510 to control the spice route to the east. They pushed out local Muslim rulers and stayed on long after the rest of India gained independence. Only in 1961 were the Portuguese themselves sent packing. The 450 years of Portuguese colonial rule had a major effect on the inhabitants—so much so that Goa seems like a different country when coming from a neighboring state of India. The people are less shy with foreigners, many follow the Catholic faith, food is based on fish and meat (including pork!), and wine shops and bars abound.
Panjim, the relatively laid-back capital of Goa, has many fine pieces of Portuguese architecture. Evening boat cruises on the river cruise into the sunset with Goan music and dancing. Old Goa, 9 kilometers upstream, once was a splendid city but largely faded away due to epidemics. Today the magnificent churches plus a few fragments of other structures still stand in a park-like setting.
And of course there are the beaches. Palolem has a picture postcard curve of white sand backed by luxuriant palms and other vegetation. I wish I could attach some of the sunshine and sea breezes to this e-mail!
I'm heading south now and may reach Karwar in northern Karnataka today. Karnataka is famous for its palaces in Mysore, and many ancient cities full of beautiful stone temples; I visited these places on my first India tour in 1983-84. This time I'll stick closer to the coast, which has some famous temples, as well as coastal scenery.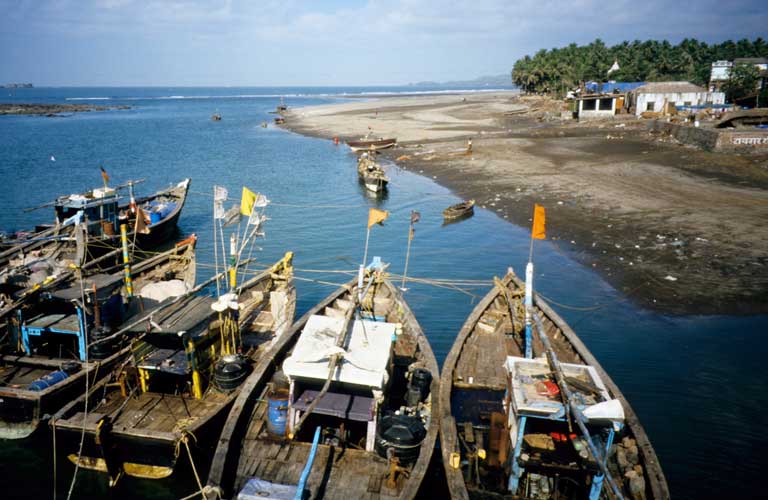 Fishing boats at Murud. The coastal ride south of Bombay passed sleepy fishing villages and jungle-clad hills.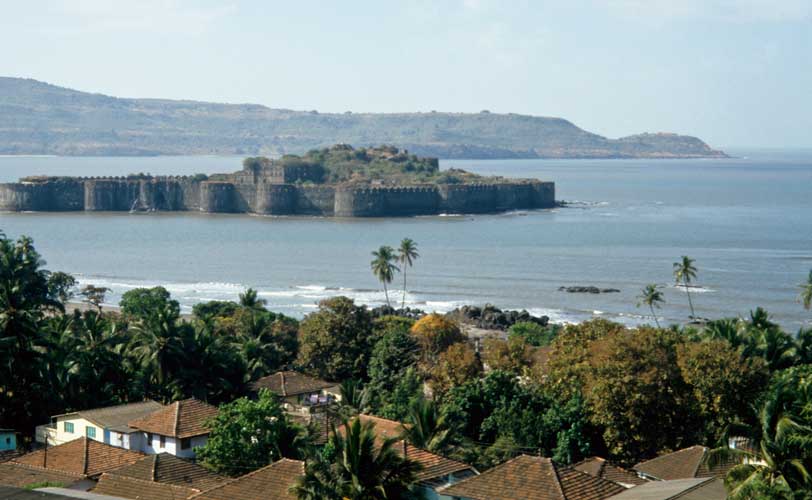 Janjira Fort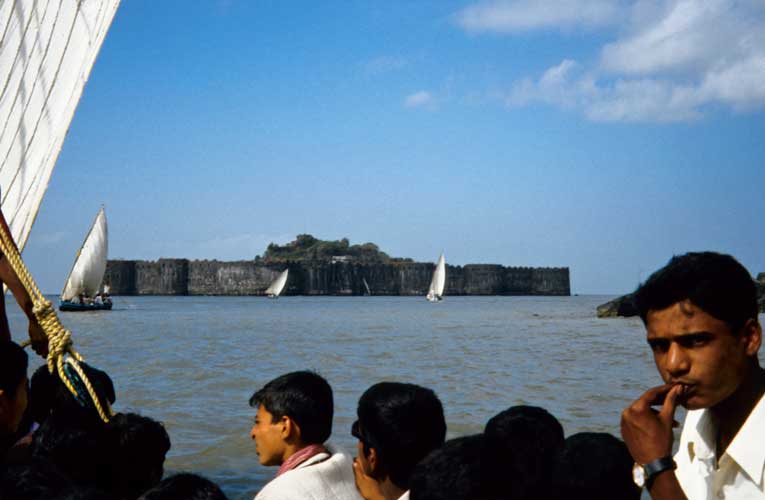 sailing out to Janjira Fort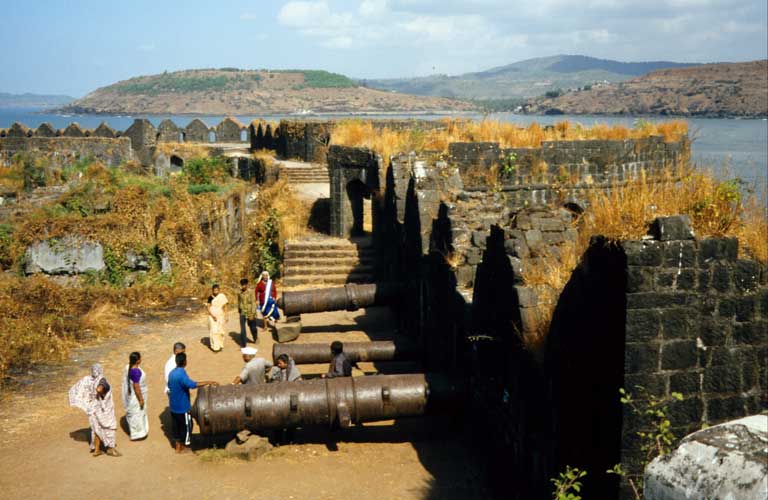 Inhabitants of Janjira Fort abandoned it early in the 20th century and built a palace on the mainland.
Today parakeets, pigeons, and lizards make their homes within the splendid fortifications.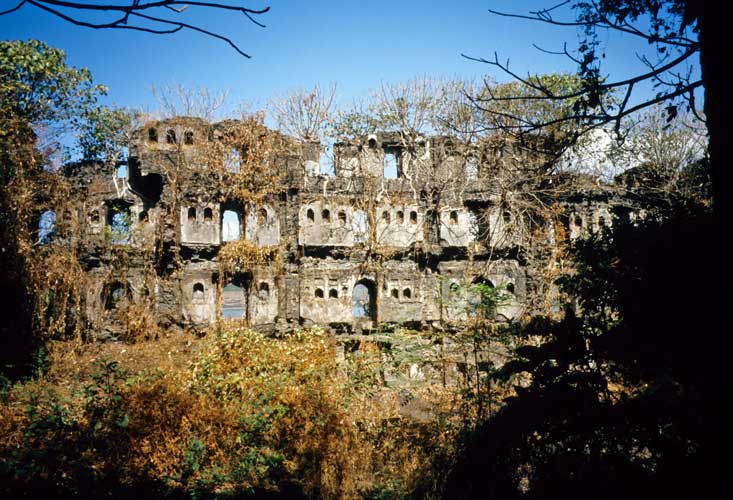 Only a shell remains of the fort's palace.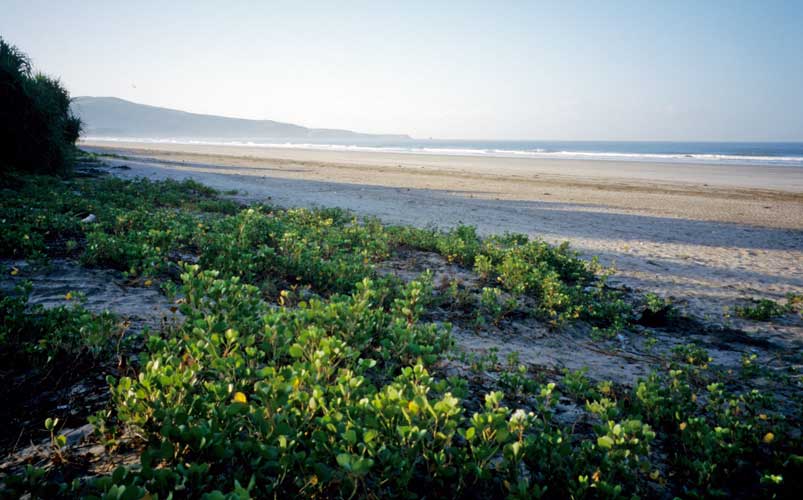 Farther south at Direagor, locals direct me to a simple guest house in a plantation surrounded by coconut,
banana, papaya, and other tropical plants. Behind lay this long, wide, and deserted beach.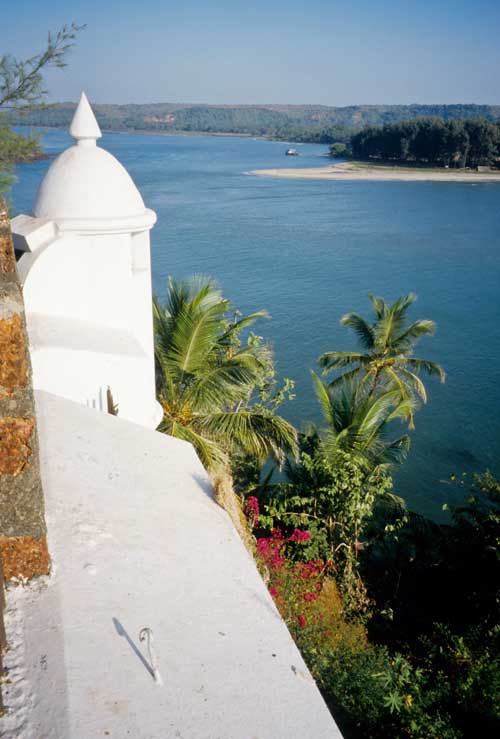 A view across the Terekhol River from a Portuguese fort of the same name in the northwest corner of Goa state.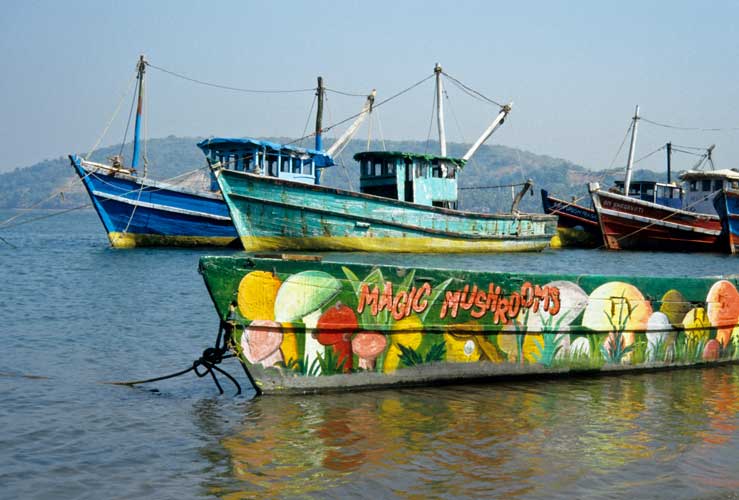 Fishing and party (?) boats at Chapora in Goa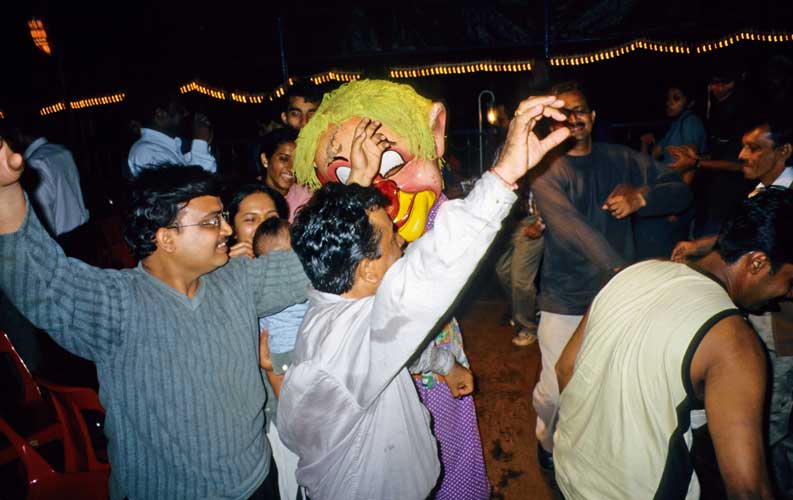 Indians love to dance. We're on a sunset cruise to the mouth of the Mandovi River near Panaji, the capital of Goa.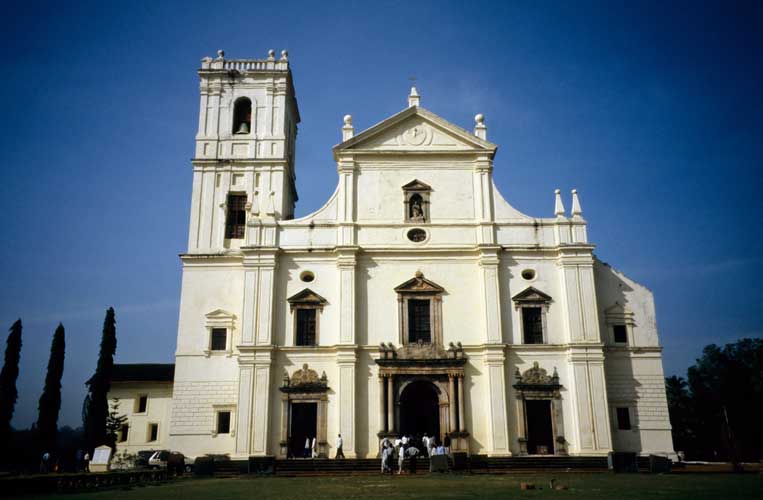 Upstream on the Mandovi River from Panaji lies Old Goa, the first Portuguese capital.
Splendid churches survive and are still in use. This is Se Cathedral, built in 1562-1619.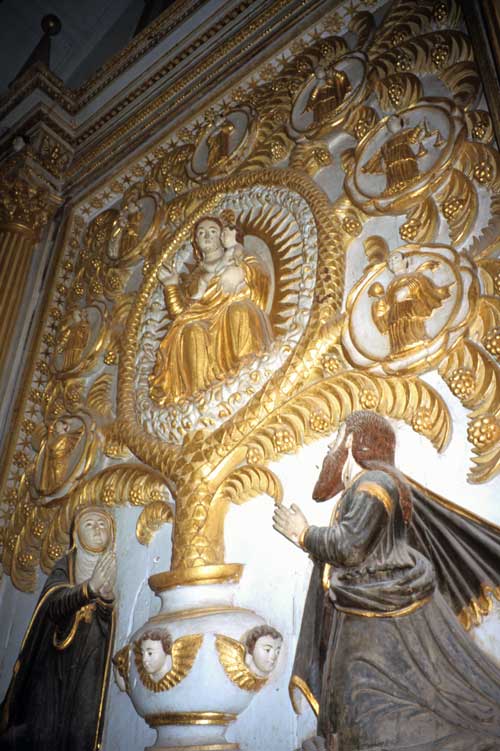 Our Lady of Virtue, a side altar in Se Cathedral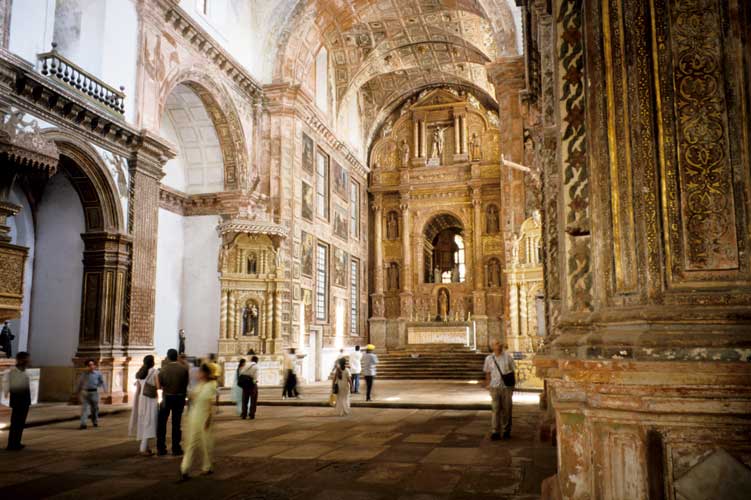 Church of St. Francis of Assisi (1661) in Old Goa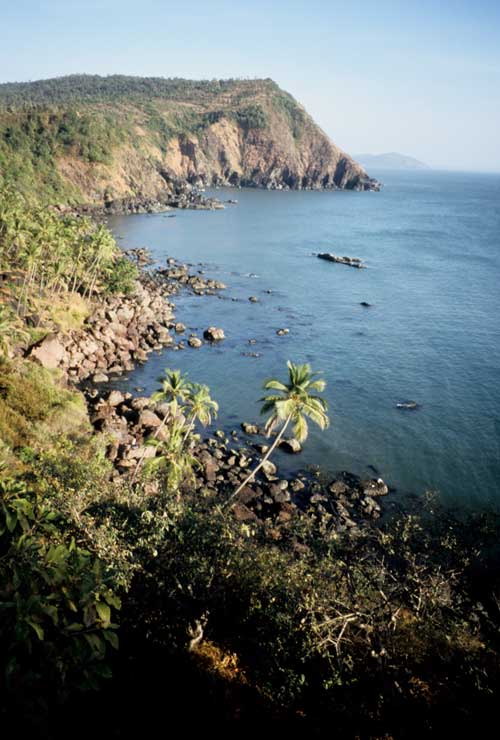 Few tourists make their way to Cabo da Rama for this view of the rugged coast.
We're in southern Goa, standing within the decaying walls of a Portuguese fort.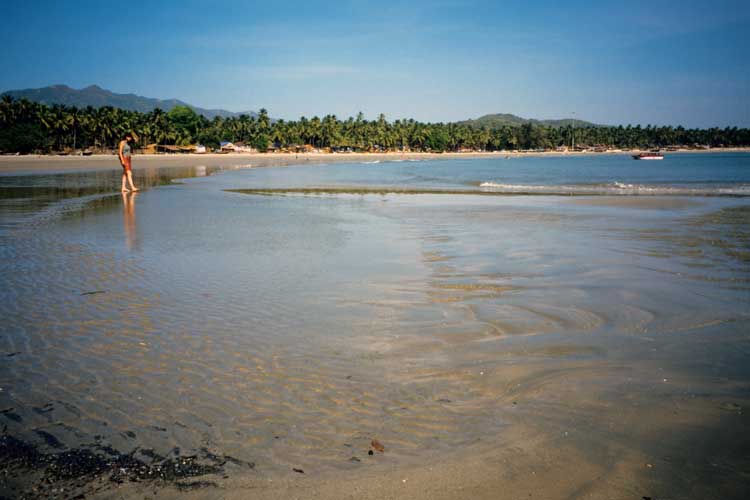 The coconut-fringed beach of Palolem in southern Goa