BILL AND BESSIE TOO RIDE
OVER THE KUNZAM LA INTO SPITI
Bill and Bessie Too tell their tales of the Himalaya: Part Two—Udaipur to Tabo
Manali, Himachal Pradesh, India
26 October 2002
Before leaving Udaipur the next morning, I visited Mrikula Devi, a Hindu temple dedicated to Durga. The unusual structure has a conical wooden roof and houses detailed carved wood panels of Hindu epics; there is even a scene with the Buddha. The road back up the Chandrabhaga River was slow going due to the climbing and rough unpaved sections. At Tandi, I continued east upstream, now on the Chandra River, past more villages and ice-topped mountains. I stopped at Sissu village and stayed with a family that runs an informal guesthouse in their large house. The next morning I continued upriver in a wide treeless valley. I could have turned south at Gramphoo to the creature comforts of Manali, but instead I continued east up the Chandra Valley toward Spiti.
The pavement ran out and it started to snow as I slowly bumped along. I stopped for lunch at Chhatru—just a group of four seasonal restaurants—and hoped the weather would clear. It did, but not until evening, when the air became terribly cold. I had hoped to reach Batal below Kunzam Pass, but that just wasn't going to happen. The next day brought sunshine but little warmth. The road had a rough cobblestone texture, and poor Bessie Too got quite a pounding! I fared better, since I was on a well-cushioned saddle, but the riding was very slow. Even the few trucks and buses had to crawl along. All the more time for me to enjoy the scenery of waterfalls, glaciers, and mountain peaks! I had passed the last of the villages, though people bring their animals here for summer grazing. I reached Batal in late afternoon and stopped for some biscuits and tea. Kunzam Pass lay so close that I decided to go for it! The ride up was shorter and easier than on earlier passes, and I reached the top (4590 meters) at sunset. A side road at the pass loops around a little Buddhist/Hindu shrine. All the drivers make the detour and stop to pay their respects; I did too. There was no hope of going on to the next settlement, so I carved out a spot for my tent on the rocky hillside below the pass. I had arrived in Spiti, an isolated region with landscapes and people much like those in Tibet.
At the first village, Losar, I met a Spanish cyclist whom I seen earlier at Darcha. He had ridden all the way from Spain to Iran, caught a flight to India, then headed for the Himalaya. His plan was to ride to Leh, but he found his sleeping bag unsuitable for the cold nights, so he headed for Spiti instead. A nasty case of the flu had stalled his progress; however, after three day's rest he was ready to continue. This was late in the season, and the Spanish fellow was the first cyclist I'd met since leaving Leh. We rode together past many small villages to Kaza, the main town of Spiti. Few streams come down from the hills, yet the villagers somehow manage to coax crops of potatoes, green beans, and other vegetables from the small fields. Kaza, like Keylong, had the luxuries of good hotels, restaurants, and shops. I cycled up to Key Monastery, spectacularly situated on a pyramid-shaped hill; many novice monks were getting their schooling here. I continued up the road to Kibber Village, said to be the world's highest with electricity and paved road at 4205 meters. People at my hotel mentioned a festival at—don't laugh—Comic Gompa, high above Kaza. The action didn't get underway until late afternoon, when monks dressed in elaborate embroidered clothing slowly came out to the courtyard and began a dance to the music of drums, horns, and oboe-like instruments. Some dancers had fierce cow-monster masks. Two young monks in clown masks tried to keep order, but little kids kept teasing them. After two long sets of dancing, the action climaxed with a bonfire into which two wax "devils" were tossed to their doom.
The Spanish cyclist was burned out, it seemed. When he couldn't get on a bus to Manali from Kaza, he disappeared without so much as a goodbye or the payment of his hotel bill! I heard later that he had ridden to Kinnaur.
An American traveler—one of the very few I had met—raved about his visit to Mudh Village in the Pin Valley. I went there too, a long day's ride from Kaza. Mudh;s dramatic setting overlooks a long, barren valley well above tree line. I did some short walks, and could see that it would be a great place for longer treks.
Tabo, the next stop, features a gompa with some of the best ancient Buddhist artwork in the world. Built in A.D. 996, Tabo Gompa looks like a group of large mud huts from the outside, but the interiors have life-sized statues and beautifully detailed paintings.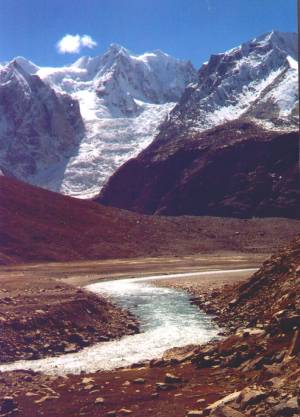 Bara Shigri (Big Glacier) tumbles down from the heights into Lahaul Valley. It's one of the largest glaciers in the Himalaya at about 10 km long and one km wide.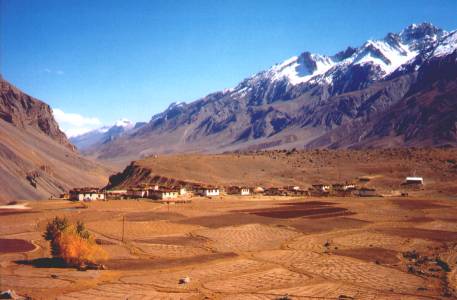 Pangmo Village in Spiti Valley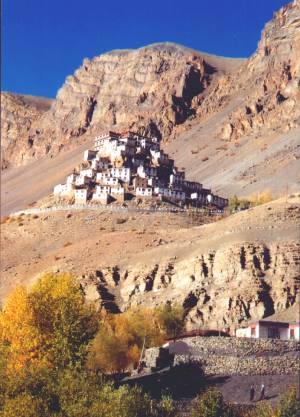 Key Gompa is the largest in Spiti.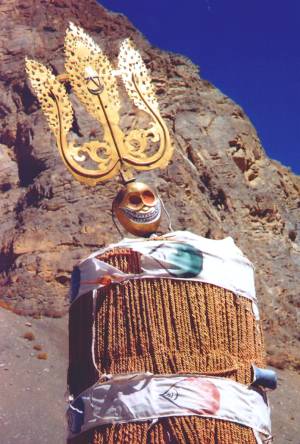 Atop Key Gompa, a decorative reminder of our impermanence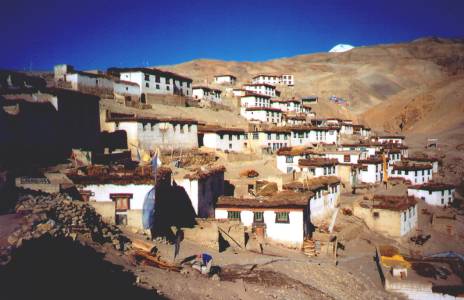 From Key Gompa, the road continues up the mountainside to Kibber (elev. 4205 m), perhaps
the world's highest village with electricity and paved road. There's a guesthouse/restaurant here.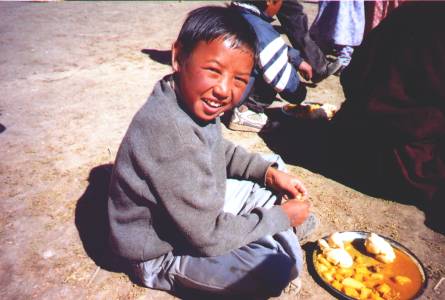 Enjoying a meal in the warm sunshine at Comic Gompa.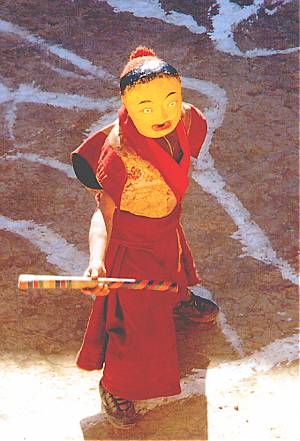 This young fellow's role at the festival seemed to be half clown and half policeman. He tried to keep order among the little kids, but with very little success.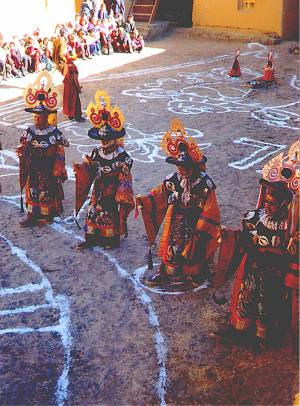 The monks at Comic Gompa slowly spun around as they danced to the Tibetan music. They wore beautiful costumes of brightly colored silk.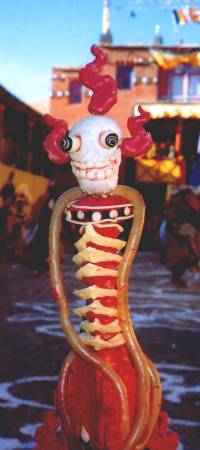 While the monks danced, two "devils" patiently await their doom.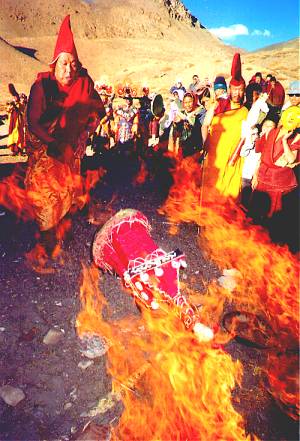 After the dances, everyone proceeded outside for more ceremonies, culminating in the casting of the two devils into the flames.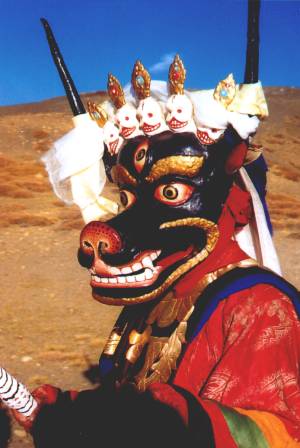 Fierce cows also danced at the festival.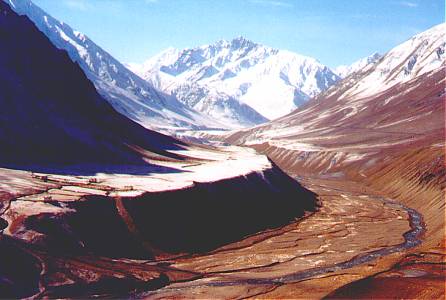 Fresh snow had fallen last night in the Pin Valley.
In the morning, I climbed a hill above Mud for this grand view of the upper valley.

Next: Cycling from Tabo Gompa to Rampur via the Kinnaur Region