Part Two: Cycling in Western India—Punjab and Rajasthan
Subject: Travel amongst the camels
Date: Fri, 26 Oct 2001 11:37:00
Bikaner, India
This past week, Bessie Too the Bicycle and I have been rolling south from Amritsar in the Punjab to the sand dunes and camels of Rajasthan state.
The Sikhs' Golden Temple at Amritsar is one of the most spiritual places of India. Pilgrims walk clockwise on a marble path around a large square lake, in the middle of which rises a gold-covered temple of marble. Sikhs read from sacred texts or meditate inside. Visitors are welcome to join the throngs and go inside too.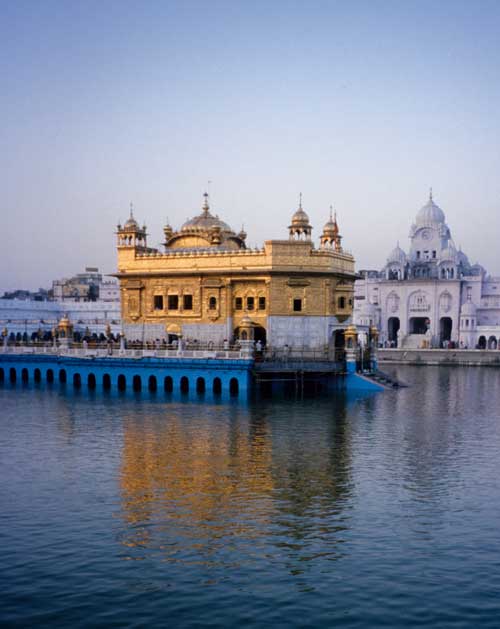 Sikh pilgrims file into the Golden Temple.
On the road, the intensively farmed flatlands of Punjab state lacked the magnificent scenery enjoyed in northern Pakistan. People along the way were friendly, and meeting them added to the enjoyment of the riding. I was also in a guidebook "twilight zone"! The area between Amritsar and Bikaner has no tourist sights and no coverage in guidebooks that I've seen. So I felt a bit like a pioneer tourist.
Some things in India just don't seem to change, even if the country is now in the space age. I'm always amazed at how much hand labor goes into almost everything. Cotton is still plucked off the plants by hand, usually by women in their colorful dress. Farmers still cultivate many of their fields with a single-bladed plow pulled by an animal. The clothing that you purchase from South Asia has a lot of time and effort put into it!
Bicycle technology remains stuck in the early 20th century, though a few daring cycle models now come in colors other than black. Selecting gears just isn't an option, however, as all cycles—even "mountain bikes"—are single speed! As a result, I can outdistance any of the local cyclists with my 24 speeds.
I spotted the first camels in southern Punjab. They are the animal of choice in Rajasthan for pulling carts or plows. It's neat to see them trotting—sort of bouncing from their right feet to their left. Local people rarely ride camels, preferring instead to hitch up a cart.
Bikaner has the wonderful Junagarh Fort (never conquered in battle) which encloses a series of ornate stone palaces. Today I walked through the brightly painted rooms where maharajas ruled from 1589 until 1949. Lattice screens, carved from sandstone, allowed cooling breezes to enter and provided seclusion for the womenfolk who once lived here. Yesterday, I visited Lalgarh Palace, an early 20th century Indo-Sarenic building and now a fancy hotel; some royals still live here. The museum was closed but I enjoyed lunch of a large thali (assortment of Indian curries with dessert) and the atmosphere. The old section of Bikaner, still enclosed by a wall, was fun to walk through to explore the market and residential areas. Some of the old houses are very ornate. The big "sight" in the old city is a Jain temple with many paintings on the walls and ceilings of the marble interior.
Tomorrow I plan to cycle south to the Karni Mata temple. It's famous for the many holy rats who inhabit the complex. Supposedly they are reincarnations of story tellers. Yes, visitors must take off their shoes before wandering inside amongst the rodents.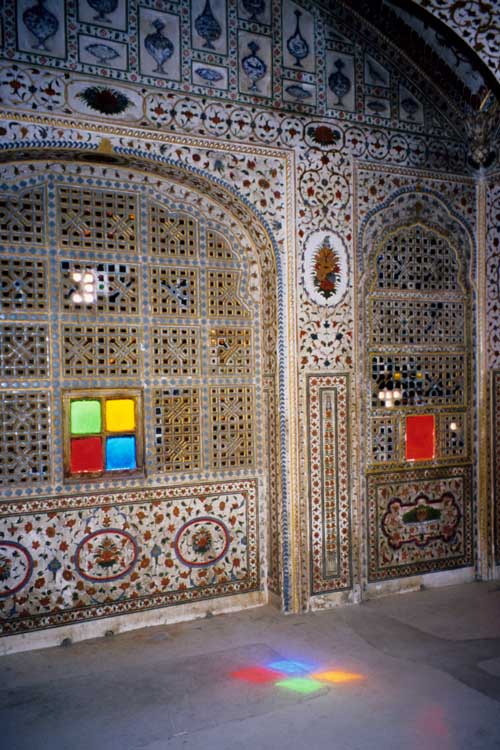 Phool Mahal (Flower Palace) of Junagarh Fort in Bikaner, Rajasthan.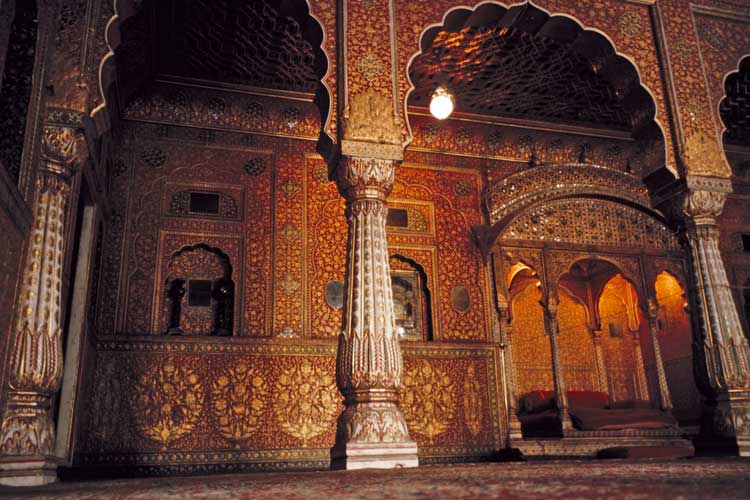 Thick cushions pad the throne in Anup Mahal at Junagarh Fort in Bikaner.
---
Subject: Rats and much more--from Bill and Bessie Too
Date: Sat, 10 Nov 2001 14:53:09
Jaipur, India
Hello from Jaipur, the Pink City and capital of Rajasthan state! The traffic and air pollution are terrible downtown, but the city does have some beautiful spots. I've visited the Sun Temple (good views) east of Jaipur and a nearby group of picturesque temples in a little gorge. To the north, the massive Amber Fort (begun in 1592) enclosed beautiful palaces, including one with mirrored walls and ceiling. Overlooking Amber Fort from a high ridge, the 1726 Jaigarh Fort had lots of defenses to explore and the world's biggest cannon mounted on wheels; 4 elephants were needed to aim it. In the walled old city today, I wandered through the City Palace with its colorful chambers—now museum halls—and a nearby astronomical observatory begun in 1728. Jaipur is decking itself out in lights and decorations in preparation for the Diwali Festival of Lights, celebrated with lots of socializing, sweets, and firecrackers on the 14th.
Back to the rats...Before leaving Bikaner, Bessie Too and I pedaled south 30 km through the desert to Deshnok, where in the 14th century Karni Mata, an incarnation of Durga, had reincarnated dead story tellers as rats. Yes, there were hundreds of the furry creatures running freely through the temple. They lapped up milk from huge bowls, chomped down on all the grain they could eat, and had sweets galore for dessert. Rat heaven, it seemed, or an exterminator's worst nightmare. The temple of white marble, black marble trim, and silver doors was very beautiful.
East across the sand dunes led to the out-of-the-way Shekhawati region. Once it had been on a major trade route and the traders built great mansions and temples decorated extensively—inside and out—with paintings of gods, everyday life, and European subjects. They date from the 18th to early 20th centuries and make up a large and very colorful collection of folk art.
Early Sunday morning tomorrow, I plan to slip out of Jaipur and head northeast to Sariska, one of the game parks with tigers. Then, if not eaten by a cat, I'll visit the palace complex at Alwar. As you might suspect, Rajasthan has heaps of palaces because it was mostly ruled by maharajas until Indian independence. Many palaces have become hotels, so visitors can stay in style for the same price as a Motel 6 back in the USA!
Believe it or not, I met a couple Americans at the post office this morning, the first I had seen on this trip! Actually this is a very good time to travel with hotels and airlines having lots of space and security better than ever. The Indian government even halved the Taj Mahal entry fee from $20 to $10, I heard.
The weather is so monotonous that people here take no interest in local forecasts. Day after day is full of bright warm sunshine from sunrise to sunset. The only change has been a slight cooling over the past few weeks as winter gradually approaches. I'm learning to live with the near perfect weather.
During the last week in November, I hope to take in Rajasthan's biggest annual event, the camel fair at Pushkar. Hundreds of thousands of villagers come from all over to sell or purchase their camels and other livestock. After the camel work is over, a religious festival follows as Hindus wash away their sins with a dip in the sacred lake at Pushkar.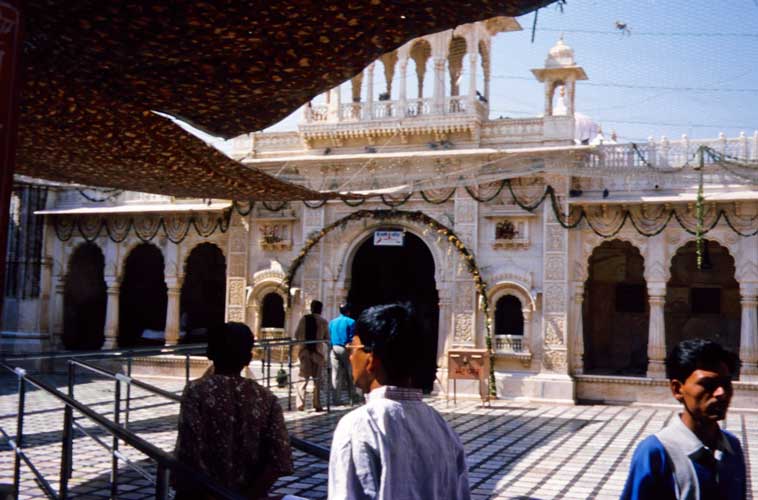 Beautifully carved marble surrounds you in the courtyard of Karni Mata Temple at Deshnok, south of Bikaner.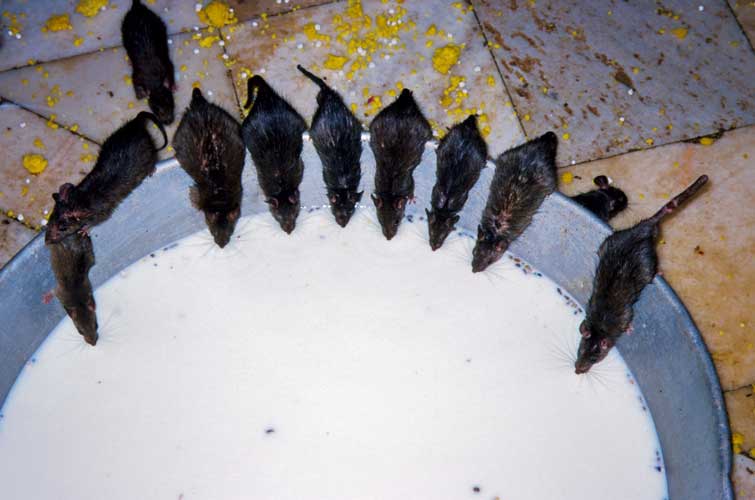 Rats lap milk from giant pans in Karni Mata Temple. Pieces of leftover sweets lie strewn across the floor.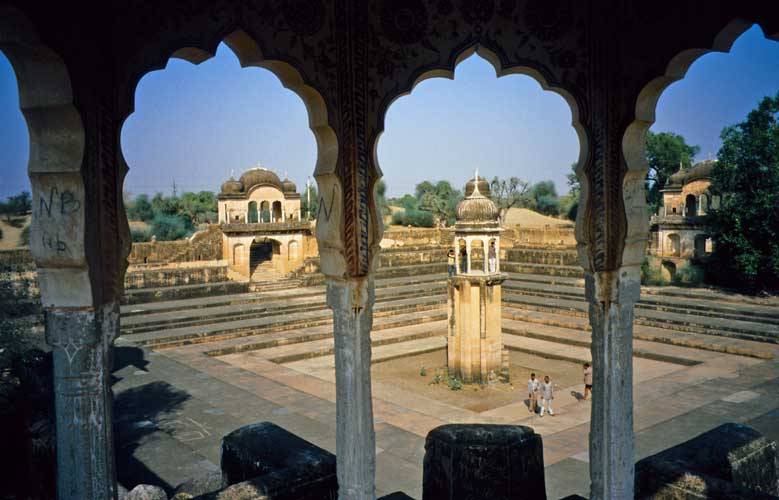 Water is so precious in Rajasthan that villagers decorate water sources with elaborate architecture,
as in this step well (now dry) south of Fatehpur in the Shekhawati region.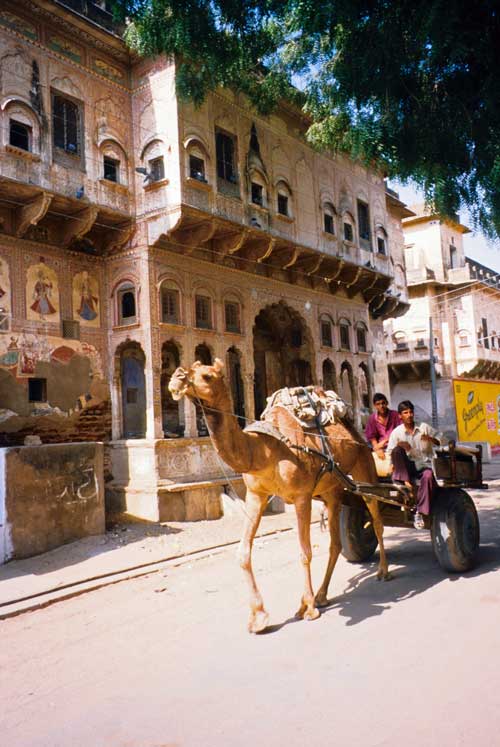 Camel carts make up much of Rajasthan's traffic. Lakshmangarh is one of the many towns in the
Shekhawati region with painted havelis (mansions).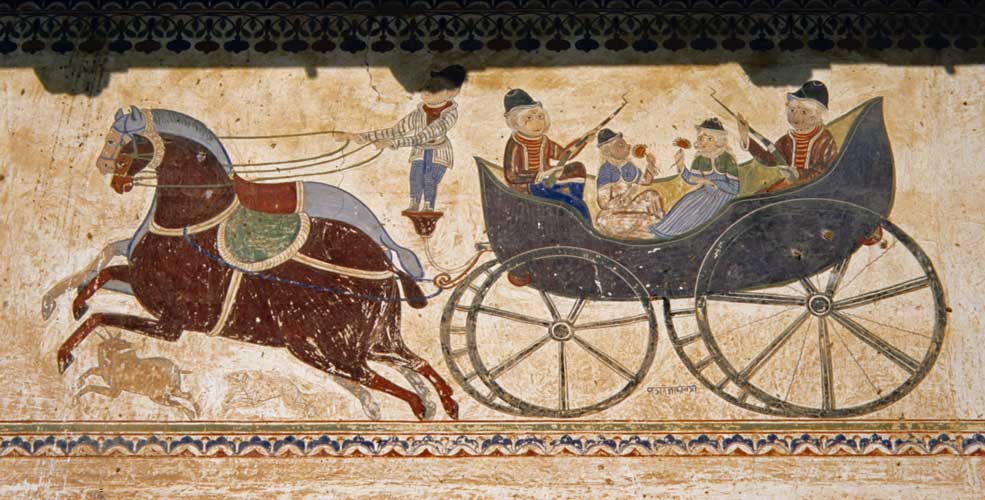 The British were a favorite subject of haveli painters.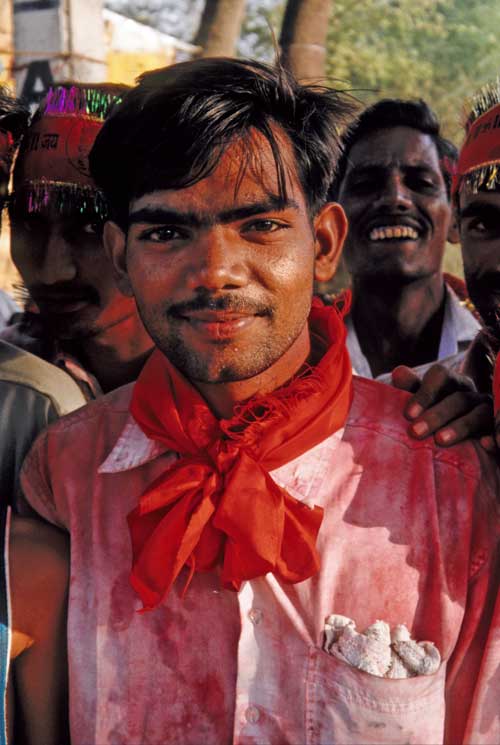 Thousands of pilgrims were on the move in Rajasthan to attend an annual
ceremony at a temple of the monkey god, Hanuman. The god's favorite color
is red, and this happy pilgrim on his way home is covered with red powder.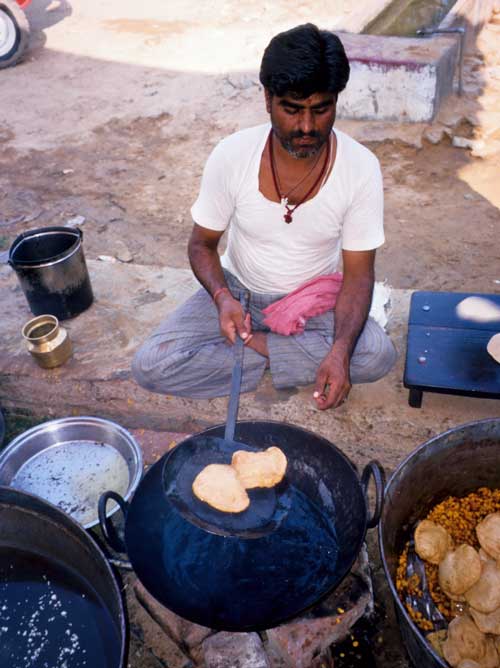 A chef whips up vegetarian favorites for pilgrims; the food is donated by local people.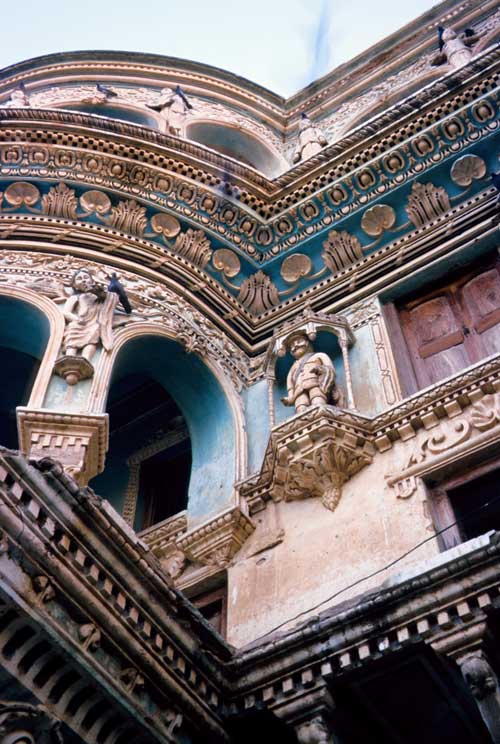 Over-the-top "wedding cake" decoration covers this huge haveli,
Malji ka Kamra. Sadly nobody lives in the once grand mansion,
now slowly crumbling away in Churu, a town in the Shekhawati region.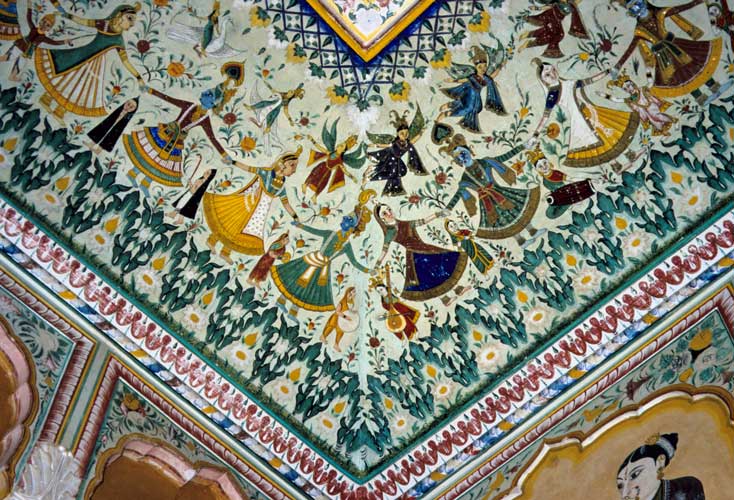 When the god Krishna dances with one of his gopis (milkmaids), all of the gopis feel the rapture
of dancing with him. This ceiling painting shows Krishna (blue faced) alternating with the gopis
in a continuous loop. It's in a haveli in the Shekhawati town of Jhunjhunu.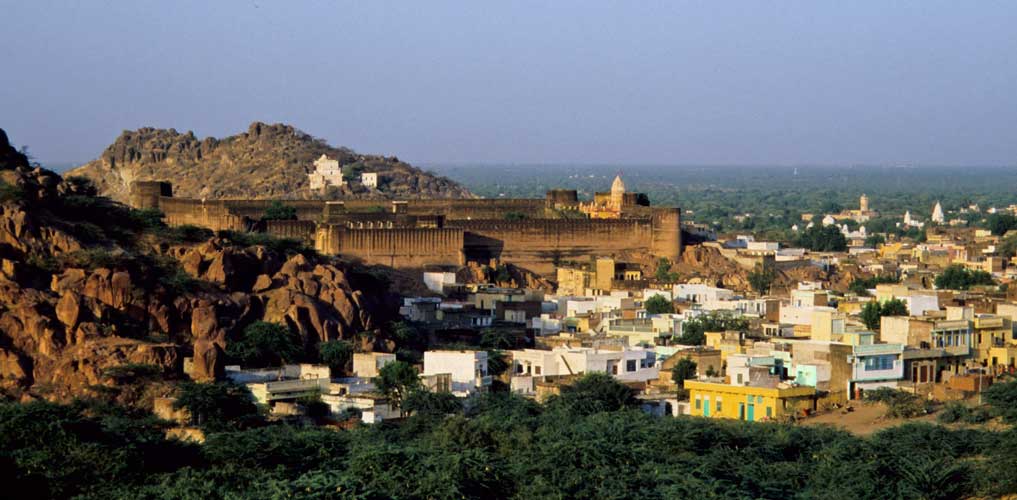 Massive fortifications, such as these at Jhunjhunu, still rise above many Rajasthani towns.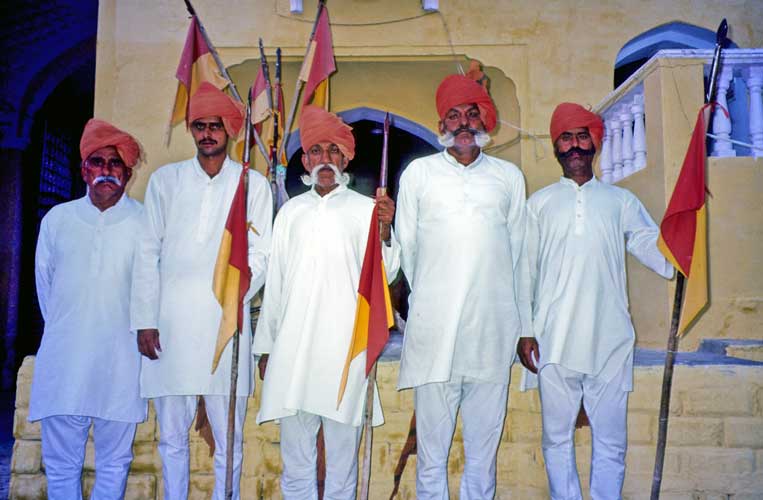 Welcome to Hotel Castle Mandawa. Many castles now throw open their gates to guests.
Mandawa is a town in the Shekhawati region that's famous for its painted havelis.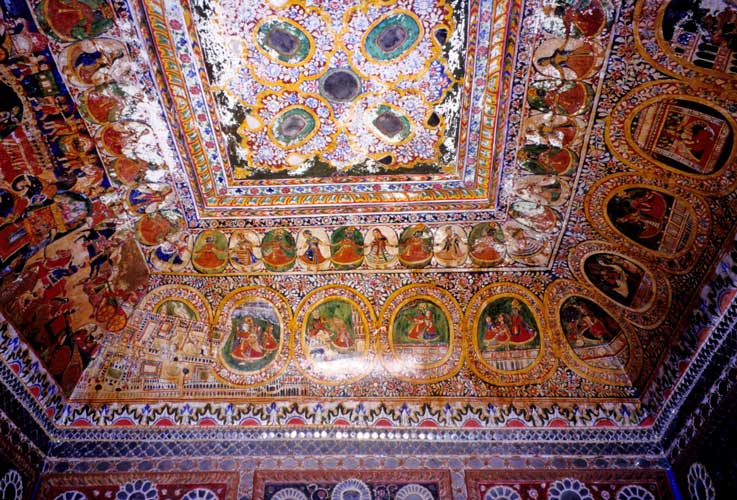 Rulers once entertained their lady folk in the "Love Room" of the Mandawa Palace.
This is a detail of the beautifully painted ceiling. Mirrors also cover the ceiling and walls.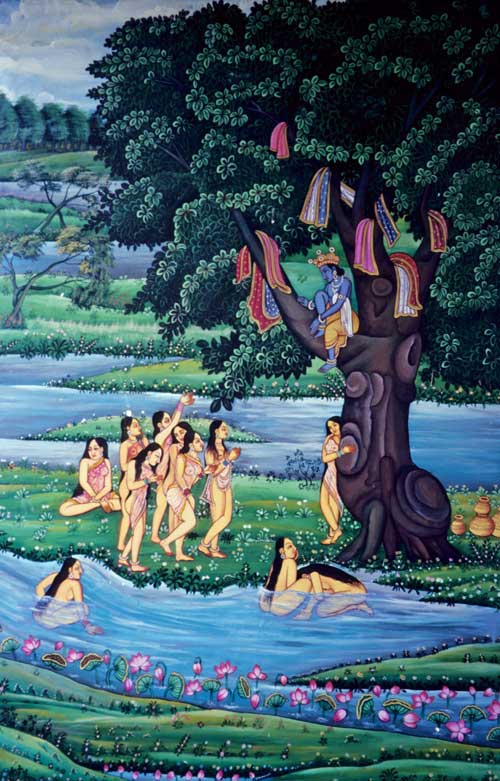 After taking a bath in the river, the gopis find that Krishna has snatched
their clothes and hung them out of reach in the tree. This painting
decorates Hotel Heritage Mandawa (a cheap guesthouse) in Mandawa.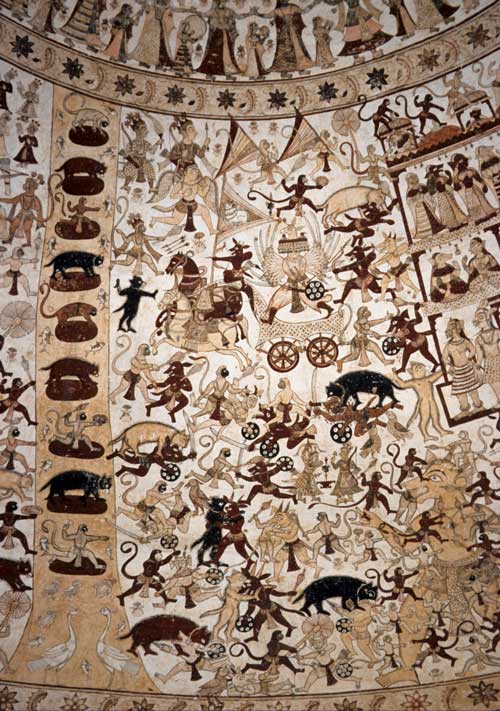 Some of the oldest and finest paintings of the Shekhawati region can be seen inside the
dome of Chhatri of Thakur Sardul Singh. These mid 18th-century works depict Hindu
gods and epic stories. The chhatri (memorial) is in the remote village of Parsurampura.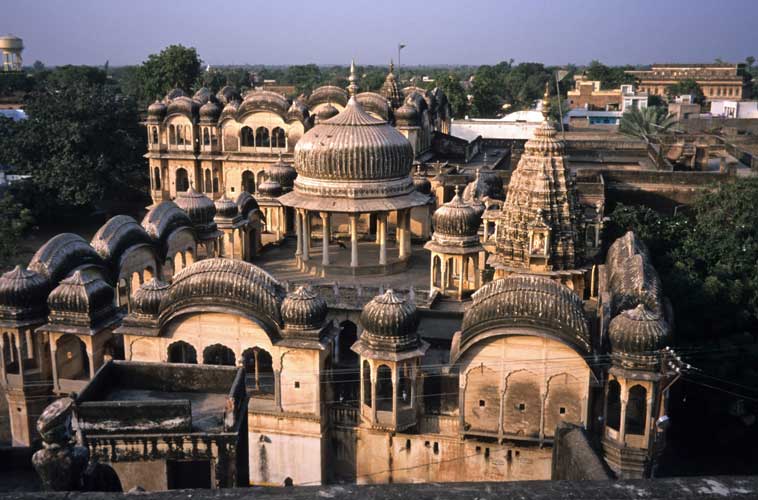 Hindu temples also display Rajasthani architectural whimsy. This temple is dedicated to Shiva,
and the one behind and to the left is to Hanuman. They're in the Shekhawati town of Nawalgarh.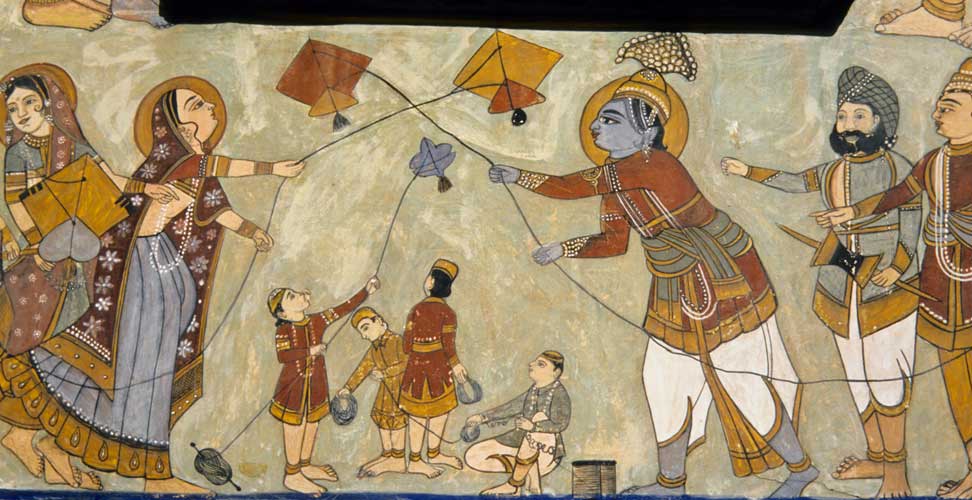 Here Krishna is playing kites with a gopi.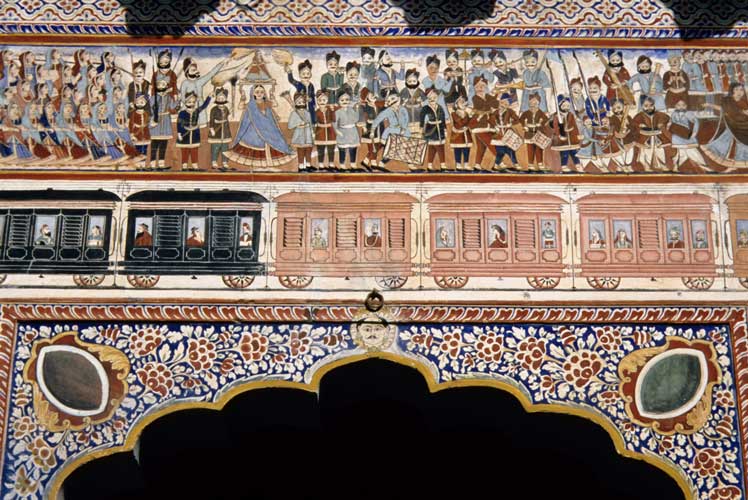 Whether inside or outside, few surfaces of a haveli go undecorated.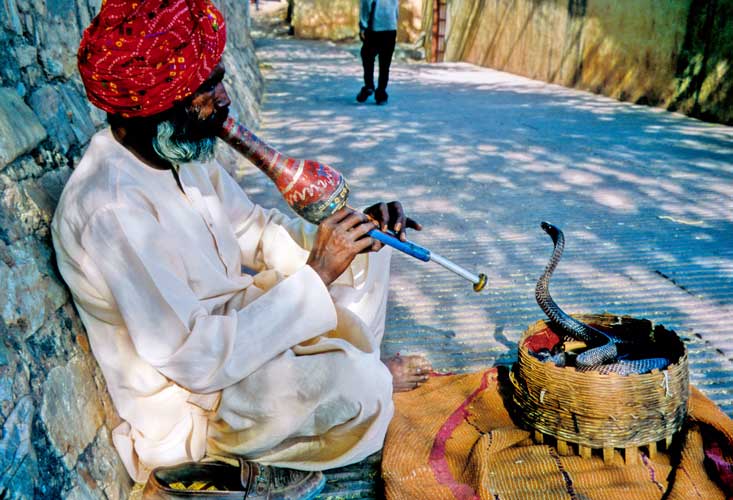 You'll meet lots of snake charmers in India. They play a poona and have a cobra or two in a basket.
---
Subject: Firecrackers, tiger, and a holy lake with Bill and Bessie Too
Date: Sat, 24 Nov 2001 15:25:11
Pushkar, India
Hello from one of India's most sacred places! The Hindu creator god Brahma dropped part of a lotus flower on this spot and a lake magically appeared. This happened soon after the beginning of time, when Brahma wished to do a sacrificial ceremony. His wife wasn't available for it, so he quickly married another goddess who could attend the rite. Wife #1 wasn't too happy and made a curse that Brahma's only temple would be at Pushkar—which is the case today. The little town now has about a thousand temples, including hilltop ones to each of Brahma's two wives.
I had visited Pushkar on my first cycle tour of India in 1984. This time the famous Pushkar Fair is starting.—More later.
Sunday was perfect for slipping out of chaotic Jaipur and into the peaceful forest of Sariska Tiger Park. A few large deer crossed the road as I rode through the woods. The park wasn't set up for individual visitors—I would have had to charter my own jeep, too expensive, but a naturalist took me on a walking tour the next morning. We saw spotted deer, wild boar, monkeys, and many birds, including the diminutive bright blue lesser kingfisher. My guide could also "read" tracks along the river and pointed out panther and other prints. Next stop was Alwar and its huge palace; three halls had become a museum with Maharaja paraphernalia such as a stuffed tiger and a solid silver table in the first hall, incredibly fine miniature paintings in the second, and the armory in the third.
On the way to Dausa, a fellow on a motorcycle pulled over to chat and invite me to visit his home in Dausa for the Diwali Festival. Diwali is the biggest event on the Hindu calendar and celebrated with great enthusiasm. Every house and business had rows of little candles decorating it, and colorful electric lights flashed too. Indians LOVE noise and the louder the better—firecrackers boomed and banged all night. Houses and cows had freshly painted decorations. My friend, named Hanuman after the monkey god, introduced me to his pretty wife and we set out around town to meet some of his 65 relations plus many friends at their homes and businesses. Later he showed me how to do a Mahalaksmi puja at the little family shrine. Finally, after midnight, we had dinner.
A long and bumpy ride took me to Ranthambhore National Park. Here it was easy to get on a safari—I went on three—in a seat on the back of a truck.
I had no hope of seeing a tiger; after visiting many game parks in Nepal and India none had ever appeared. But to my surprise I did see a striped tail splashing in a river. It was attached to a very large tigress who ambled over our way, taking a rest along the way and scaring the daylights out of a spotted deer and a peacock. Our truck followed the tiger for awhile as it wandered down the road, seemingly oblivious to all the excited tourists jumping up and down in the truck. The park was like something out of a documentary—the lakes had so much life in and around them: crocodiles, spotted and sambar deer, wild boar, and a great many birds. Ruins of mosques, a fort, and other monuments added to the exotic atmosphere.
Bundi, the next stop, had a fascinating medieval feeling. I stayed in an old mansion (now a hotel) and dropped into the huge palace on the hillside to see some beautiful painted halls of the women's quarters; no one lives there now. Higher up the hill, Bundi Fort had intriguing ruins of palaces that were fun to explore along with good views of the surrounding hills and lakes.
Today I visited Ajmer, a very important town for Muslims who make pilgrimages to the Dargah and pay respects at a tomb of a Sufi saint, Khwaja Muin-ud-din Chishti, who came from Persia in 1192. Silver doors and railings surrounded the tomb, housed in a white marble building. I was allowed to go inside, and nobody seemed to mind that I was from America.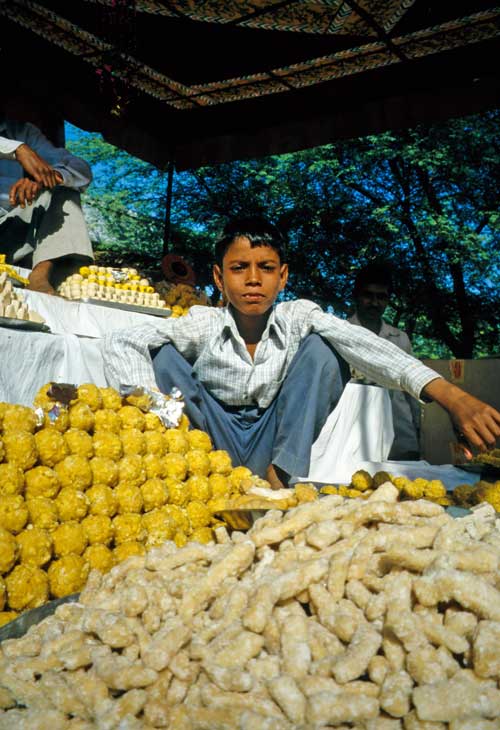 Indians love sweets, and as the Diwali festival approaches,
vendors line the streets and roads with their sugary craft.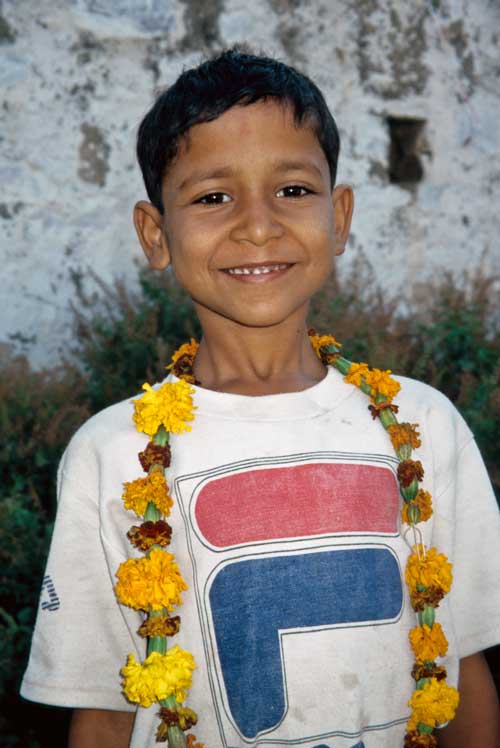 The day after Diwali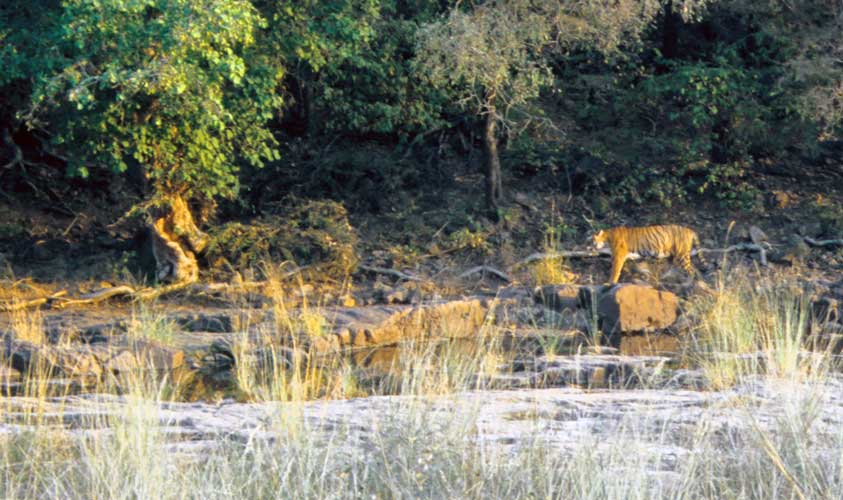 Yes, that's a tiger on the prowl. On safari at Ranthambore National Park, southeast of Jaipur.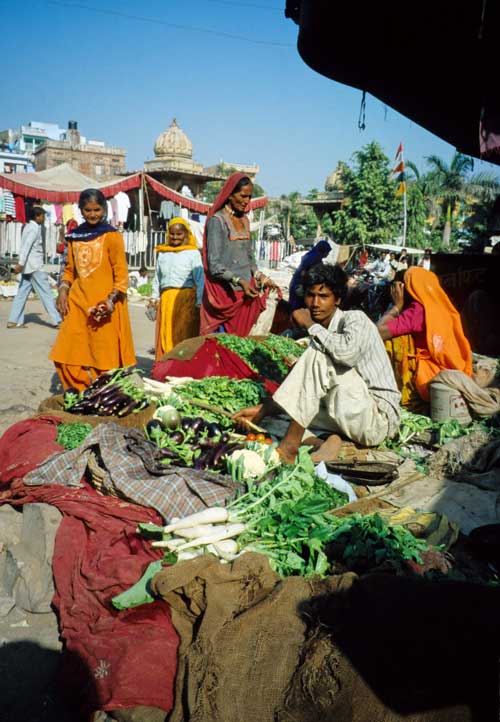 market in Bundi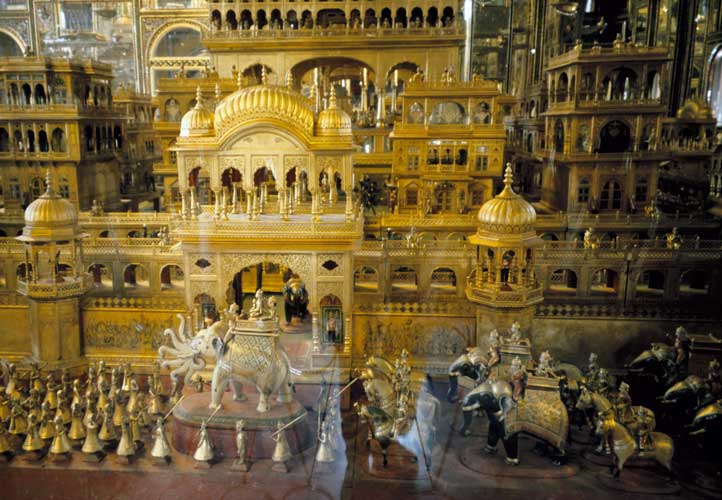 People of the Jain religion built this amazing model of a mythological city, on display in the Nasiyan (Red) Temple of Ajmer.
Note the multi-trunked elephant—they are very powerful.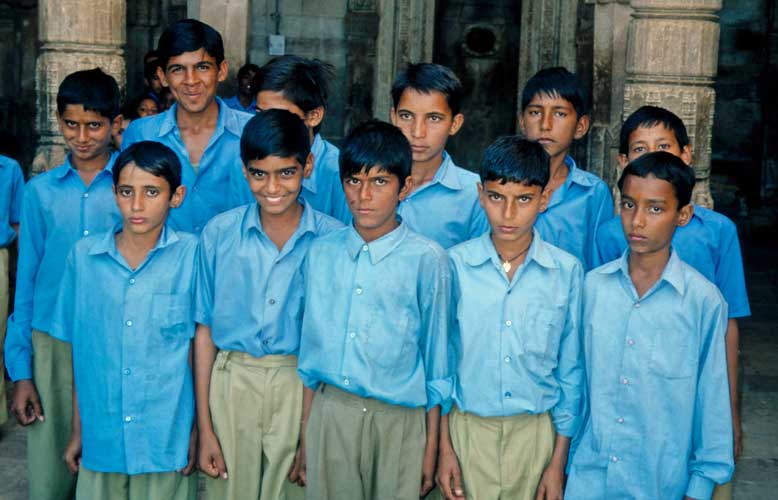 Schoolboys visiting the Adhai-din-ka-Jhonpra Mosque in Ajmer. The many columned hall was
built as a Hindu Sanskrit college in 1153 and converted to a mosque in 1198.