CHINA
Into the Himalaya—Part 3
Tibetan people and landscapes of Western Sichuan
Danba, Sichuan Province, China
18 April 2005
Over hill and over dale
Dear Friends and Family,
Heading upriver from Derong, I passed many Tibetan villages. People seemed to be doing well—they were building or expanding many houses and temples. Tibetan buildings tend to be large, solid structures of two or three stories; there's usually a flat roof that's handy as a work area in fine weather. In this region workers build the walls, which slant inwards slightly for greater strength, of compacted dirt; boards are used as a mold, much like pouring concrete.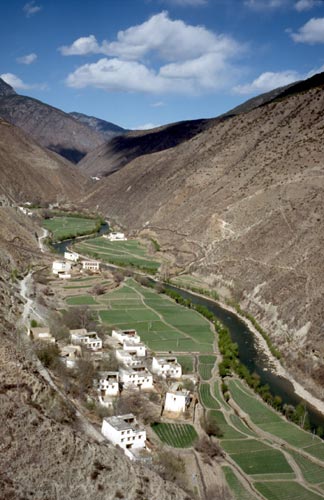 Tibetan homes and fields beside a crystal-clear tributary of the Yangze
As darkness fell, and as I was climbing relentless switchbacks to a pass, I hoped to find the proverbial perfect campsite beside a little stream. Amazingly I did find such a place!
From the pass I descended into the small Tibetan town of Xiangbala where the people and setting reminded me of the Wild West. Here young men would ride motorcycles—instead of horses—up and down the one and only street. Rather than shoot up the town like cowboys, though, the Tibetans simply shot pool. The alpine valley setting seemed just right for a western.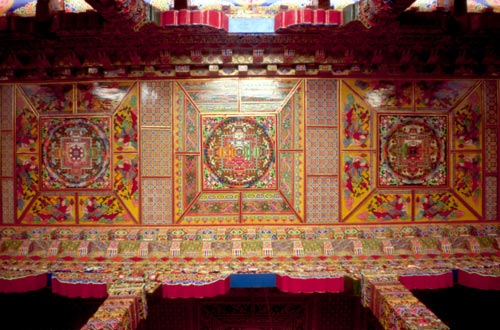 Brilliant colors depict mandalas and decorations on the porch ceiling at
Redaqupiling Temple, just outside Xiangbala. Used in meditations,
mandalas represent a three-dimensional world of a meditation deity.
One man gave me a note. It was from French cyclists Nadia and Sebastian who had spent the night here. I had met them way back in December in Bangkok and we had kept in touch by e-mail. Our rides had followed a similar route, though Nadia and Sebastian spent more time in Laos. They are on a one-year adventure in Asia, starting from Kyrgyzstan. We finally met up the next morning in Xiangcheng, but they were ready to ride and I was ready for an overdue rest day. We arranged to get together in Litang, a challenging three-day ride to the north.
When I rolled out of Xiangcheng, the snow gods struck. Rather than push on to the 4,870-meter pass—the highest of this trip—I camped in trees beside a pretty stream. The next morning I rolled up the frozen tent, freezing my fingers in the process. The sun came out and it was surprisingly easy to finish off the pass and descend into the little village of Sangdui.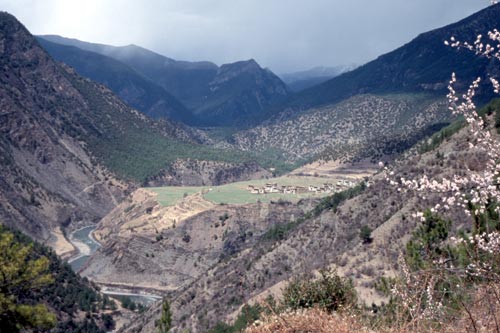 One last view up the valley above Xiangcheng; I'm heading east (to the right) up what will be the highest pass of the trip.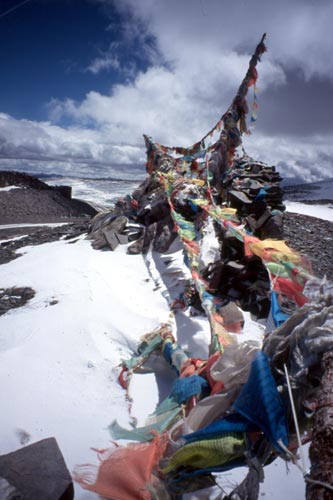 Made it! We're at 4,870 meters (15,978 feet).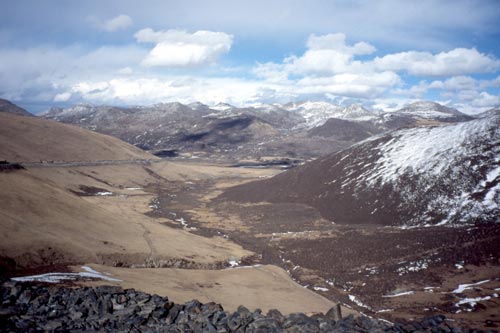 The road descends to Sangdui, just around the corner in the distance.
After some yak stew—the one-and-only special of the day at the one-and-only cafe in Sangdui—I headed up a forested valley filled with granite boulders. Eventually I climbed out onto strange landscape of boulders, snow, and ice. This wilderness area reminded me of arctic tundra, now half frozen, but probably used in summer for grazing. The wind howled, but it was a tailwind! It helped push me up a pass, where I could see black yak-hair tents of Tibetans in the treeless valley below. On the other side of the valley was—you guessed it—another pass to climb. I was getting tired at this point, but reached the top of the second pass and enjoyed a terrific downhill into a forested valley and back to villages. I was thrilled to find a basic guesthouse; camping would have been mighty frosty. A short ride led up to a small pass and a sacred mountain festooned with prayer flags, then down to the grassy plain and hills surrounding the town of Litang. Winter still had a grip—the grasslands were brown, but a few brave blades of grass and some tiny alpine flowers had come out.
Tibetans from the old town, the local monastery, and far away flocked to Litang for shopping and socializing. Women wore their fine jewelry of silver, amber, coral and turquoise. Men often sported fashionable hats and their own jewelry. Both men and women commonly wore bands of red yarn in their hair. Besides enjoying people watching, I strolled up the hill to the large monastery complex and wandered through the old section of town. Litang seemed more "Tibetan" than any town I had visited in Tibet proper!
Wandering About in Litang

Tibetans come from far and near to shop
and socialize in this lively town.

Pilgrims circumambulate Qudenggabu chorten
and spin the many prayer wheels that surround it.

My maps fascinated this novice monk.

This monk and his helpers are making a wool
curtain to hang in front of a temple entrance.

Just above town, Chöde Gompa is a large walled
complex of temples, shrines, and monks' residences.

These stonemasons do much of their work by hand,
but also have some small power tools. Even though
the buildings here are of stone, they follow the traditions
of overhanging roofs, window awnings, and inward
sloping walls that are necessary for earthen walls.

Tibetans seem to be doing well in western Sichuan—
I saw many monasteries and houses being renovated
or built anew.


This shop has all a Tibetan family would need to furnish their house or tent—
blankets, furs, fur-lined coats and hats, fabrics, and pots to serve butter tea.
I got together with Nadia and Sebastian, and we rode together the next day over grassy mountains to Taziba village. Our little guesthouse was pretty basic—no electricity and no plumbing. The communal toilet around the corner lacked both partitions and a door! We walked up to a gompa and sat in with the friendly monks as they finished their afternoon chanting.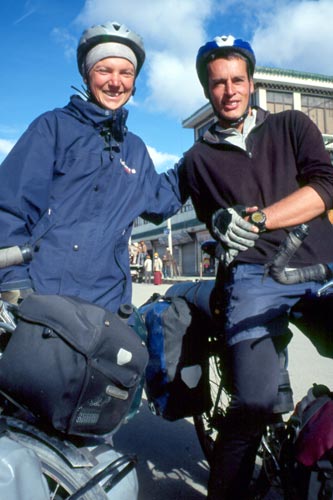 Ready to ride! Today we all going to Taziba village.
Nadia and Sebastian began riding in the mountainous Central Asian Republic of Kyrgyzstan, rode into western China, turned south down the Karakoram Highway in Pakistan, trekked in Nepal, flew to Bangkok (where I first met them), rode north through Thailand, Laos, and China, flew to Lhasa, then cycled to Katmandu, Nepal. They planned to finish their year-long journey with a ride in Indonesia. You can read (in French) about their adventures and see their photos at http://vasieenvelo.free.fr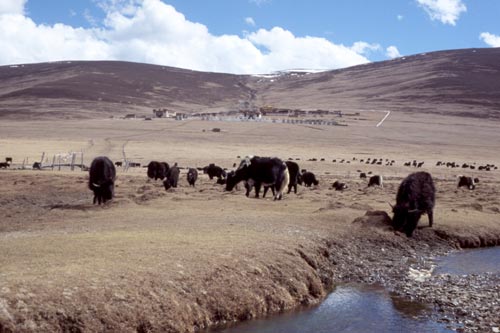 From Taziba, we crossed this little stream and the vast meadow to reach the gompa (monastery) in the distance.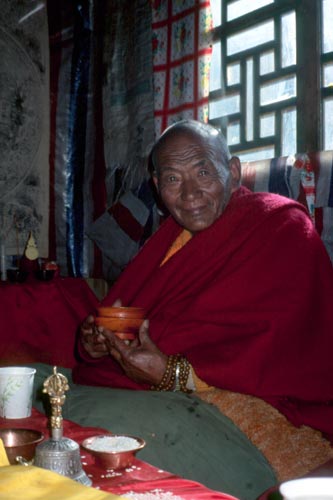 The monks took tea breaks between periods of chanting.
Afterward they invited us to stay for dinner.
Yajiang, the next town to the east, lay 101 km away over a series of tough passes. We thought we could make it in one day, but we had no idea that the ride would be nearly impossible. The road climbed up to about 4,500 meters and stayed high with many ups and downs. On the long climb to the last pass (4,659 meters), thunder rolled overhead and hail pounded down. That changed to snow and the road became slushy. Would we make it? Yes and no. We were relieved to reach the top before the road froze up, but Nadia then had a flat tire at the worst possible time. The snow was flying and temperatures dropping. The water in our bottles was quickly turning to ice. Nadia couldn't take the cold any longer and flagged a truck to take her and Sebastian down. My gears had started icing up before the pass and failed completely early into the 31-km descent. I looked like Frosty the Snowman as I rode the miserable downhill, hanging onto the brake levers for dear life. The forest looked very pretty with the snow on the branches, but I was too cold to fully appreciate the scene. We got a room in the best hotel in town and recuperated with a long hot shower and a big dinner. Nadia was really funny at the restaurants. She would waltz into the kitchen, select her desired ingredients, and then cook dinner herself! The Chinese chefs would look on in bemused amazement.
The sun came out a little the next day, but we tended to our battered bicycles. Poor Bessie Too was filthy and the rear brake pads were shot. I cleaned her up and installed new pads, then helped Nadia and Sebastian tune up their cycles. We then took a second rest day to fully recover.
On our last day together, we rode over another high pass—4,475 meters—but with good weather and mountain views this time. At the Tibetan town of Xinduqiao we had a goodbye dinner. Nadia and Sebastian planned to cycle one more day, to Kangding, then bus to Chengdu, where they were to fly to Lhasa, Tibet, and ride to Katmandu.
As usual, I'm taking the scenic route! A short ride up a valley north of Xinduqiao led to Tagong, surrounded by grassy hills and snowy mountains. Although a Tibetan town, the name is Chinese for chortens (stupas), of which many lie behind the gompa and on hilltops. Tagong is like a smaller version of Litang, and an enjoyable place to explore. Three large halls in the gompa displayed impressive statues of Buddhas, famous lamas, and deities.
A Visit to Tagong

Tagong Gompa

The many chortens (Ta in Chinese) behind the gompa give the place its Chinese name.

The lower two monks are probably engaged in a debate, waving
their arms and clapping their hands to make a point; Tagong Gompa.

This wide-awake image may be Maitreya, who will
come to earth in human form to be the next Buddha.

Each of these images represents
an aspect of the Buddha's teachings.

This man is beginning his day by burning incense at a hilltop shrine above Tagong.
Another short ride led north over a small pass and down to the highway junction at Bamei. Many villagers were out plowing and planting potatoes. I wasn't surprised to see a team of oxen pulling a hand plow, nor a pair of horses pulling a hand plow, but have you ever seen a tractor pulling a hand plow?? I stayed the night with friendly monks at Hue Yuan Monastery. None of the monks spoke English, but it was fun visiting and seeing a bit of the local monks' life. Rain and snow that evening would have made camping unpleasant, so I was very glad to be inside.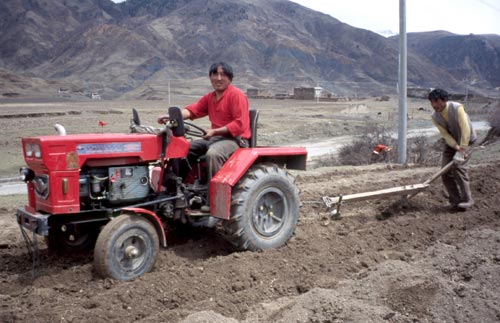 plowing a potato field, north of Tagong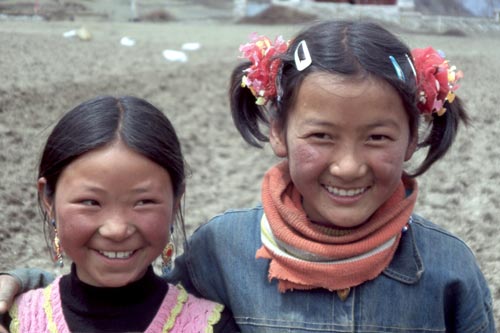 happy potato planters, north of Tagong

This friendly monk at arranged a room for me and
shared his dinner at the large Hue Yuan Monastery.
Today I said goodbye to the monks and turned up a pass amongst snow hills. High mountains rose to the east. The road dropped steeply into a valley, then turned downstream northeast toward Danba. An icy headwind penetrated my down jacket. That was when I noticed local Tibetans in a hot spring across the river. I wandered over to check it out and found the water temperature to be just right. The extremely hot spring water had been mixed with the icy river water. There were several pools—the ones farther up the trail were strictly for womenfolk, so I stayed with the men. Tibetans don't bother with bathing suits—and neither did I—much to the amusement of my companions.
Clouds drifted through the peaks above as I cycled down into a spectacular sheer-walled canyon—an enchanting scene. Farther down, Tibetan villages and terraced fields hung precariously to the slopes high above the river. Green grass and freshly leafed trees added a hue of bright color that I hadn't seen for a long time. Expecting Danba to be just a large village, I was surprised to find a small city tucked between canyon walls.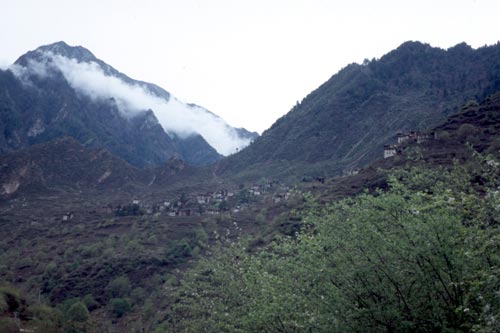 One often sees Tibetan villages clinging to mountain slopes high above the valley floor.
Tomorrow I plan to head north toward Maerkang, then curve east and south toward Chengdu in a week or more of cycling. I don't know much about the roads ahead except that they are said to go through scenic canyons and past picturesque villages. There's also one more 4,000+ meter pass to climb!
Yours in Sichuan,
Bill and "Bessie Too the Bicycle"