CYCLING IN THAILAND AND LAOS
E-MAILS AND PHOTOS
FROM A BICYCLE ADVENTURE
THAILAND
The next ride is about to begin for Bill and Bessie
Too Bangkok, Thailand
16 November 2002
It seems too good to be true—two major bicycle rides in one trip—but we are ready to hit the trail for a new adventure! Tomorrow (Sunday) we plan to ride out of Bangkok toward northeastern Thailand and into Laos.
You've heard stories about how bad traffic can be is this big city, and there's plenty of truth to them. Early Sunday mornings are relatively quiet, however, and that's our chosen time to head for the countryside. We'll be going north a bit, then mostly east, passing close to the Cambodian border. We plan to stop and see some old Khmer temples along the way.
Nearly two decades have passed since my last bicycle ride in Thailand or SE Asia, when I rode old Bessie from Malaysia to Bangkok in 1983. All the cycling since has been in the American Southwest, South Asia, the Middle East, and Europe. So I'm overdue for another ride here. Lonely Planet recently came out with a new guide on cycling in Vietnam, Laos, and Cambodia; I'll be taking a copy along.
In a couple of weeks we should reach Ubon Ratchanthani, the last major town in Thailand before the Lao border, then on to Pakse in southern Laos. We'll be visiting nearby Wat Phu Champasak, a magnificent Khmer temple, then farther south to Si Phan Don—a group of islands in the Mekong River just before it enters Cambodia. The Bolaven Plateau, east of Pakse, is famous for its coffee and tribal villages and will be the next destination. We'll gradually work our way north to the capital Vientiane, then on to the laid-back temple town of Luang Prabang. After more bumping along roads of northern Laos, we hope to cross the Mekong into northern Thailand and spend a few weeks touring that area.
Everyone who's been to Laos likes it for the friendly people and rugged scenery! Traditional ways are still strong, and there are many different tribal groups. Most roads remain rough and unpaved—there will be many bumps along the way.
Bill and Bessie Too ride across northeastern Thailand
Ubon Ratchathani, Thailand
29 November 2002

We slipped out of Bangkok early on a Sunday morning, swung around the Victory Monument, maneuvered over some freeways, then headed out across the green rice fields. We'll see a lot of rice over the next ten days—it's the main crop and food of the Thai people. The scenery became more interesting a couple of days later when we entered forests and crossed a small mountain range east of Khao Yai National Park. Great views from the top, but I paid for it with buckets of sweat—the promised cool season had yet to assert itself!
We had entered northeastern Thailand, or Isan, the most traditional region of the country. Life can be difficult for the farmers who have to contend with weather extremes and droughts; many prefer to drive taxis in Bangkok. It's harvest time and people are out with sickles cutting rice and threshing it by hand, though the luckier ones have machines to do these tasks. Isan has largely been settled by Laotians, and the border between Thailand and Laos is more geographic (the Mekong River) than cultural. Isan people are devout Buddhists, and it's inspiring to see them offering food to monks and spending time chanting and listening to sermons in the temples.
Before the Lao arrived on the scene, came the Cambodians. I visited Phanom Rung, the most elaborate and best-preserved Khmer temple site in Thailand; it dates from the 10-13th centuries. From the Royal Pavilion, I walked along a 160-meter avenue, crossed three naga bridges (guarded by five-headed snake gods), then passed pools and gateways to the main temple, which houses a Shiva lingam and Shiva's bull, Nandi. A profusion of stone carvings on the exterior illustrates Hindu epics and gods along with floral patterns.
The Thais often seem surprised to see me cycling by. Not as many tourists come to northeastern Thailand despite all the culture and history to be experienced. Also, the Thais like to keep cool by zipping around on a motorbike or in a car instead of cranking pedals. Sometimes I envied the motorists. Fortunately the weather gradually cooled so that it was pleasant at night and riding along during the day. I've enjoyed dry conditions and mostly sunny skies.
Dining usually takes place outdoors at noodle or rice stalls. Only the biggest towns offer air-conditioned restaurants with English menus. I always found a guesthouse or hotel by the end of each day. If I hadn't, I could have stayed in a monastery; many welcome travelers for a night.
Near the town of Ubon Ratchathani, I did stay at a Buddhist monastery, Wat Pah Nanachat (International Forest Monastery). It's unusual for having mostly foreign monks and English as the main language. I had spent some weeks there ten years ago when exploring the different meditation traditions in Thailand. Giant trees of the dry tropical forest tower overhead and keep out the blazing sun; it's a very pleasant place. Unfortunately, this was one of the very few forest remnants of the region—nearly all of the old forests have been felled for agriculture or timber—the environmental movement came too late to Thailand.
Ubon isn't the place for exciting entertainment, though there's a good museum of art and history housed in an old palace downtown and some temples worth seeing. A Candle Festival takes place at the beginning of the rainy season, when there's a parade of giant elaborately carved wax sculptures. A huge concrete monument north of the museum shows how elaborate the work can be—winged garudas, chariots, heavenly beings, and Buddhas are centered on a giant candle, all painted yellow.
Tomorrow I plan to continue east to Khong Jiam, a village on a peninsula of the Mekong River. After exploring this scenic area, we'll head south to Chong Mek, the border crossing for Laos. Once across the border, we'll continue to the Mekong bridge at the town of Pakse. Big attractions of southern Laos include Wat Phu Champasak (Khmer temple), Si Phan Don and other islands in the Mekong River, and the uplands of the Bolaven Plateau. Then comes the long ride north to Vientiane, the capital, and Luang Prabang, the former royal capital. My visa for Laos should be good for 30 days, but I have a feeling I may be extending it!
Phanom Rung, a beautifully restored 10-13th-century Khmer site in northeastern Thailand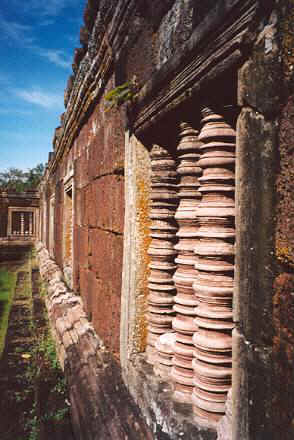 The Royal Pavilion marks the beginning of the promenade at Phanom Rung.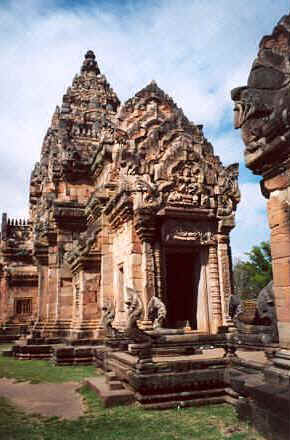 Mondop (antechamber), and the main temple sanctuary just behind it


Shiva Nataraj performs his cosmic dance above the entrance to the Mondop.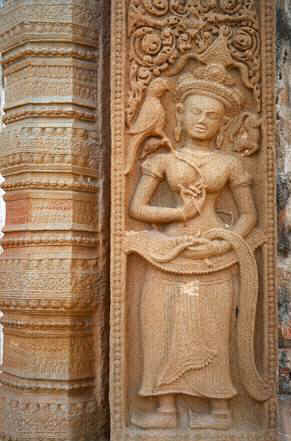 Many small Khmer sites such as Prasat Sikhoraphum lie
scattered across northeastern Thailand. This lady stands
beside the entrance of one of the five small temples here.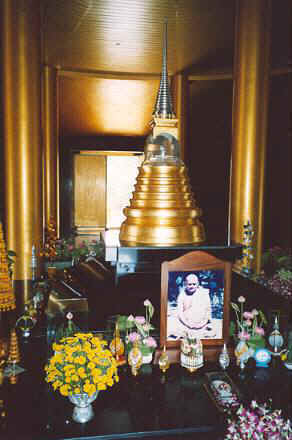 Ajahn Chah (in photo) was born in 1918, took on robes as a novice at age 13, ordained as a monk when he was 21, and became an exceptionally skilled teacher of both Thais and Westerners. A year after he died in 1992, the king of Thailand and thousands of monks, nuns, and laypeople gathered for the funeral. We're standing inside a large chedi at Wat Nong Pah Pong used for his cremation and that now serves as a shrine for people to pay their respects. The small glass and gold chedi in the picture holds some of his snow-white ashes. At the invitation of his mother, Ajahn Chah founded Wat Nong Pah Pong near his home village in 1954. It continues as an active monastery for training monks, as does nearby Wat Pah Nanachat, which has mostly Western monks.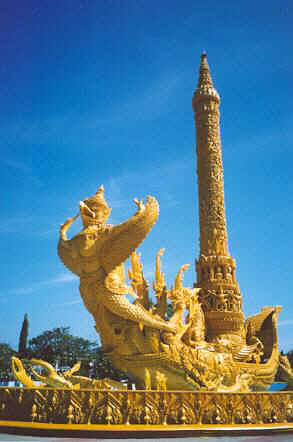 Giant Votive Candle Monument at Ubon Ratchathani. In July, a parade of giant, richly carved candles celebrates the Khao Phansa holiday, which marks the beginning of the period when Buddhist monks begin their three-month rains retreat.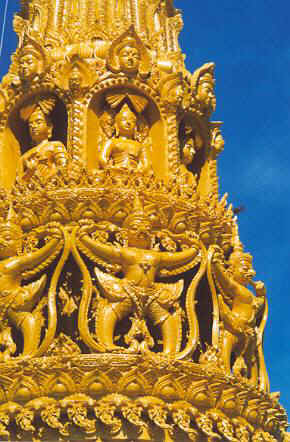 Giant Votive Candle (detail)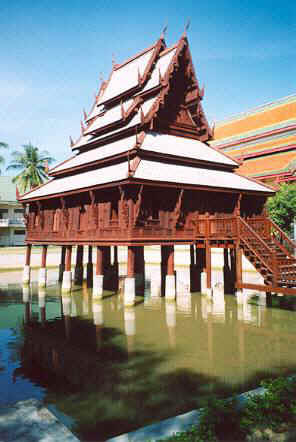 Tripitika library at Wat Thung Si Meuang
This beautiful building near the center of Ubon Ratchathani contains Buddhist texts.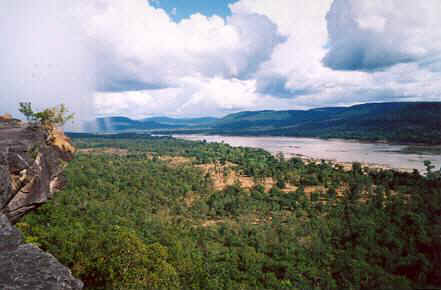 The Mekong River glides beneath the cliffs of Pha Taem National Park in Thailand east
of Ubon Ratchathani. Remote, wooded hills of Laos lie beyond the far shore.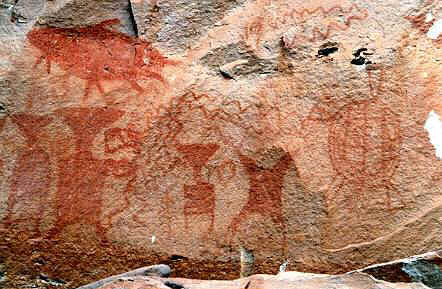 These prehistoric paintings at Pha Taem National Park may be 3,000 years old.
The figures and designs are very reminiscent of other prehistoric sites in distant
corners of the world.