CENTRAL LAOS AND VIENTIANE
Underground and aboveground with Bill and Bessie Too
Vientiane, Laos PDR
31 December 2002
We've reached the capital of Laos, which is delightfully slow-paced compared with Bangkok. Lots of trees grow along the streets and many Buddhist temples glitter in the sun. The broad Mekong River slowly glides by, separating Laos from Thailand.
Our longest ride of the year began out of Savannakhet—135 km—and headed north to the riverside town of Tha Khaek. We stopped on the way at the ornate 16th-century stupa, That Ing Hang, the second most sacred place of southern Laos after Wat Phu Champasak. On nearing Tha Khaek, we noticed sheer-walled limestone mountains covered with jungle appearing beyond the rice fields. The peaks resembled those so often portrayed in Chinese paintings.
Intrigued, we set off for them the next morning on dusty Hwy. 12 and wound through the splendid landscape. This is cave country. I first stopped at the only developed one, Tham Naeng Aen, which has steps leading into the huge lighted chambers. Side paths branch off to smaller corners of the cavern. A small stream runs through the cave, and I couldn't help but wonder if it could be followed farther upstream. Well, maybe next time...
The next cave, Tham Xieng Liap, has a stream that could be waded or swum all the way through, about half a kilometer. The third cave—Tham Pha Bah Tham—shelters Buddha images in its upper reaches. The giant alcove yawns from a cliff visible from far away. So much light flows into the giant opening that a flashlight is hardly needed. No river here, but lots of bats cling to the ceiling.
Tha Khaek has a bit of French colonial architecture, but little else to write home about, so I won't. Another long ride north took us to a village at the junction for Hwy. 8, one of the routes to Vietnam. I turned east 37 km on this mountain highway past villages, rivers, and rugged limestone hills. Yes, we were headed for another cave—Tham Lot Kong Lo—a really big one with a river that runs through it. We turned south on rapidly deteriorating roads and tracks, not knowing quite if we were lost yet or not, and finally arrived at a remote resort, Auberge Sala Hin Boun. Early the next morning I got into a motorized canoe with two other travelers and headed up the Nam Hin Bun (river) past villages and gardens with friendly kids. Around a corner appeared the black hole of the cave that would swallow us up for more than 4 km! Stalactites hung down like giant teeth. Rapids at the mouth and farther in required some wading. About halfway through, we explored a dry side passage full of columns, stalactites, stalagmites, and draperies. Leaving the cave at the other end was even more dramatic—going from the world of darkness to a warm green land. After lunch we had the pleasure of going through the cave again—much faster downstream.
Back on Hwy. 13, we pedaled another three days to Vientiane, the capital and largest city of Laos. Compared with Bangkok, it seemed more like a provincial town. I parked Bessie Too, then headed for the Scandinavian Bakery—a food paradise of wonderful cakes, pastries, and real breads. Other restaurants beckoned too—Indian, French, Italian, Thai, and even vegetarian.
Food is NOT the reason to come to rural Laos, unless you really like noodle soup for breakfast, lunch, and dinner. Vegetarianism isn't in the Lao consciousness—they eat meat and the wilder the better. Hunters walking along the roads are a common sight, equipped with anything from an old hunting rifle to an automatic weapon left over from past wars. Restaurants often have grilled rats, squirrels, frogs, fish, and wild birds of various sizes. Domestic animals are more for special occasions. Villages emit constant sounds of rooster crowing, pig snorting, turkey gobbling, and duck quacking.
After a day of stuffing myself with croissants, it seemed time for a ride, and we followed a loop down along the Mekong to the Buddha Park. It was a Sunday and a large crowd of people was out on the grass to admire the strange statues and have a picnic.
Yesterday I climbed Patuxai, a 1960s Lao version of the Arc de Triomphe, for views over the verdant landscape with the Mekong to the southeast and distant mountains to the north. Gleaming gold spires of temples poked above the trees.
Today I went temple tripping. Most temples had been destroyed by Thai armies in the 19th century while putting down a rebellion here, but the Lao have rebuilt and added many more. Gilt and glittering glass make a dazzling sight. Wat Si Saket (1818) is the oldest and had the largest number of Buddhas—6840 images—though many are very small.
Tomorrow we head north toward Luang Prabang, famous for its old temples and palaces, via the seriously mountainous Hwy. 13. The ride will take at least five days, though we'll stop awhile in Vang Vieng to do some more spelunking.
I've got my visa extension—to Jan. 22nd—and a bag of more than THREE MILLION KIP for the journey. Yes, it's neat to walk out of a bank with millions and millions! They go pretty fast, though, as an entree at a good restaurant might cost 10,000 kip, almost a dollar.
The year 2002 has been a superb one for Bessie Too and me—back-to-back trips in southern India, USA East Coast, across the Indian Himalaya, and now the warm green lands of very friendly people.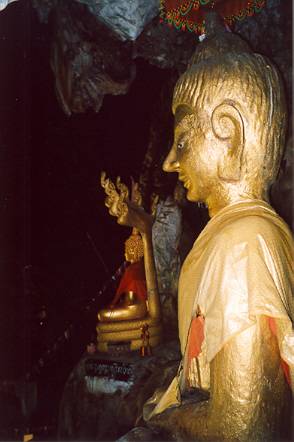 Inside Tham Pha Bahn Tham, east of Tha Khaek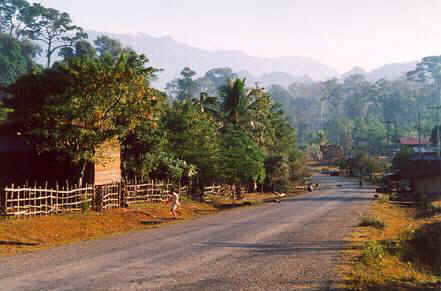 We're heading east on Hwy. 8 toward Tham Lot Kong Lo in the interior of Laos.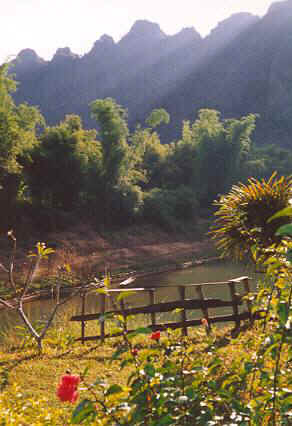 The Nam Hin Bun River from our rustic hotel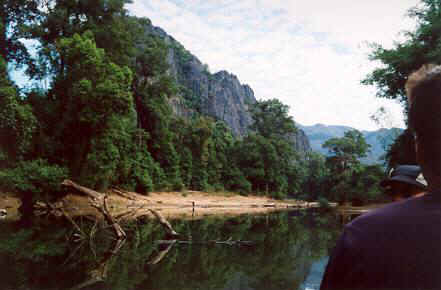 We glided up the tranquil Nam Hin Bun in our little canoe past limestone cliffs, jungle, and villages.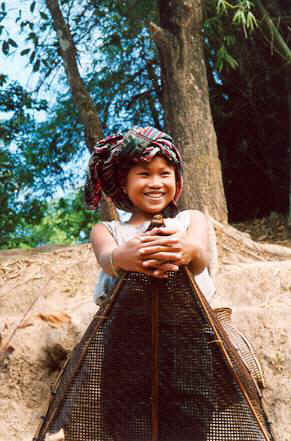 This girl fished the river using a scoop-like net and a storage basket.
We had stopped in her village, Ban Kong Lo, to change to another
motorized canoe with two cave guides.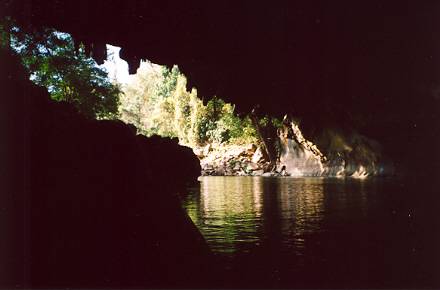 Our last look at the sky and greenery before heading into the depths of Tham Lot Kong Lo.


Just inside the cave, our guides spent half an hour fiddling with their lights.
I shared the canoe with a German couple.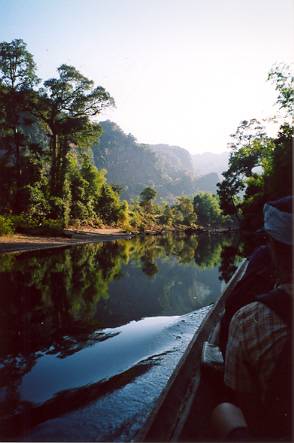 The river reflected our inner and outer worlds.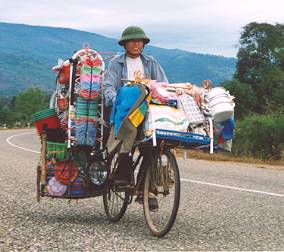 We're back on Hwy. 13, headed north for the capital, Vientiane. The pith helmet on this pedaling salesman is a sure sign that he's from Vietnam.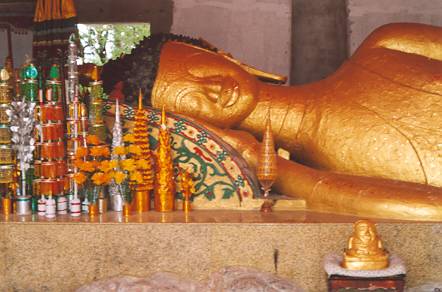 Inside a shrine at Wat Pha Baht Phonsan, 81 km northeast of Vientiane. When a Buddha
footprint was discovered here in 1933, devotees constructed this monastery and a stupa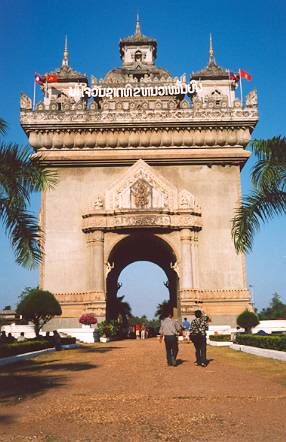 Patuxai, Vientiane.
Completed in 1969, it commemorates the ultimate sacrifices of Lao soldiers in past wars.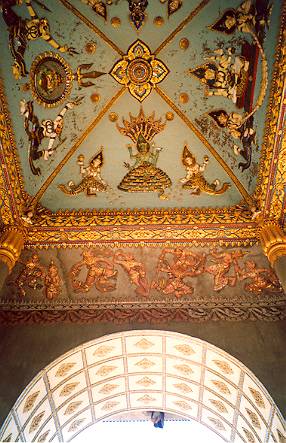 Deities in bas-relief preside on the ceiling of Patuxai.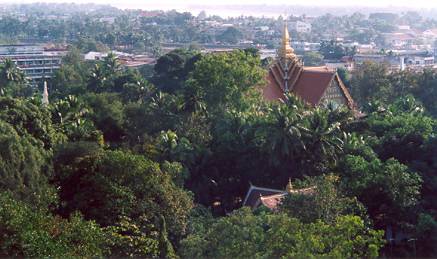 In this view south toward the Mekong River from Patuxai,
Vientiane seems to be more trees than buildings!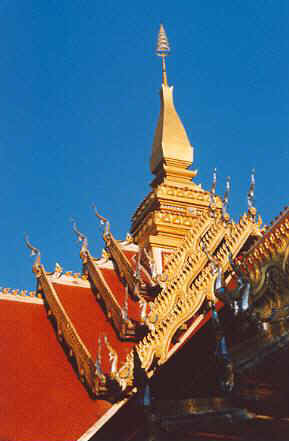 A detail of the temple seen in the previous photo. The lotus-bud central spire is a copy of the most famous stupa in Laos, Pha That Luang.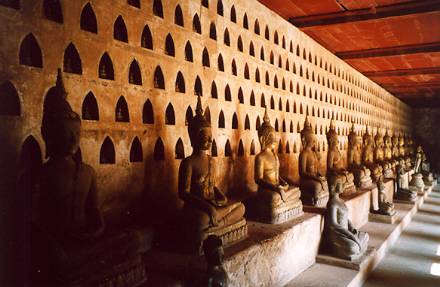 Wat Si Saket cloister
Constructed in 1818 by King Chao Anou, this may be the oldest temple in Vientiane.
During the 1820s the king rebelled against the Thais, who then destroyed the capital,
sparing only this and a few other temples.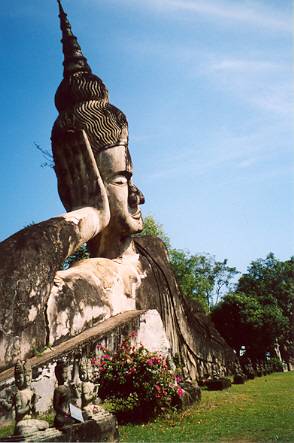 Buddha Park, beside the Mekong River near Vientiane. This pose of the Buddha probably represents his passing away into parinibbana, never to be born into the world again with its aging, sickness, and death.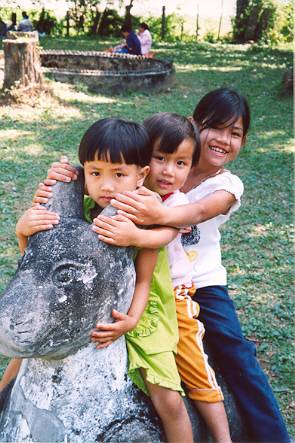 At play in Buddha Park. The concrete sculptures depict many kinds of Buddhist and Hindu gods, animals, and some very bizarre creatures.