NORTH TO LUANG PRABANG, LAOS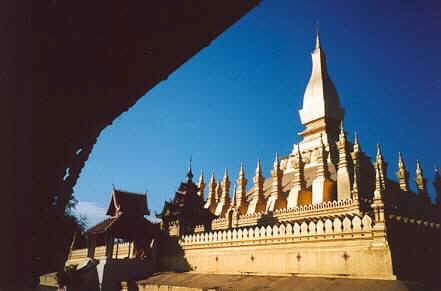 Pha That Luang
The official name is Pha Chedi Lokajulamani, "World-Precious Sacred Stupa."
The gleaming monument stands on the northeast edge of Vientiane.

Into the clouds with Bill and Bessie Too
Luang Prabang, Lao PDR
9 January 2003
We began the New Year with a stop at Pha That Luang (Great Reliquary or Great Stupa), a central stupa surrounded by many smaller stupas, all painted in gold. The monument commemorates both the Buddha and Lao Sovereignty; it dates from 1566 and sits on the site of a Khmer temple.
Six days of riding took us high across cloud-graced mountains to the former royal city of Luang Prabang. The first three days were easy as we rolled past rice paddies, rivers, little villages, the giant Ang Nam Ngeun Reservoir, and the splendid limestone peaks of Vang Vieng.
We stopped for two days at Vang Vieng, a village that has been transformed into a travelers' center with the requisite multitude of guesthouses, banana-pancake restaurants, bars, and Internet cafes. The biggest attractions lie across the Nam Song River. Many small caves with beautiful features penetrate the sheer-walled pinnacles. The first cave, Tham Jong, has a long flight of steps up to the entrance, then electric lights inside the large chambers. Below the entrance near river level, a small cave houses a large Buddha image—a popular use for caves in Laos! Cool, clear water flows from a lower cave nearby. Other caves offer serious adventure with ladders to climb, narrow passages to squeeze through, and a little mud for fun. One cave contains pools with fish deep inside, and it left me wondering how the fish got there.
The fourth cave took the most effort, with a long tough climb through the jungle to a huge entrance halfway up the cliff. A very L-O-N-G ladder descends straight down into the entry chamber, lit by a soft green light filtering through the trees. More ladders lead up the other side and deeper inside. I chickened out upon seeing the danger sign and yet another ladder that dropped into the darkness. This cave has some of the largest and most pristine features I'd seen—few people had been foolhardy enough in the past to enter. A side passage even has gravity-defying helictites, very delicate little cave features not often seen. After a fifth cave, which shelters many bats, the sun was getting low and I headed back to my spacious new $6 guesthouse for a hot shower to wash the mud off. A fine dinner followed at Nazim, an Indian restaurant.
Back in the saddle the next day, we rode north toward Kasi, with a detour to Tham Sang beside the Nam Song. A chamber in a solitary pinnacle shelters a large Buddha and a variety of smaller Buddhas in different poses. Greater caving challenges lay nearby in Tham Hoi, a long straight passageway, and in a newly opened cave nearby packed with stalagmites, stalactites, columns, and travertine terraces; some of the features are nearly pure white.
From Kasi, the road headed for the sky—a one-thousand-meter climb into the dazzling green mountains to the tiny crossroads town of Muang Phu Khun at an elevation of 1400 meters. Clouds enveloped us the next morning on a roller-coaster ride that dropped down out of the clouds for a while, then climbed back into them. Fifty kilometers later, we were grateful to pull into a village guesthouse, which, despite all the climbing we had done, was as at the same elevation we had started from that morning!
Here I met another cyclist, Frank van Rijn of Holland. It wasn't long before we realized that we had met 19 years ago in south India. Frank even remembered my bicycle's name, "Bessie"! I don't know of anyone who has cycled in more places and more countries. You can see a photo of him in the Australian outback at http://home.wanadoo.nl/frank.van.rijn/thuis.html. Frank is a very popular cycling author in his native land and has several books out in Dutch. He's translated one story of his travels into English and is looking for a publisher. We swapped tales and compared notes of the road ahead to our respective destinations. Frank had come from northern Laos and complained about much cold and cloudy weather. I complained about the hot sun experienced in the south.
Clouds enveloped us early the next morning. Frank headed south to Kasi, and I north to Luang Prabang. Soon I was whizzing down a 21-km downhill, but this was not Bessie Too's day. The seat started getting loose—no problem, it just needs tightening, I thought. Then the bolt snapped and we had a problem. Lashing the seat down, I wobbled atop Bessie Too for the remaining downhill. The little village at the bottom didn't have bolts, but a guardian angel tanker truck soon stopped and the driver fished out the magical bolt! Now I could ride in comfort again—a good thing because the road immediately began a 15-km climb. The word "level" was not in the road builders' vocabulary. The French constructed the road in the early 20th century, and the whole way was paved only in 1996.
One would think that this vertical world of cloud-shrouded mountains would be impossible to farm, but not so for the Hmong villagers. They had migrated from the mountains of eastern Tibet, southern China, and Myanmar in the last century. Kids here, as in the rest of Laos were great—always calling out Sabai-Dee (hello) as if a passing cyclist were a big event in their day.
A big downhill took us to the Nam Khan River and warm sunshine, then we rode a fairly gentle 25 km to Luang Prabang and the Mekong River, muddier and swifter than what we had seen at Vientiane.
Next: exploring the temples and palace of Luang Prabang. And yes, another cave!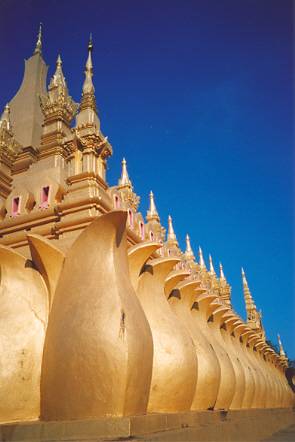 Pha That Luang incorporates three levels and much symbolism. The lotus petals at the bottom and lotus-bud spire symbolize how beings can follow the Buddha's teachings to rise above ignorance for the purity of enlightenment, just as a lotus flower can rise above the mud and water to sunshine.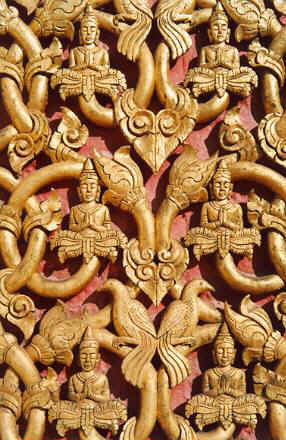 Detail of a temple door near Pha That Luang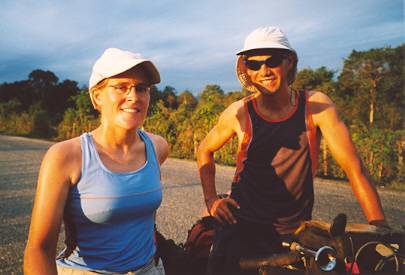 A cycling couple from France.
Although we were just a short ride out of Vang Vieng,
they chose to seek out a field and camp.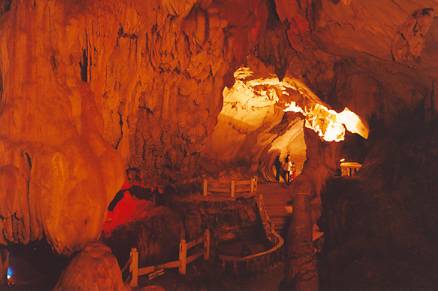 Tham Jang cave was easy once I had climbed the long flight of steps to the entrance!
Paths led through the electrically illuminated chambers past many cave features.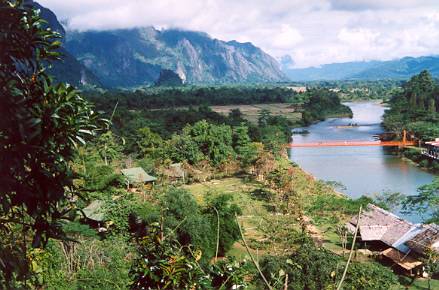 View up the Nam Song from a "window" in Tham Jang. The limestone hills on
your left have the caves. Vang Vieng is on the right, but you can't see it for the trees.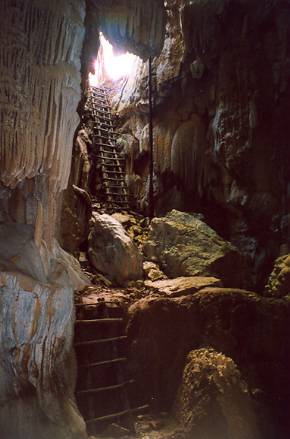 Just inside Tham Kiaw Kham, one of the many
signed caves a short hike west of Vang Vieng.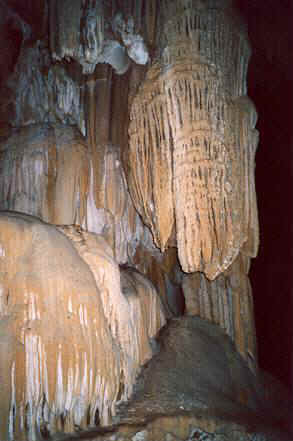 Tham Kiaw Kham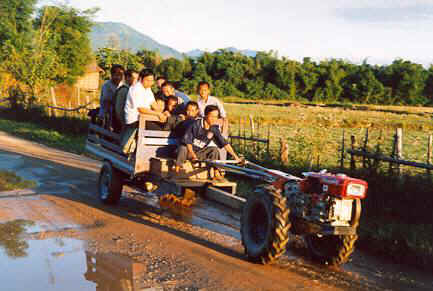 These little one-cylinder diesel tractors work hard—they pull
trailers of passengers and crops as well as plow the rice fields.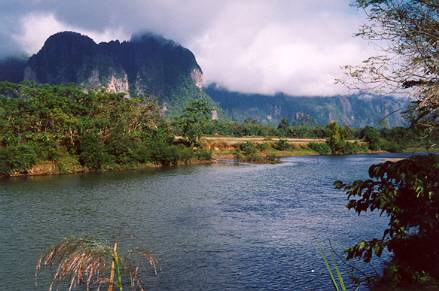 View up the Nam Song, north of Vang Vieng
I explored nearby caves Tham Xang (Elephant Cave), Tham Hoi, and Tham Loup.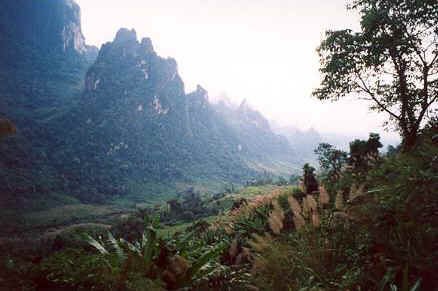 Limestone peaks reach for the clouds north of Kasi (elev. 500 meters).
We climbed 900 meters today on the ride to Muang Phu Khun (1400 meters).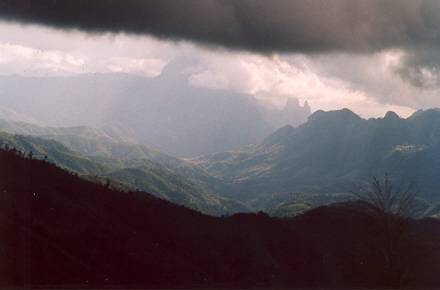 Views along this section of road north of Kasi take in
some of the highest limestone mountains in Southeast Asia.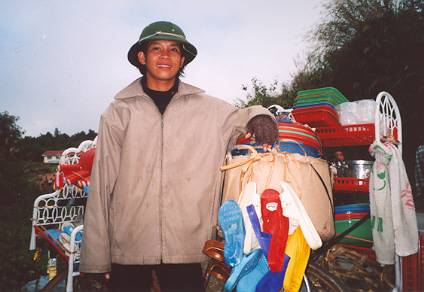 Yes folks, there really IS a bicycle under all those household goods!
This Vietnamese trader was riding—and walking—some of the most mountainous sections
of highway in Laos. His bicycle had one speed and a flip-flop brake—a piece of old sandal
that he pressed against the tire tread with his foot.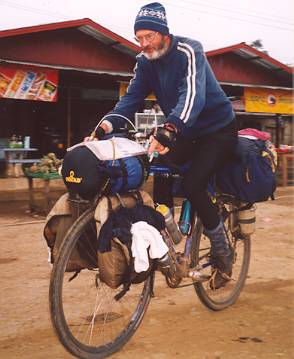 Frank van Rijn in Laos 2003 (above) and in southern India 1984 (below).
His bicycle looks awfully top heavy—he piles most of the gear atop the
racks and just ties on spare tires and water containers to the side of the
rear rack. He didn't use rear panniers because they might wobble too much.
Odd looking, maybe, but this setup has carried him across continents.
Like 99% of cyclists from the European continent, he doesn't use a helmet.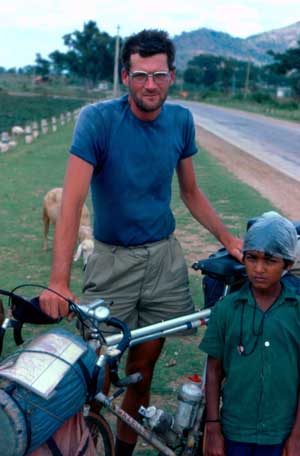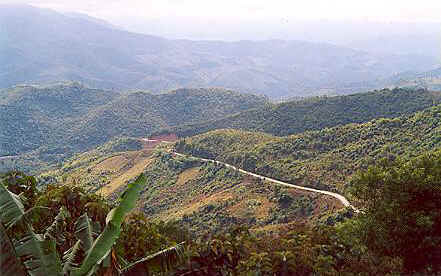 Here we're descending into the warm valley of the
Nam Khan, and a gentle ride on into Luang Prabang.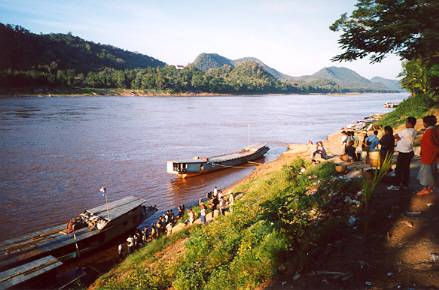 Finally we pull into Luang Prabang. Most of these passenger and cargo boats come and
go from Huay Xai, a two-day journey upstream. I decided to cycle there—a seven-day
journey for me—following a circuitous road route with plenty of rough spots.