CYCLING FROM THAILAND TO CHINA
E-mails and photos from a four-month bicycle adventure
beginning in Bangkok and ending in Chengdu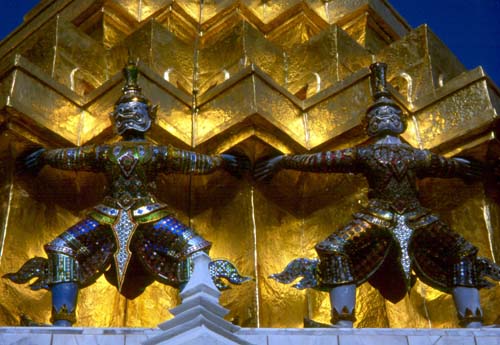 on the grounds of Wat Phra Keo—the Temple of the Emerald Buddha—in Bangkok
Bangkok, Thailand
15 Dec. 2004
A Bangkok Interlude with Bill and "Bessie Too"
Dear Friends and Family,
We're about to begin a new bicycling adventure!
Four weeks ago I arrived in Bangkok, the "City of Angels," with "Bessie Too the Bicycle." I flew on China Airlines, which offered the best fare—$705 roundtrip from San Francisco—and the best schedule. Check-in staff accepted the bicycle without fuss, despite my baggage being on the heavy side. The flight left at midnight, which allowed a lot of rest time as the sun took an extra nine hours to rise! I arrived in Bangkok at noon (other airlines on this route arrive at midnight), took an airport bus into town, and grabbed a room in the closest guesthouse.
People no longer ask if I've been in a boxing match or a motorcycle accident. That's because in addition to taking in Bangkok's marvelous temples and cultural activities, I also spent a couple hours on the operating table to have four skin lesions removed; two were a non-threatening cancer. Now the stitches are out and the scars are fading away; tests confirmed that all of the cancer had been removed. You can imagine the shock I got on seeing the hospital bill for the surgery—it was $25! The day after the surgery I plopped into a dentists chair for some periodontal "gum flap" surgery; those stitches are now out, and things have healed well. The enormous cost savings of having these procedures done in Bangkok's excellent facilities instead of in the USA will pay for my entire six-month trip!
Weather has been excellent so far—this is central Thailand's dry and "less hot" season.
Bangkok's temples glitter in the sun with gold leaf, sparkling glass tiles, shiny ceramics, and bright-colored paint. The Temple of the Emerald Buddha has the highest "dazzle factor" and I always enjoy a visit the large walled complex. I've also taken in many fine museums dedicated to the country's art, history, architecture, and village life.
The Loy Kratong festival took place during the last full moon with people launching floating offerings filled with flowers, candles, and incense on the wide Chao Phraya River. The event reminded me of Hindu ceremonies on the Ganges River of India, and in fact the Thai festival may well have originated in that country. Afterward, Thai groups performed traditional dances and music at a riverside park. I was most impressed with an episode of the Ramakien, the Thai version of the Indian Ramayana story of good versus evil. The accompanying band had many Western instruments, but the sound that came out had no resemblance to anything written by John Philip Sousa!
Bangkok sprawls endlessly across a plain a short way inland from the sea. There's no real center to the city. I usually stay in the western part near the Chao Phraya; this is the oldest section and dates from the city's founding in 1782. The Temple of the Emerald Buddha, Grand Palace, National Museum, and other big sights are here. More amusingly, the infamous Khao San Road is here as well—a bizarre one-block street that attracts backpackers from all over the world. Bars, cafes, tattoo parlors, travel agencies, and shops of all kinds spill out onto the sidewalk and pavement. The evening procession of young bohemians, hip Thais, and curious locals makes for quite a scene.
Where to from here? North! I plan to cycle north from Bangkok across the plains via the former Thai capitals of Ayuthaya and Sukhothai, then swing west to Mae Sot near the Burmese border. Here I'll turn north into the forested hill country and parallel the Burmese border to Mae Sariang, then wind northeast to the little town of Chiang Khong on the Mekong River. Here I'll take a ferry across the river to Huay Sai in Laos, a country I enjoyed traveling in two years ago. From northern Laos, I enter China's Xishuangbanna region of Yunnan Province. Many tribal groups inhabit this subtropical land, which has more in common with neighboring Laos and Burma than the rest of China. If I keep cycling north, I'll encounter the great gorges of three of Asia's biggest rivers, the Salween, Mekhong, and Yangzi, which closely parallel each other before splitting off to their lower respective lower drainages. And If I go still farther north, I'll reach the soaring eastern Himalaya inhabited by Tibetan peoples. All this in just one province—Yunnan!
Happy Trails,
Bill Weir
---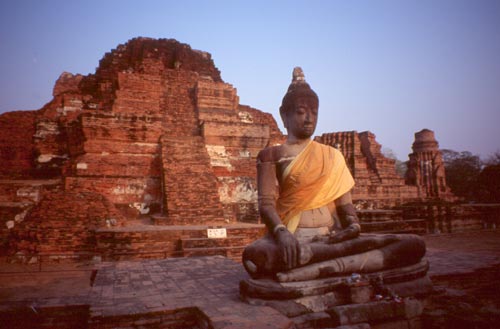 ruins of Wat Mahathat in Ayuthaya
Ayuthaya, Thailand
23 Dec. 2004
Merry Christmas from Bill and "Bessie Too"
Dear Friends and Family,
Best wishes for a merry Christmas and a Happy New Year!
Even the longest bicycle ride always starts with the first day. For me, that was last Sunday when I saddled up Bessie Too and turned the wheels north. I began riding at sunrise, when much of the city still slept.
More than a month has passed since arriving in Bangkok, the City of Angels, but work on my travel guidebooks had delayed the cycling. Thanks to the magic of technology, I was able to view the typeset pages of my Grand Canyon and Arizona books sent as PDF files via e-mail. The proofing took a lot of concentration, but I was able to find hundreds of typos and some major layout problems. Now my fingers are crossed that the publisher will fix them!
Although not quite finished with the books, when Sunday came up, I headed out. Cycling was easy at first with light traffic. Navigation took effort, as my Bangkok map didn't always tell the full story, and I discovered a couple of dead ends. After hitting some busy major roads I began to realize why so few people cycle here. I have yet to see a cycling path in Bangkok. Hours later I finally reached the outskirts of the vast city and got on a blissfully quiet highway headed north to Ayuthaya, my first day's destination. Like most Thai highways, it had a wide paved shoulder, not so much for cyclists but for underpowered motorcycles; still, it made for easy and hassle-free cycling. A gentle headwind, not a bad thing in the tropics, helped keep me cool.
The countryside was absolutely flat, and the broad Chao Phraya River—Thailand's largest—lay just to the west. Green rice fields covered much of the landscape in this land that knows no winter. The weather has been incredibly boring—day after day of warm sunshine with perhaps a bit of haze or cloud. A flock of storks hunting for morsels in a muddy field on my left revealed that I was near Wat Pailom, a favorite wintering destination for the Asian open-billed stork that fly in from India and Siberia. A high bridge led over the muddy waters of the Chao Phraya and a little while later I began seeing large stupas rising out of the fields. I was nearing Ayuthaya, once the capital of Siam and one of the most glorious cities in Asia. All that came to a violent end in 1767 when the Burmese army devastated the city. The Thais regrouped a few years later, but decided to abandon Ayuthaya and move their capital downriver to present-day Bangkok.
I pulled into the Ayuthaya Guest House after 88 km (50 miles) of cycling and had a well-deserved red curry dinner. Unlike the weather, Thai food is never boring. This afternoon I visited two large temple complexes of old Ayuthaya. Wat Maha That (Temple of the Great Relic) has an enormous central sanctuary of stone and brick. The top collapsed long ago, but the structure remains impressively large. A courtyard surrounding the central sanctuary has more than one hundred life-size Buddhas, all of which had lost their heads; the Burmese had left few things undamaged. Many picturesque ruins of old temples and stupas stand nearby, some showing Indian or Sri Lankan architecture influences. Flowering trees gave a sweet smell to the park-like grounds. Next I headed over to Wat Ratchaburana which has a soaring central tower, partially restored, and more temples and stupas. Steps led high up to the entrance of the tower, where stairs led deep into the depths to a small room painted in red and gold with some faded human figures.
Best Wishes for lots of Happy Holiday Cheer,
Bill Weir and "Bessie Too the Bicycle"

---
New Sukhothai, Thailand
30 Dec. 2004
Happy New Year from Bill and "Bessie Too"
Dear Friends and Family,
Flags in Thailand are flying at half-mast in commemoration of the tidal wave disaster that took thousands of lives in the south of the country. The beginning of the new year will be a relatively somber event here as people mourn the tragedy.
"Bessie Too the Bicycle" and I have been pedaling northward for a week now, and have reached the Lower North. Before saying goodbye to Ayuthaya, I stopped at Wat Phra Mane to pay respects. It's the only well preserved temple to have survived the Burmese attack more than 200 years ago. Inside a giant crowned Buddha gleams with gold. I could compare the architectural details of the beautiful building with the many ruins I had been seeing on the site of the once glorious capital.
| | |
| --- | --- |
| Wat Phra Mane (1503), Ayuthaya | Chinarat Buddha (14th C) in Wat Yai, Phitsanulok |
Beyond Ayuthaya I felt that I was really in Thailand, as there were no foreigners to be seen except for the occasional statue of Colonel Sanders outside one of his chicken places. I was dining at Thai restaurants, most of which are outdoors and lack an English menu. Every meal turned out to be an adventure and the food was always tasty. I'm convinced that the national sport here is eating! The Thais typically tuck away four to five small meals a day, yet one rarely sees a plump Thai. A lot of vegetables, salad greens, and fruit go into the daily intake. The food has far greater variety and regional flavors than one finds in Thai restaurants overseas.
At Nakon Sawan, I reached the "birthplace" of the broad Chao Phraya River, where major tributaries from the north join. At Phitsanulok, I got off the bicycle and walked around to see the sights. The Thais believe the large 14th-century Chinarat Buddha here to be one of the most beautiful; it's highly revered and may be the second-most famous statue after that of the Emerald Buddha in Bangkok. It's a gold-painted seated image with the right hand touching the earth, the pose the Buddha took on conquering his last doubts before enlightenment. I saw a great many copies of all sizes at the Buddha Casting Foundry, where workers use a lost wax process and a lot of hand labor to cast statues. Next door, a bird park displayed hundreds of native species, including some rarely seen. A myna could speak pretty good Thai, but I was most impressed by the big hornbills and colorful creatures such as the Asian fairy bluebird. A large folk museum across the street showed village life in the old days, when most people were self-sufficient, raising their own crops and livestock. An extensive display showed how hunters trapped animals; my favorite was the tethered coconut with a hole in it—a monkey would come along and see an egg or other treat inside, reach in to grab the morsel, then was unable to pull its hand out because the hole was too small. The monkey could easily have let go of the food and escaped, but its greed was so great that the animal was trapped, awaiting its fate.
Today I toured the ruins of Thailand's first capital, Sukhothai, which means "Rising of Happiness." In the mid-13th century the Thais emerged from the breakup of the vast Khmer empire and embarked on a golden age of art and peaceful times. The very graceful Buddha statues with gentle curves and long, slender fingers first appeared at this time. By the late 14th century, political power shifted to the up-and-coming Ayuthaya, which reigned for the following four centuries.
Sukhothai


The Buddha in Wat Sri Chum probably
dates from the late 14th century, after
Sukhothai came under the rule of Ayuthaya.


image at Wat Phra Sri Ratana Mahathat


water lily
The early Sukhothai people had great religious fervor and built dozens of temples that now survive as ruins. Typically the temples have one or more Sri Lankan-style bell stupas and a stone-pillared hall that held a Buddha. A couple temples had Khmer-style towers; at least one of these predated Sukhothai and had originally housed Hindu gods. The central sites lie in parkland with trees and ancient moats, while those farther out made pleasant bicycling destinations.
Tomorrow I think I'll head north a bit to Si Satchanalai-Chaling Historical Park, which has extensive ruins and some famous pottery kilns from the Sukhothai era.
Next I plan to head west a couple days to Mae Sot near the Burmese border, where I may pop over for a day visit. Getting to Mae Sot will take some tough pedaling as there's an 872-meter (3,000-foot) pass. It will be goodbye to the flat and easy cycling I've been doing so far. From Mae Sot I'll be in hill country paralleling the Burmese border as I go ever farther north. Temperatures will be cooler and I may hit some valley fog in the mornings.
Best wishes for a rewarding 2005!
Bill Weir and "Bessie Too the Bicycle"
---
Mae Sot, Thailand
3 Jan. 2005
Over the hills to Mae Sot
Dear Friends and Family,
After a week of gliding across the flat landscapes of central Thailand, the mountains loomed high above. The ride from Sukhothai to Tak was easy enough with some gently rolling hills and the first forests of the trip. Most of central Thailand has long been intensively cultivated for rice and fruit trees, so it was a pleasant change to be in forests even if they were just tree plantations.
A short way out of Tak the highway aimed for the heavens. I left a trail of sweat while slowly cranking my way higher and higher. The forests became lusher and junglier as I climbed to the 872-meter pass. Cool breezes and pine trees provided a welcome at the top. I collapsed at a roadside refreshment stand, knocking back some cold water, soymilk, and drinking yogurt sold by a very pretty girl.
Rejuvenated, I swooped down at speeds exceeding 60 km/hour to the valley below. The road then began a roller coaster of big ups and little downs. I was getting tired from all the first-gear gear climbing, but enjoying the dense jungle and gurgling streams. Just before the top of the last hill, when I was wondering if I would survive the day, I stopped at a popular shrine at the base of a spectacular vertical slab of a mountain. Smoke and noise from firecrackers filled the air, as that was how people paid their respects! Passing motorists honked their horns as well. I'm not sure who the shrine was dedicated to; a giant meditating Buddha surveyed the noisy scene from one side. After fortifying myself at the cold drinks stand, it was back in the saddle and winching my way upwards. At the next bend I met a local cyclist—kitted out in racing clothing—who pointed ahead and said "down, down, down." And so it was as I flew downhill and arrived safely in Mae Sot well before sunset.
The people of Mae Sot look very different from those in other Thai towns I've visited. Hill tribe visitors wear distinctive striped clothing of bright colors. The Burmese men are easy to identify with their traditional lungis (sarongs). And grandma with the fat cigar? She's probably Burmese too. Many of the Burmese are Muslims and wear white skull caps (men) or head shawls (women). I've heard that more than 100,000 Burmese refugees live in camps in the region, but these are strictly off limits to tourists. Apparently conflicts between the Burmese government and rebel groups persist.
Today I left "Bessie Too the Bicycle" in the hotel and took local transport the short 7 km to the Burmese border. After getting stamped out of Thailand, it was a short stroll on a bridge over the Mae Nam Moei River to the trading town of Myawadi. From here it would be only a short journey to Moulmein on the Andaman Sea, but the route is closed to tourists. Burmese immigration kept my passport to make sure I wouldn't try to roam beyond town! A rickshaw driver adopted me and took me around to three temples and to the main market. The gold- and jewel-clad pagoda Shwe Muay Wan towered high above the treetops; shrines filled with Buddhas surrounded it. Burmese Buddha images tend to be very striking with pure white skin; some statues are of white marble and very pretty. At a hilltop pagoda I could survey the town and surrounding hills of Burma and Thailand; many other pagodas, all painted in gold, dotted the countryside.
Myawadi, Myanmar (Burma)


Why walk when you can ride in a pedal-powered cart?


happy times in the main market
The main market had everything from garlic to jewelry. Many of the herbs and foods were a mystery to me, but my guide identified bags containing a solution with roots as a Burmese shampoo. Fruit included the heavy, spiky durian—famous for its sweet taste and intense ammonia-like fragrance!
The weather continues to be just one day of sunshine after another with a bit of haze. The days have gotten incrementally cooler as I make my way north and into the hills.
Tomorrow I head north toward Mae Sariang, a journey through hill country that will take about three days. On the first day I'll pass a waterfall, a famous temple, and a cave with a river in it. From Mae Sariang I plan to head east and north to Thailand's highest mountain, Doi Inthanon (2,595 meters). The mountain is a national park and noted for its varied flora and fauna, which I'll see if I survive the climb.
All the best,
Bill Weir and Bessie Too the Bicycle
---
Chiang Mai, Thailand
15 Jan. 2005
Over the hills to Chiang Mai
Dear Friends and Family,
Greetings from Thailand's north!
Getting here took some serious pedaling, a lot of it in first gear. From Mae Sot I rode northwest paralleling the Burmese border. The going was easy at first, through farmland and small towns; I stopped at Wat Don Kaew in Mae Ramat to see a large marble Buddha and read about its difficult journey across rugged terrain from Burma in the early 20th century.
Later that day the road plunged into a land of jungle and sheer limestone mountains—cave country! A short detour the next morning over a killer hill led to Tham Mae Usu, a cave with huge features and multiple entrances. I waded down a river with a guide into the cavernous mouth, then climbed up past stalactites and stalagmites to a huge room illuminated by large openings. From here a different path wound down to another entrance from which a river (the same one?) emerged.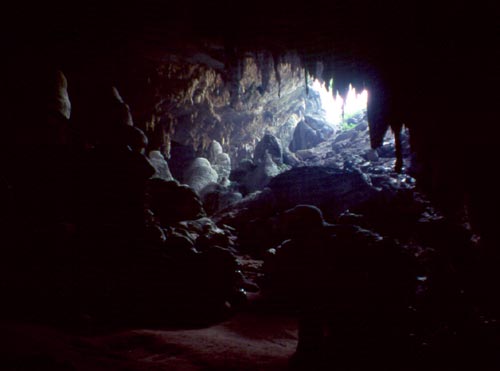 One of several entrances to Tham Mae Usu
Cycling farther north I passed a village of bamboo huts roofed with leaves. No welcome mats here—it was a camp for Burmese refugees; barbed wire surrounded the vast camp that stretched for several kilometers along the highway. Thai security forces kept a close eye on it and maintained many highway checkpoints. Ongoing warfare in Burma between government forces and rebels meant that the camp's residents had no real home and a doubtful future.
No guesthouses or hotels that night in Ban Tha Song Yang, but friendly police let me camp in a wooden pavilion overlooking the placid, north-flowing Mae Nam Moei River and the forested Burmese shore on the other side—a beautiful spot. The town's only restaurant was closed, but the police fixed up some dinner for me.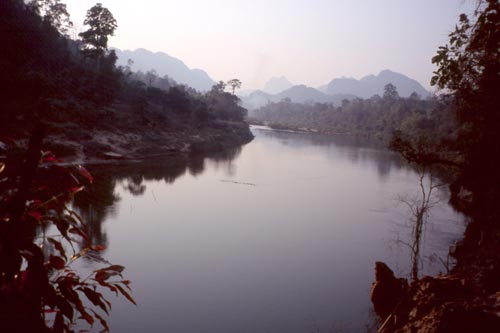 view down the Mae Nam Moei (Myanmar lies on the left shore)
The next morning the restaurant was open and I fortified myself for the 100-km ride north to Mae Sariang. Immediately after leaving town I hit the first hill and was still hitting it two hours later! My water soon ran out and there were no shops or anyplace to get some, so I climbed down to a creek and refilled my bottles and added some iodine for purification. The dense jungle sounded with haunting melodies of bird songs. Finally I reached the top of the hill and began a short steep descent hanging onto the brakes for dear life. The roller coaster ride lasted all day—steep ascents followed by gut-busting climbs. Panoramas took in rolling ranges of jungle-clad hills to the horizon.
By late afternoon, and a paltry 40 km (25 miles) from my start, I was beat and ready to call it a day. A young fellow on a motorcycle stopped and offered me some water at his village, Ban Po, which was just around the corner; he then invited me to stay the night in his house. He had learned some English and was eager to practice it. We walked the length of the village, inhabited by Karen, Thailand's largest hill-tribe group. The village was Christian with the lower section Protestant and the upper Catholic. Many people wore brightly colored striped clothing made in the village. Everyone was a farmer, and tended terraced rice fields, fruit trees, and vegetable gardens. The thump-thump of rice pounding rang out as people used a foot-operated cantilevered log device to remove the husk from rice. The villagers never worried about house payments; they just went out into the forest to harvest some bamboo; large leaves woven into panels served as the roof, though they only lasted two years. Working elephants helped out in the forest for those lucky enough to have one. Electricity was free, as the Thai government had provided a solar array for each family. In the evening we joined a church service for the Karen New Year (Jan. 10th); all was in Karen language, which has its own alphabet (it looks a bit like Burmese).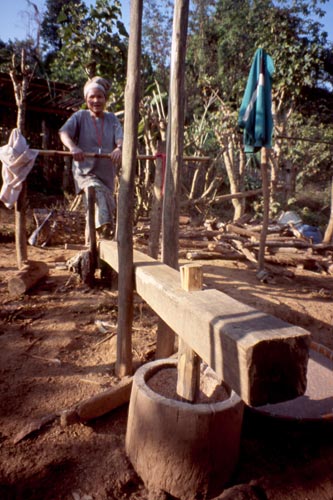 This woman in Ban Po is removing rice husks with a foot-
operated rice pounder. The rice is tasty and has a red color.
Villagers welcomed the morning sun, as it was cold up here. Fog could be seen in the valleys far below. The cycling got easier with more down than up, and soon I was back at river level and in farm country surrounding Mae Sariang. A hot shower in my hotel that night never felt so good.
A rest day seemed in order, so I took a truck over mountains to the west and down to the broad, south-flowing Salween River, which forms the border with Burma here. High on the banks of the Thai side, the town of Mae Sam Laep attracted villagers who arrived in large motorized canoes for a day of trading and shopping. Larger boats brought in cargos of cattle and water buffalo. I hired a boat for a river cruise. Jungle lined most of the river, with small settlements marked by banana groves here and there.
An afternoon on the Mae Nam Salawin (Salween River) at Mae Sam Laep.
Myanmar lies on the other side. The river has its origin in Tibet.


My boat driver. A gimbal-mounted diesel
truck engine powers this wooden boat.


A boat full of water buffalo and cows pulls in
while villagers wait for their ride home.
From Mae Sariang I turned east up a hill that seemingly wouldn't quit. Only after three hours did the grade relent. When the day got late I was still in the mountains and far from any hotel. Once again the police proved very helpful and let me camp under the pine trees next door and use their facilities.
From my idyllic campsite the next morning, the road plummeted into a valley and I racked up as much distance by midmorning as I had by mid-afternoon of the previous day. I stopped to view the narrow canyon in Ob Luang National Park, then sped on to Chom Thong, which has a very famous temple with a chedi covered with gold (built in 1451) and a lavishly decorated hall (1516), all in Burmese styles. The nearest guesthouse was 7 km up the road to Thailand's highest mountain, Doi Inthanon.
How could I resist? The next morning I took the bicycle in a truck most of the way up into the cold heights, then pedaled the last tough 5 km to the 2495-meter summit. Clouds scooted just overhead. Temperature was about 10° C (50° F) at midday and probably dropped to near freezing at night. A dense cloud forest covered most of the top with plants and wildlife normally found in wetter parts of the Himalaya. Moss and vines cloaked the trees. Birds flittered about, especially near the boggy areas. Rhododendrons bloomed with white or red flowers. I walked several trails, including one that passed a small waterfall and expansive grasslands. Riding down the mountain was a breeze, though it still took more than an hour.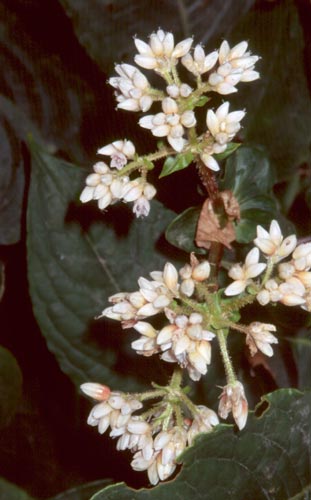 near the summit of Doi Inthanon, Thailand's highest mountain
An easy ride the next day, helped by a tailwind, took me into the chaos of Chiang Mai. A moat and wall remnants still surround the center. Glittering temples, many hundreds of years old, seem to stand on every block. Today I headed just east of town to Bo Sang Village, famed for its umbrellas and other crafts; a small festival was underway with music concerts and craft demonstrations. I also watched workers assembling umbrellas, fashioned by hand from bamboo and wood, and then covered with either cloth or paper in bright colors.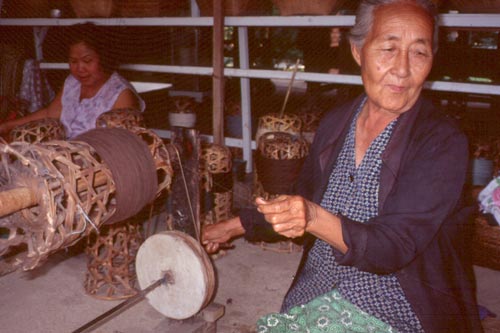 making yarn at the Pa-Da Cotton Textile Museum, south of Chiang Mai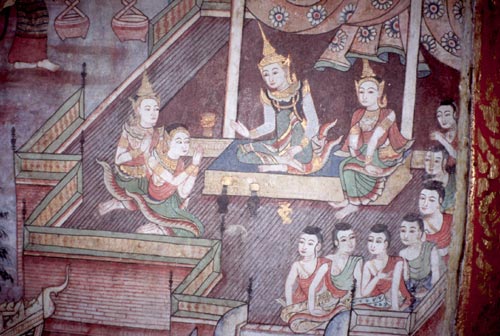 mural in Wihan Lai Kham at Wat Phra Singh, Chiang Mai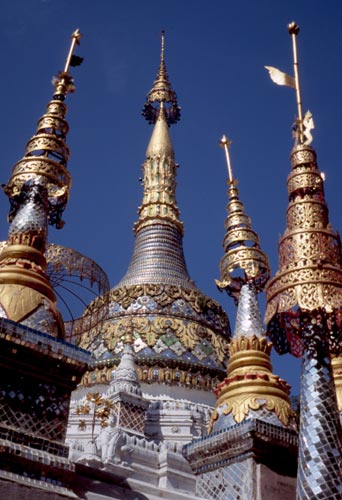 The main chedi at Wat Saen Fang, Chiang Mai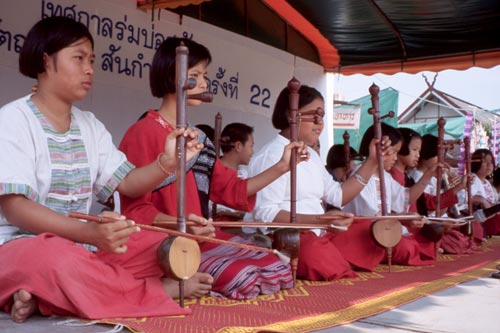 traditional music concert at Bo Sang Village, east of Chiang Mai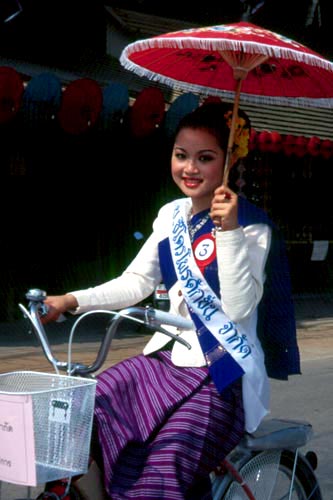 Bo Sang Village's Umbrella Festival.
I've enjoyed cycling in northern Thailand very much. The Thai people are so cheerful and helpful that it makes travel here a joy. The weather has been cheerful too—sun everyday and not a drop of rain so far.
Yours in northern Thailand,
Bill Weir and "Bessie Too the Bicycle"