CHINA
Hill tribes and hilly roads in Yunnan Province's far south
Mengla, Yunnan, China
4 Feb. 2005
Bill and "Bessie Too" reach the Middle Kingdom
Dear Friends and Family,
Yesterday I pedaled across the border from sleepy Laos to energetic China. My last night in Laos at the border village of Boten was spent in a very basic guesthouse—just a mattress on the floor and a place to wash outside in back. And a wash was what I needed—the road from Luang Nam Tha had been ripped apart by Chinese road crews and had become a bumpy, dust-laden track. The Chinese are upgrading this road across northern Laos between Thailand and China with the plan to establish a profitable new trade route.
Arranging a trek in Luang Nam Tha, Laos, turned out to be easy and I had a wonderful three days in the hills. The tourist office organizes a variety of trekking and boat trips. For $35 (US dollars preferred) I joined a group of seven other people plus a guide and assistant guide. Our guide, Mai Tai, spoke English well and could explain about the local customs of each tribal group that we visited. The young assistant guide, still learning English, had lots of enthusiasm and was helpful. Seven hours walking on the first day took us to a "Red Thai" village, Ban Piengngam. Most of the women worked with silk—hatching the silkworm eggs, feeding the ugly worms, then spinning, dyeing, and weaving cloth on handlooms. A marriage celebration was underway when we arrived. Guests listened to loud pop music as they downed glass after glass of the local firewater. The next morning we stopped by the ruins of an ancient stupa on a hilltop. A bomb during the Indo China wars had toppled it, but Laotians in California sponsored construction of a replacement stupa beside it and built a long flight of naga (snake) stairs to it. Morning fog cleared dramatically during our visit to the stupa. All of the local villages followed animist religions, so there wasn't a monastery or many visitors here. That night we stayed in an Akha village, Ban Nam Mat Mai, high in the jungle-clad hills. Pigs, cows, chickens, goats, and dogs wandered about the picturesque bamboo houses. Our dinner that night included rattan—the same stuff that's used to make furniture! It's surprisingly tender and tasty, a bit like asparagus, when cooked young.
On the Trail in Laos—A Three-day Trek in the Hills West of Luang Nam Tha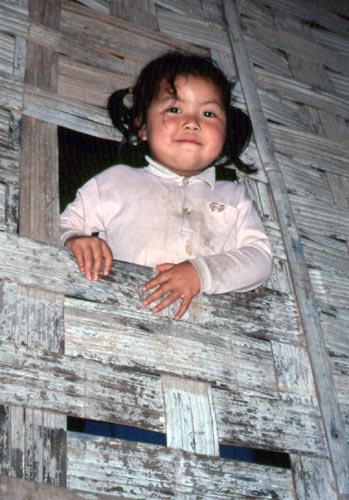 a member of our welcoming committee
We had dinner in this house in Ban Piengngam on the first night of the trek.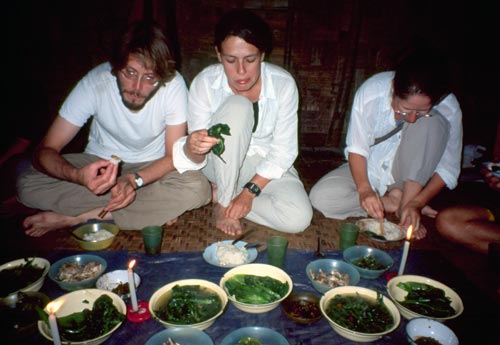 Greens, chicken, and sticky rice are on the mat for our dinner at Ban Piengngam.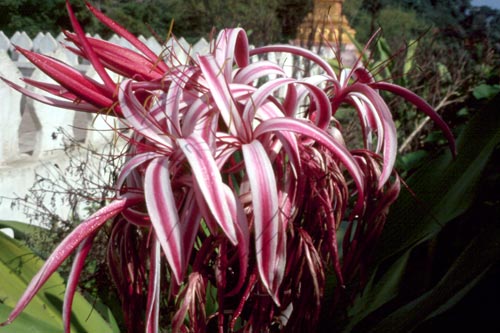 On the trek, we climbed a hill to a reconstructed chedi and these flowers.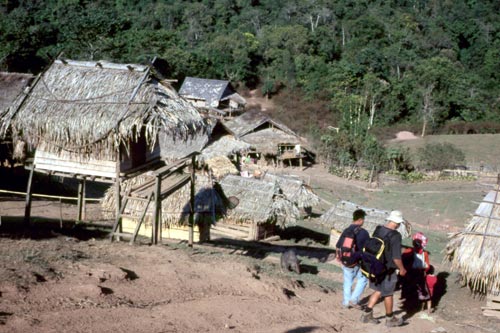 We spent the second night in this Akha village, Ban Nam Mat Mai.
Back on the road, border formalities were easy, just a little waiting to get stamped out of Laos, then three kilometers later, into China. At the border I was greeted with a nice smooth downhill past brightly colored shop fronts that lined the main road. No signs for the next destination, but a kilometer post told me that I was 3037 km from some distant city in the north. Rice, vegetable fields, tea, coffee, and rubber plantations lined the highway—the Chinese didn't waste any land if it could bring a profit. The native jungle had retreated to the mountaintops.
The scenic ride of about 60 km to Mengla wound through hills and past villages beside a river for most of the way—a pretty ride with lots of downhill. Soon I was in what seemed like a big city with glitzy shops and busy streets. A local rickshaw driver showed me a low-cost ($8) hotel a block off the main road; it lacked a sign in English and would have been impossible for me to find myself. I wound up with a large room, equipped with a water cooler, TV, and a bathroom with a really great hot shower. Surprisingly, there were few restaurants in town. The most common eatery, where I dined, was a hole-in-the-wall place with 8-10 pots of food to choose from. I had a huge meal of Sichuan tofu, vegetable soup, green beans, rice, and a plate of peanuts for less than a dollar; tea was free. A man felt sorry for me eating peanuts with chopsticks, so he dug out a spoon.
Today I pedaled 18 km north out of town to Bupan Aerial Skyway Park, a nature reserve that protects a large section of jungle. Paths wound past huge trees covered with vines and epiphytes. Travertine terraces decorated a creek. The reserve also offered a thrilling adventure—an aerial pathway wound through the treetops 40 meters (130 feet) above the ground! Narrow rope bridges went from tree to tree (we're talking TALL trees here) for about a half a kilometer, but it seemed much farther.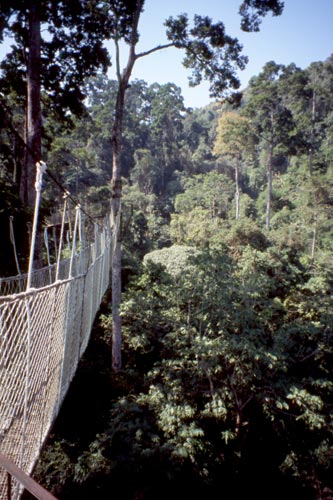 Bupan Aerial Skyway, north of Mengla
Tomorrow I plan to continue riding north on a winding route through a region of southern Yunnan Province called Xishuangbanna, or "Banna" for short. It's famed for having many tribal cultures, lush vegetation, and a tropical climate. Weather continues to be excellent, cool enough in the evening that one might put on a jacket, then warm and sunny during the day.
China has a reputation of being one of the world's most fascinating countries, but also one of the most difficult. I'm practically illiterate here, as I know only a few of the Chinese writing characters, such as the all-important ones for "mens" and "womens" restrooms.
The toughest part of China travel may be that very few people speak English. Or maybe it's the noise—Chinese are probably the noisiest people on earth. They talk loudly, play the TV loudly, sing loudly, and slurp noodles noisily. Or perhaps it's the smoking—most men seem to be addicted. What saves me is the bicycle; I can pedal along in peace and quiet and enjoy fresh air. I wouldn't last a week on the local buses.
My thoughts at the moment are to spend about one month touring around southern Yunnan, a month in northern Yunnan—getting into Tibetan highlands, then maybe a month in the high country of western Sichuan Province. Plan B, if I stay a shorter time in China, would be a visit to northern Vietnam before returning to Bangkok and a flight back to the USA in mid-May.
We'll have to wait and see how the travels unfold.
Bill Weir and "Bessie Too the Bicycle"
---
Menglun, China
6 Feb. 2005
Bill and "Bessie Too" commune with nature
Dear Friends and Family,
Happy Chinese New Year! The year of the Rooster begins on February 9th. It's THE big holiday for the Chinese and a time for family reunions and celebrations. Hotels and transport get booked out for a week or so. I don't have to worry about getting around, but finding a place to stay may be a challenge. I plan to be in rural areas most of the time, so perhaps I can manage easily.
Here's an explanation of how the Chinese determine each year's beginning: Chinese New Year starts with the New Moon on the first day of the new year and ends on the full moon 15 days later. The Chinese calendar follows the lunar cycle, which is about 29.5 days. In order to "catch up" with the solar calendar the Chinese insert an extra month once every few years (seven years out of a 19-year cycle). This is the same as adding an extra day on leap year. This is why, according to the solar calendar, the Chinese New Year falls on a different date each year.
Yesterday's cycling from Mengla proved tough but exhilarating. The first big climb began even before I had left town. The 99-km ride north on Highway 213 crossed three mountain ranges with great views and fun downhills. Most of the way passed along or through beautiful jungle of the Xishuangbanna National Forest Reserve. The last part of the ride followed a meandering river through a deep valley. Surprisingly, I met a trio of American cyclists. They had started in Xishuangbanna's main town, Jinghong, and were riding south to Laos and Thailand. This is only the second time that I've met other touring cyclists while riding on this trip.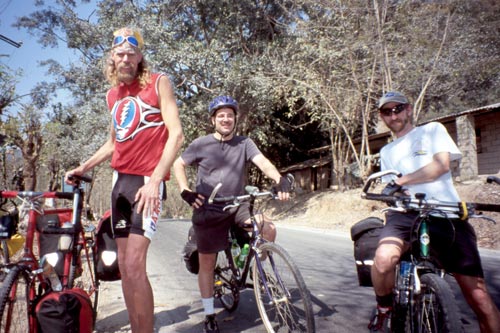 three American cyclists headed south; midway between Menglun and Mengla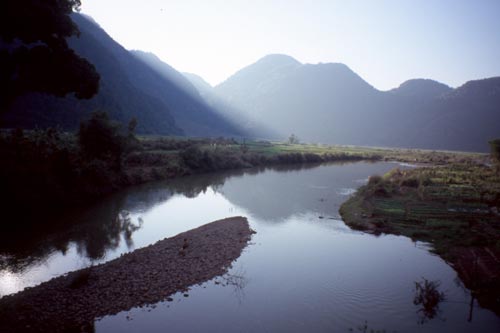 Yunnan is full of idyllic scenes like this; between Menglun and Mengla.
Today I strolled through the vast Xishuangbanna Tropical Botanical Garden across the Luosuo River from Menglun. The garden rates as China's biggest and richest in number of plant species; staff conduct extensive research. The western part has many specialized gardens, such as cycads, palms, bamboo, and ornamentals. A large museum introduces local ethnobotany and such plant oddities as a flower that changes sex from male to female at noon and a plant that supposedly is so sensitive that it "dances" to music. Farther east, lush rainforest covers the hills and valleys. I poked my head into two huge ficus strangling trees, and survived. They had killed their host trees, which had rotted away leaving a hollow interior.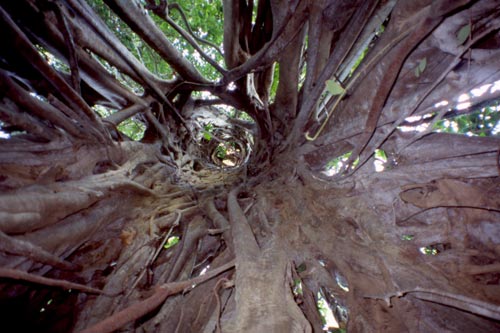 Looking straight up inside a ficus tree; the host tree has completely rotted away.
Xishuangbanna Tropical Botanical Garden, Menglun
Chinese enjoy being tourists, and I saw many groups touring the gardens. Usually a woman dressed in bright ethnic clothing and equipped with a megaphone led each group around. Chinese are very gregarious and seem happiest with companions. They probably take pity on solo travelers like myself, who must seem strange. But then I suppose that all foreigners look odd in a land that is overwhelmingly Chinese.
Weather continues to be just about perfect—warm sunny days and cool nights. Winter is the prime season to travel in Xishuangbanna. A pair of cyclists who traveled here in late April last year found the afternoons too hot for riding. By summer heavy rains arrive.
I'll be winding along country lanes over the next week or so, visiting minority villages, temples, and the Mekong River. After that I return to Menglun and take backroads over to southeastern Yunnan, a less visited area but with many cultural and scenic places to visit.
Happy Chinese New Year,
Bill and "Bessie Too"
---
Menglun, China
12 Feb. 2005
A wild Chinese New Year's eve
Dear Friends and Family,
"Bessie Too the Bicycle" and I are back in Menglun after a swing across Xishuangbanna and back. We made it to the main town of the region, Jinghong, in one day of riding high in the mountains, then gliding down, down to the Mekong River and across a new suspension bridge. My hotel was just around the corner from the "jade sellers' street," a shopping area filled with jade jewelry, wooden elephants, Thailand t-shirts, and other tourist essentials. I never did figure out the Thailand t-shirts; perhaps the Chinese think that Thailand and Xishuangbanna are the same place. Burmese Muslims ran the jade shops and also had a cafe where I could get a tasty curry and palantars (folded pancakes—great for breakfast). Jinghong had little in the way of sights, but I enjoyed walking around and seeing the street life. Gleaming glass hotels contrasted with curbside food vendors. Lots of fireworks were going off—boys liked the ones that made a deafening bang. The real action started about three minutes before midnight—New Year's Eve—when a great roar of countless thousands of firecrackers rose up. Fireworks also lit the sky above the Mekong. Not much sleep that night.
The next morning I headed up the old highway to Menghai, about 55 km farther west. It was slow going, uphill all the way, but very scenic as I climbed along a river valley high into the mountains. The road was blissfully quiet as almost everyone was staying home. Menghai was very quiet too, except for the occasional fireworks. On a search for a restaurant at dinner time, all I found was an alley full of noodle and steamed bun vendors, so that's what I had. The next day I rode farther west along a wide valley to the Octagonal Pavilion, built in 1701. The building was surprisingly small, but had lots of ornamentation along its multi-tiered roof. I met some friendly monks in the adjacent temple, then wandered the streets of the nearby village. The Dai people, close relatives of the Thai and the largest ethnic group of Banna, follow the same Theravada Buddhist religion as the Thais.
What goes up must come down, so next morning I had a wonderfully fast downhill back to the Mekong Valley on the new highway. While exploring a country road, I spotted a pretty young girl selling tiny melons—about the size of large oranges. The white melon was tastiest, like a honeydew; the other resembled a miniature watermelon and its yellow flesh tasted much like a watermelon.
I recrossed the Mekong, then turned south downstream along it to Ganlanba. I enjoyed many fine views of the river, but road traffic was heavy at times—the Chinese were now out enjoying the holiday. Ganlanba was swarming with tourists, so I headed out the next morning over the mountains back to Menglun. On the way I stopped at Banna Rain Forest Valley, another nature reserve with an aerial skyway.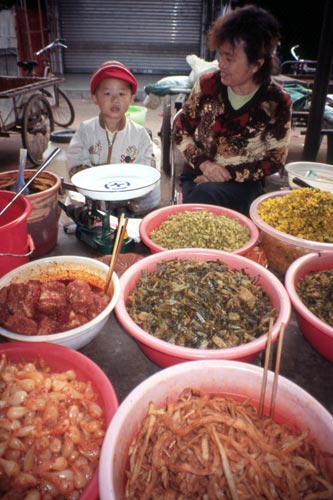 market in Ganlaba
Banna Rain Forest Valley, between Ganlaba and Menglun
From here I leave the guidebooks behind for a week! I'll be riding generally east through mountainous country inhabited by hill tribes. Roads will be a mix of rough dirt and smooth pavement. Larger towns should have accommodation. The only information on this route is from a pair of cyclists who rode part of it early last year. The ride will be an adventure.
I resurface on the tourist trail in southeastern Yunnan at the spectacular rice terraces of Yuanyang. From there I'll be visiting a string of historic towns on the way to Kunming, the capital of Yunnan.
All the Best,
Bill and "Bessie Too"
---
Tonghai, China
26 Feb. 2005
Soaring over the mountains of southern China
Dear Friends and Family,
The cycling since pulling out of Menglun back on Feb. 13th has been amazingly tough and beautiful despite a few bumps along the way. Although well of the guidebook circuits, I did have a printout of the route by two cyclists who undertook a jaunt from England to Southeast Asia last year, and they had come this way; see www.mark-ju.net. The bumps began 20 km south of Menglun at Mengxing, where I turned off the main highway and began a wild ride soaring into the heights and winding down into the deep valleys. This route wound north, then east, roughly paralleling the borders of Laos and Vietnam. The rocky road gave poor Bessie Too a pounding, so much so that a bolt holding the right side of the rear rack sheared off. With no way to remove the remnant of the bolt, and not knowing if the left bolt—now carrying a double load—would hold, I had no choice but to keep pedaling and hoping the rack wouldn't collapse. I continued riding through steep limestone hills, hoping that the small town with a guesthouse reported by the cyclists would magically appear. It did, and had a warm-water shower to wash the thick layer of dust off. Even better, the next morning, a local mechanic managed to remove the sheared bolt and install a new one—all at no charge.
Later that day I was surprised to see two cyclists riding on this remote backroad! They were Ken and Elly Lloyd from England on their first cycle tour, an adventure that began straight from the Bangkok airport and wound through Cambodia, south and central Vietnam, and Laos. They had entered China with the plan to swing around east and reenter Vietnam from the north, so this was a logical route for them. We rode together and found a surprisingly nice hotel (with hot water showers!) that afternoon.
Some beautiful forest and river scenery accompanied us through the mountains and up to something that made our hearts pound with joy—Pavement! Smooth asphalt wound high onto a ridge, then down into the large town of Jiangcheng with a luxurious hotel, good restaurants, bakeries, and other wonders.
Ken and Elly stayed behind to relax and wash a huge pile of laundry the next morning while I headed back into the mountains. A stiff climb topped out on a ridge more than 1000 meters above the Lixiang Jiang, which becomes the Black River in Vietnam. After a long descent—and not even halfway down—the pavement ran out. I wondered if I would I ever see it again as I bumped some 22 km down, down to the wide river and across a bridge. Actually the pavement did return, in its own good time, and I checked in at a little guesthouse in the little town of Takeshan. My room could have been cleaner and the toilet down the hall could have had a door and not smelled so bad, but I managed.
The next morning I followed the road up a little side valley that opened up into an enormous drainage system full of rice terraces and hillside-clinging villages. Farmers had filled the terraces with water and were preparing them for planting by using water buffalo to pull a multi-pronged plow. The climb just kept going. By afternoon I finally reached the top, some 36 km and 4.25 hours (plus LOTS of rest stops) later. Then the fun downhill of spiraling into the next valley began. A town had a guesthouse, but the scowling official in charge wouldn't let me stay. So I rode a bit farther, then found a fine camping place beside a river. Some locals came by that night to find out what was going on, but they didn't bother me.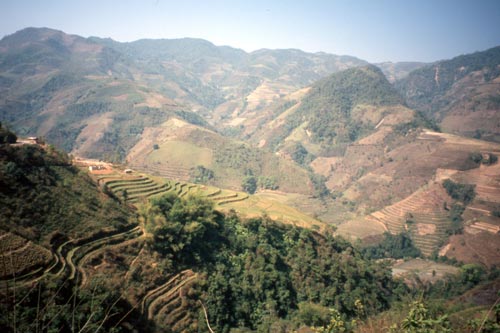 typical hill country in far southern Yunnan
This spot, between Daheishan and Lüchun, is north of where the Chinese, Laos, and Vietnam borders meet.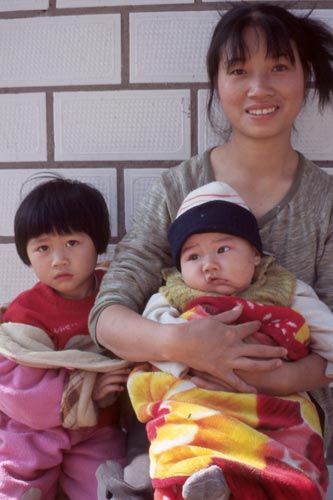 I met this family just west of Lüchun.
Another day, another big hill climb. I was seeing more rice terraces, sometimes thousands of them in one view! Pine trees on the ridges added an alpine touch. Then a long, lovely downhill along a river. Lots of "flame trees" with large red blossoms lined the way; the flowers stood out dramatically because of their bright color, size, and the fact that the trees had already dropped their leaves.
The next morning I started up the biggest hill of them all, a 43-km, 5-hour pedaling-time monster. From some viewpoints the rice terraces far below blended together to appear a bit like an inland sea. Lots of Chinese tourists came to see the spectacular terraces. When I finally reached the top, a great expanse of cloud stretched north beyond to the horizon. Previously I had been enjoying nearly non-stop sunshine and warm temperatures with perhaps only six drops of rain from a passing cloud. All that was about to change.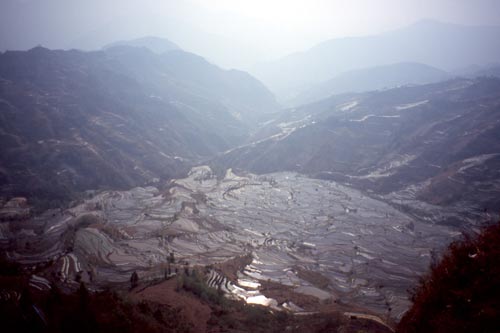 These rice terraces seemed like a giant lake when viewed from above!
Only the highest ridges rose above the mists. I dropped into the clouds, which were very cold and wet and obscured the view ahead. I grabbed the first hotel that I saw, located above Yuanyang. Walking across the road to a restaurant, I ventured into the kitchen and met a gregarious group of Chinese men enjoying dinner. They were very friendly and invited me to sit down and try their food. Previously I had been using the "pointing" method of ordering dinner, sticking to things that I could recognize. The men however were eating strange-looking foods that I had no idea what they were—even after tasting them! One dish they offered was pink and jelly like; it looked awful, but like the other dishes, was very tasty. I felt that I was really in China.
From China,
Bill Weir and "Bessie Too the Bicycle"