CHINA
Friendly minority peoples and
picturesque towns of North-Central Yunnan
Dali, China
10 March 2005
Bouncing down the Burma Road
Dear Friends and Family,
Although Kunming has its charms—and wonderful food—I was beginning to get "cabin fever" after three days of cloud and cold. So when the sun peeked out the morning after the snowstorm, I was ready to roll west on the Burma Road.
The Burma Road actually dates back a long time. It carried trade when the Bai people here in Dali ruled over much of the region—including what's now northern Burma. Their kingdom lasted from the early 8th century until the Kublai Khan's troops swept through in the mid-13th century. During World War II the Allies built the better-known motor road from Burma to Kunming to bring in military supplies in support of the Chinese army against Japan.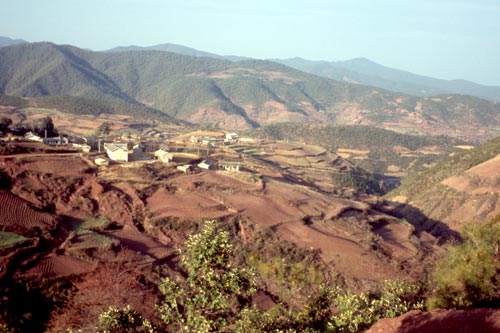 view from a pass on the Burma Road
The ride to Dali took me five days and countless hill climbs through deep valleys and over high ridges. Weather remained cool and I got pelted with a few snowflakes and a bit of drizzle on the first day, then it got a little warmer and sunnier over the following days. Scenery was great most of the way. I enjoyed seeing the green fields, pine forested mountains, and picturesque villages. No real sights to see, though the region has a rich history of dinosaurs, early hominids, bronze-age civilizations, and of course, the Burma Road.
Sights and Heights Around Dali

Guanyin Temple, 5 km south of Dali

a wonderful view of Dali and Erhai Lake

wood carving on door at Snake-Bone Pagoda

The 16 tiers of Qianxun Pagoda reach 70 meters.
Today I played tourist and took a chairlift high up on the pine-forested slope of the Chang Shan mountain range just west of Dali. At the upper station I visited a Chinese temple, then climbed higher until the snow patches became too deep. The fantastic view to the east took in the walled town of Dali far below and the vast blue expanse of Erhai Lake, China's seventh largest at 250 square kilometers. To the northeast—where I will soon be heading—rose another snow-capped mountain range.
Hordes of Chinese tourists throng the main shopping streets of Dali, but other parts of town retain their traditional life. Unfortunately there's some sleaze—women try to push ganja on us westerners. Lots of cafes serve chocolate cake and other western food delights. I better not stay too long or I'll get too heavy to ride!
So what's life like with the Chinese?? Some of my experiences...
Restaurants
First of all, the Chinese have no concept of "romantic candlelight dining." They like it bright with lots of fluorescent tubes and lots of noise. The noise level tends to go up as the alcohol goes down! Every meal is a time for socializing. Second, there's never a menu except in the upscale tourist places. It's normal for a patron to go into the kitchen and personally select the ingredients for each dish. This is also handy for us westerners to point out what we would like prepared. In fact many restaurants place their meats and veggies in trays in the dining room for the convenience of the patrons. The "point and choosing" method usually produces good results, but surprises do occur. One evening my noodle soup was swimming with duck heads.
Television
It's fun to observe what the Chinese watch. Period dramas, with plenty of tear-jerking episodes, attract the biggest audiences by far. Interestingly, most Chinese dramas have Chinese subtitles! Sports come in second with basketball from the USA and soccer from Europe both big hits. Hardly anybody bothers with the news programs unless there's something big going on. My favorite shows are the cultural ones, Chinese opera and acrobatics—sometimes mixed together. English programs appear now and then, usually either something like business news or an English competition. Television has penetrated even remote corners of the country thanks to inexpensive satellite receivers. But the Chinese have to be careful to use only legal satellite equipment—the police will confiscate anything else. So all the Chinese get to watch is what the government allows. They don't get such corrupting influences as MTV, BBC, or CNN. Even Hong Kong television seems to be banned! So the people in this country are very well connected with China, but not the rest of the world. Shortwave radios can be purchased, but I see few people using them; television is so much more compelling. Same with the Internet; I can sometimes get the BBC and CNN websites, but I don't see Chinese viewing foreign news sites in the Internet cafes.
Environmental awareness
First the good news...China has more roadside toilets than any other country I've been to! The upscale (somewhat clean) ones have a tiny fee, but the rural ones are all free (and haven't been cleaned since the Ming Dynasty, according to my guidebook). The bad news is that the Chinese throw litter all over the place, though small armies of women come through the next morning with brooms to clean the streets. (Ever notice that it's usually the women who clean up the messes men make?) You've probably read that China has the worst polluted cities in the world; that's not so much of a problem in southern China because there's relatively little heavy industry. I've mentioned the tobacco-smoking problem—the men may have the highest addiction rate in the world. Few women smoke in public because it's not "lady like." What really gets on the nerves of westerners is the mainland Chinese habit of spitting! They spit like they breathe; it's such an ingrained habit. Even the deadly and well publicized SARS epidemic and the bird flus do not dissuade the Chinese from spitting in public areas—indoors and out. Respiratory infections are very common here, though I've been able to avoid one so far. Watch for draconian punishments for spitting in public when the Olympic games start!
Language
I've been in China about five weeks now. Most days I don't see another westerner, so it's great to be able to speak English when I arrive in a tourist center such as Dali. I haven't learned much Chinese because half the time nobody understands my attempts. The Chinese have the same problem among themselves because of the widely differing dialects. It's easy to communicate with sign language or by pointing to written Chinese words. I carry a Chinese map of Yunnan so that I can decipher road signs and ask directions.
So what's next? The five-day weather forecast shows sunshine every day, so it looks like the big storm is over. I'll spend another day roaming about the Dali area. I read that there's a place on Erhai Lake where fishermen still use cormorants to catch fish. Then I plan to head north to Lijiang, a three-day ride with some traditional villages on the way. Like Dali, Lijiang has an old town with a sizeable minority population. From Lijiang I plan to continue north to the stupendous Tiger Leaping Gorge of the Yantze, then on to "Shangri La" (no kidding; more about it later).
From old Dali,
Bill Weir and "Bessie Too the Bicycle"
---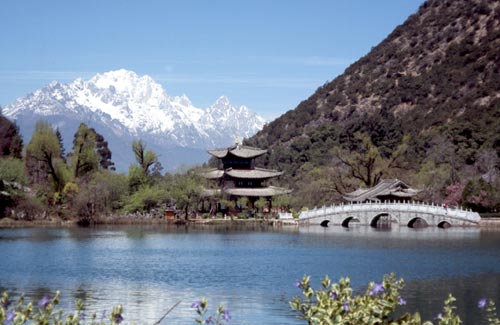 Graceful buildings surround Black Dragon Pool in Lijiang.
Jade Dragon Snow Mountain (5596 meters or 18,360 feet) stands to the north.
Lijiang, Yunnan Province, China
15 March 2005
Below Jade Dragon Snow Mountain
Dear Friends and Family,
Bangkok, my starting point for this bicycle ride, now seems very far away. Bessie Too the Bicycle's wheels have rolled 4,000 km (2,500 miles) across incredibly varied landscapes over the past 2-1/2 months. Now the great snow peaks of the Himalaya rise ahead to the north. The ice-clad Jade Dragon Snow Mountain towers 5,596 meters just north of Lijiang. It's getting cooler; I'm now at 2,400 meters and the next major town, Zhongdian is at 3,200 meters. Beyond Zhongdian I'll be millimetering up passes well over 4,000 meters. Fortunately I packed warm clothing and a comfy sleeping bag.
From Dali I had a choice of two routes, the old and the new highways. I didn't know which was best for cycling, but wound up taking the new highway. It followed the shore of Erhai Lake for awhile and I detoured into some of the nearby traditional villages of the Bai people. Then a humongous hill climb with fine views back to the lake. The road stayed high for the rest of the first day and I could gaze across distant mountain ranges and far down into valleys. The next day started with a breezy downhill on the smooth highway, then rolling hills into Lijiang. Fields are dense with green vegetables and bright yellow rapeseed flowers. I admired the men and women farmers who tilled the soil largely by hand, though some used water buffalo for plowing. The Chinese have tractors—the two-wheeled, single-cylinder diesel model—but seem to use them just for hauling things on the roads. Horses work hard too—they're used as pack animals in the mountains and pulling carriages in towns. The only people who actually ride on horses are the tourists!
And there are lots and lots of camera-snapping visitors here in Lijiang's old town. That just adds to the festive atmosphere. When I first wandered into the old town I became totally lost as there were hardly any landmarks or street signs for the narrow and winding stone paths. Eventually I stumbled onto a youth hostel/guest house that has been a good place to stay; it's in a traditional house, two stories surrounding a courtyard. My room is small, but has a private bath with a hot shower and costs only $6 a night.
Part of the old town's charm comes from the spring water that rushes through the many canals. Yesterday I walked up to the source of the water, the jade-colored Black Dragon Pool. Beautiful pavilions, art galleries, and flowers in a park surround it; a temple houses a statue of the fierce-looking Dragon King. In the evening I watched the sunset from a new 33-meter pagoda, Wanggu Lou, atop a hill in the middle of town. I've also been sampling good food at the many cafes. Countless shops line the lanes and cater mainly to the Chinese tourists. Teashops are very popular and offer hundreds of types of teas. Other shops offer handicrafts or "yak meat dried."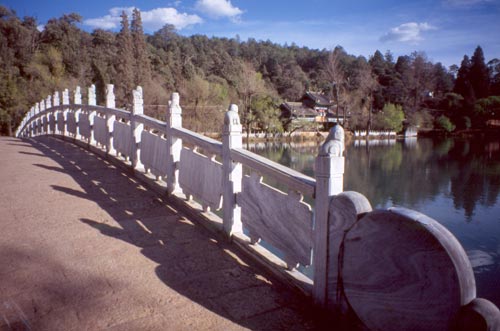 marble bridge, Black Dragon Pool Park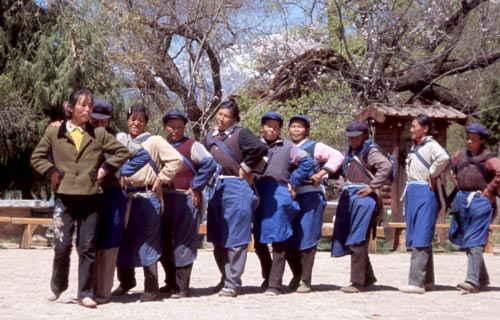 Naxi women enjoying a little dance, Black Dragon Pool Park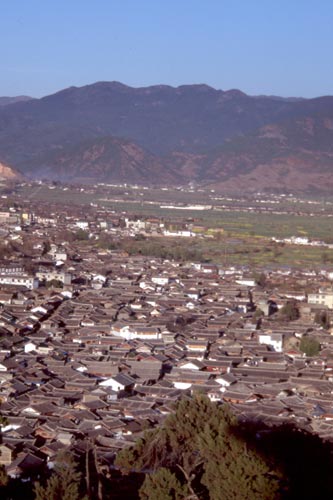 view of old town Lijiang from Wanggu Lou pagoda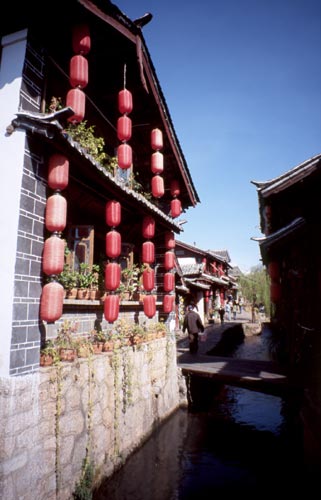 a narrow path meanders along one of old town' s many canals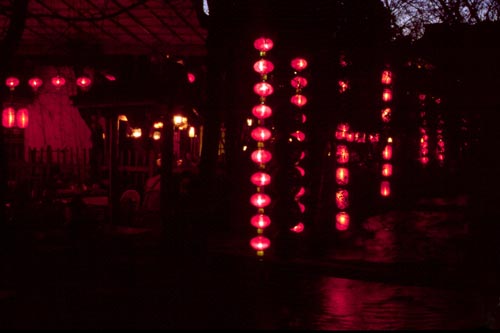 red lanterns add color to old town
Tomorrow I plan to cycle north to the small village of Baisha, famous for old temples and a palace that have frescoes dating back as far as the 15th and 16th centuries. Until Kublai Khan's troops swept through and made the region part of China, Baisha was the capital of the Naxi kingdom. The Naxi, believed to be descended from Tibetan Qiang tribes, developed a hieroglyphic writing system more than 1000 years ago; it's said to be the only one still in use.
From Lijiang I plan to cycle west to the Yangzi River's "First Bend." While the Yangzi, Mekong, and Salween Rivers—separated by high ridges—all flow south from Tibet into Yunnan, a mountain called Cloud Hill diverts the Yangzi nearly 180 degrees to the northeast where it eventually turns toward China's vast plains and supports hundreds of millions of people.
After a night at the First Bend, I'll follow the Yangzi downstream into Tiger Leaping Gorge. A story relates that a tiger actually jumped across the churning waters at a narrow spot. The gorge is deep—3,900 meters from the icy peaks above to the river. Besides cycling through, I may also hike the upper trail—a popular mini-trek of two days. The road through the gorge turns north to some spectacular travertine terraces at Baishuitai, said to be similar to the terraces at Pamukkale in western Turkey. I continue north to Zhongdian, perhaps with a detour to Bita Hai lake.
A triple pass over 4,000 meters separates Zhongdian and Deqin County, proclaimed by the Chinese as the real "Shangri La"! How did the officials determine that a place described in James Hilton's 1933 novel "Lost Horizon" is actually the northwest corner of Yunnan Province? Perhaps the answer is that James Hilton was reading the National Geographic stories by Joseph Rock and used some of Rock's descriptions of actual places in the novel. The intrepid explorer/botanist/linguist Joseph Rock traveled widely in this extremely remote area in the 1920s, 1930s, and 1940s; he based himself near Lijiang for many years and took a keen interest in the Naxi people and their language.
My travels will be weather dependent—hopefully I won't have to contend with any more big snowstorms! One worry is out of the way—the Public Security Bureau office in Xiaguan, south of Old Dali, gave me a one-month visa extension (actually a new visa) so that I can stay in China until May 3rd, which should be plenty of time to explore northwestern Yunnan, western Sichuan, and reach Chengdu. I could apply for a second visa extension, but will probably return to Bangkok by May 3rd as my flight back to the USA leaves May 15th. But that's a long time off and I have many kilometers to go...
Best wishes from northwestern Yunnan,
Bill Weir and "Bessie Too the Bicycle"