A GRAND TOUR OF DENMARK
Castles, flowers, Vikings, and verdant farms—Denmark turned out to be a near perfect place for bicycle touring! "Bessie Too the Bicycle" and I completed a wonderful ride over five weeks. We traveled 2173 km (1350 miles)—plus ferry crossings—in a big clockwise loop. Idyllic country lanes curved across a gentle landscape of green fields and forests, with the blue sea often in the distance. History and culture get a lot of respect here, and there were more fine old buildings and museums than I could possibly see. The many bike paths and cyclist campgrounds made it close to cycling heaven. The Danes may have created the most cycle-friendly country on the planet!
If you look at a map of Denmark, you'll see the large peninsula jutting up from Germany that's called (logically) "Jutland." Large islands lie to the east, including Zealand, which has the capital Copenhagen.
Denmark hadn't quite warmed up in mid-May when I arrived. It would be about ten days before I could pack away the jacket and cycling tights. Hostels provided a warm place to stay during this time; afterward I camped every night during the ride until returning to my start at Helsingør.
A visit around Helsingør
I rode north from Copenhagen to visit friends Preben and Margaret who live in an old farmhouse outside Helsingør in the northeast corner of Zealand. I'd met them while hiking in Arizona back in 1984, and we've stayed in touch since. Margaret took me to the Arboretum where she works; cool-climate plants and trees from all over the world do well here, including rhododendrons in full bloom. Next we visited Fredensborg Slot (Castle). The queen was in, but we could still walk around the park-like grounds and see a group of life-size statues of Norwegian folk. The next morning we went to Sunday service at Hellebæk Church on the north coast. A model of a sailing ship hung from the ceiling, reminding visitors of the hazards that people face at sea. The priest wore a black robe with a ruffed collar, like in the old paintings. A baby was baptized, a common event in services I was told. In the afternoon we went to one of Scandinavia's best modern art museums, the Louisiana, and strolled through its sculpture garden overlooking Oresund, the narrow strait between Denmark and Sweden. Galleries inside had works by international and regional artists that challenged, inspired, or looked just plain bizarre.
The Tour Begins
I started the cycle adventure by heading south to Køge, an atmospheric port city dating back to 1288. I took in the art and history museums and cycled out to a castle that was long ago converted to an old-age home for royal spinsters. Yes, Denmark has heaps of museums, most of the local history or regional art categories! The next day I did churches—Køge's Sankt Nicolai Kirke (from 1324) with a white interior and a tower that once served as a lighthouse. Riding west against a cold wind I stopped in Ringsted for a look at Sankt Bendts Kirke (from 1170), which had frescoes from about 1300 that depicted old royals. Next, in Sorø, the Sorø Kirke (12th century) had a very grand interior and medieval frescoes. All the churches contained beautifully carved wood altars, pulpits, and organs. I ended the day at the Viking-built ring fortress of Trelleborg near the west coast of Zealand. Earthen rings and moats constructed 1000 years ago had survived. Concrete markers showed where postholes of longhouses had been. The four gates and all of the buildings had been laid out with precise symmetry using the Roman "foot" as the unit of measure.
From Trelleborg I wound southeast along the coast, then hopped over to Møn Island via a bridge. With Denmark's gentle landscape, anything that's strikingly vertical is sure to attract attention, and the white chalk cliffs of Møns Klint do just that! The cliffs rise 128 meters above the deep blue sea. I descended to the base and walked along the narrow shore to admire the dazzling white cliffs. Bands of black flint provided contrast. I also toured Mon's churches, noted for their fine frescoes. I also visited some prehistoric passage graves, which date to about 3200 B.C.; huge rock slabs formed the walls and roofs of the entry passage and interior chamber, all of which were covered with an earthen mound. The sun came out in force on Møn and I could cycle in shorts for the first time in Denmark.
From Møn, I island hopped to Funen (Fyn)—Denmark's second largest island—by ferries and bridges via Bogø, Falster, Lolland, Langeland, and Tåsinge islands. I wandered up the east coast of Funen to low cliffs of Fyns Hoved at the end of Hindsholm Peninsula. The next morning I pedaled to Odense, the main city of Funen, for a look at some sights. I couldn't pass up the Danish Railway Museum, which had extensive exhibits on the luxurious Wagon Lits passenger service, started at a time when crossing a border without changing trains was still a novelty. Royal carriages in another exhibit showed how the kings and queens traveled in proper style. South of the city, I explored Den Fynske Landsby, a large collection of mid-19th century farm buildings. As with many present-day farms, the houses, barns, and workshops had been laid out in a rectangle. People had to be self-sufficient in those days—nearly every farm had its own looms and bread ovens.
A ferry from southern Funen took me to Æro, perhaps Denmark's most idyllic island. Old fishing villages, lighthouses, churches, and farms covered the rolling landscape. I greatly enjoyed cycling here. Sails of yachts dotted the surrounding waters. The sea was never far away.
On westward toward Jutland by ferry, I spotted a pair of dolphins sounding. Jellyfish seemed everywhere in the waters and had gathered in massive clusters just under the surface. A short cycle ride took me across the island of Als to the European mainland of Jutland. It's not often that I can cycle "at sea," so the temptation to ride the 10-km (6 mile) causeway to Rømø Island in the North Sea was too good to pass up. The island seemed to be made entirely of sand dunes, and covered with heath vegetation and pine trees. I kept riding across the island until I came to the beach, but the water was still one km away. I started pedaling across the packed sand until about half way when I began to sink deeper and deeper and had to turn back.
The town of Ribe in Jutland is Denmark's oldest (from about A.D. 700) and best-preserved town. I climbed the church tower for a view of the historic buildings, then explored the twisting cobblestone lanes on foot. After Ribe, cycling up the west coast became an exploration of nature. Sand dunes formed a barrier between the cold, gray North Sea and the green farmland of the interior. Heath and other low-growing plants covered most dunes, though a few had "escaped" these restraints and were just bare sand. Coastal towns contained many fishing boats but few yachts. Tailwinds helped speed me on to my next goal, the northernmost tip of Denmark near the port town of Skagen (Pronounce it "skein" to sound like a local.). I reached it on a holiday weekend when hundreds of visitors were cycling the scenic bike lanes past dunes and along the beaches. I climbed a lighthouse for a view, then hiked to Denmark's sandy end. The scenery and light of this northland have long attracted artists, and I passed many galleries here.
From Skagen, I headed south and followed the east coast of Jutland a ways, but the gravel beaches were unexciting compared to the windswept landscapes of the west coast and far north. At Saeby, I turned inland to the city of Aalborg. Lindholm Høje, on a hill just to the north, held a gravesite dating from the Iron and Viking Ages. Large stones marked the graves, and some of the Viking ones looked a bit like a partially submerged ship with a hull-like oval shape and two large stones marking the bow and stern. The site had a spiritual feeling to it.
Aalborg had many fine old buildings, which I saw before heading back into the countryside. The ride south through the interior passed more fine towns and picturesque countryside. In the Lake District, I gazed up at Denmark's biggest hills, and even climbed one of them—Himmelbjerget at a lofty 147 meters! Ok, it wasn't the Himalaya, but I did have a splendid panorama of lakes and forests from the observation tower on top. I wandered back to the east coast of Jutland and took in the Moesgård Museum south of Århus. The museum's most famous inhabitant is Graubelle Man, found in a bog 2,000 years after his death. Chemicals in the bog had tanned his skin and preserved him amazingly well. Other exhibits told of Denmark's prehistory, contemporary life in Afghanistan, and Egypt's Upper Nile region.
Århus, Denmark's second largest city, didn't appeal to me as much as other places in Denmark, so I didn't stay long. I rolled onto the ferry, a 91-meter catamaran that zipped across the water at 40 knots, powered by four turbine engines driving four water jets. In just 65 minutes I was in Odden in the northwest corner of Zealand. A day's ride along the north coast took me past forests and beaches back to Preben's and Margaret's house outside Helsingør, completing the grand tour of Denmark.
LIFE IN DENMARK
The Danes tend to be friendly and helpful, though in a quieter style than you'd expect to find in the USA. Most consider themselves not as Europeans, but as Danes who live in Europe. They've had reservations about ceding powers to the European Union, and in a 2000 national referendum, they rejected adoption of the euro. Their welfare system provides free medical care and many other services for citizens. The monarchy is popular—Queen Margrethe II can trace her lineage back through time to King Gorm the Old in the 10th century. Nearly all citizens belong to a state-supported Evangelical Lutheran denomination, though only a small percentage attend church regularly. Many Danes like to fly the national flag outside their homes on special occasions; a pennant version streams from the pole on other days. The banner has a white cross on a red field, a design said to have fallen from the sky during a battle in 1219; it's the world's oldest national flag. The Danish language sounds like a folksy German to my ears, and is of the northern branch of the Germanic language group. Pronunciation is unique to the Danes, and I had a difficult time trying to get it right! Fortunately for us visitors, most Danes speak excellent English.
Cycling in Denmark
Bike paths parallel many of the main roads, but more fun are the many little paved farm roads that weave across the gently rolling hills of farms and forest. There's also a network of national and regional bike routes that crisscross the country; these follow unpaved forest trails, little-used backroads, or paved paths built just for cyclists. Drivers on the roads have become accustomed to watching out for people on bicycles, so riding in Denmark feels safer than most other corners of the world.
Roadside Attractions
Everybody seems to be either a gardener or farmer here! Flowerbeds and wildflowers line the roadsides and stretch across the fields. The bright yellow fields of rapeseed contrast with the bright green of newly planted fields of grain. The sweet smell of wild roses is especially intoxicating in the spring. People say that May and June are the most beautiful months of the year in Denmark. Bird songs also filled the air. There's even one call that sounds just like the cuckoo clock bird! Stately swans and smaller waterfowl glide across the lakes and bays.
Town Attractions
Danish towns always seem to be full of wonderful old buildings centered on a square. Some of the downtown streets are open only to pedestrians, adding a people-friendly gracefulness. Pieces of sculpture decorate the public areas of even the tiniest communities. Churches stand as an important part of Danish life; I like to visit the spacious interiors to see marvelous woodwork in the altar and pulpit. Some churches also have elaborate frescoes of Biblical stories.
Sleeping on the Road
Yes, Denmark is expensive. The dollar had fallen sharply against the Danish krone. My 2002 guidebook to Denmark listed the dollar at 8.18 krone. When I checked just before leaving the USA, the dollar only bought 6.92; then it was down to 6.26 when I arrived. Denmark lacks the good value motels and family restaurants so common in the USA. Hotels run about $100, WAY over my meager budget. Private accommodations are a much better deal at about $40, but still too costly for me. Only shared rooms in the hostels are affordable at about $15 per bed. Hostel facilities tend to be very good, though many staff seemed cheerless. Smoking in the common areas, and even in the dining area of one hostel, is another drawback, though sleeping areas are nonsmoking. Hostels came in handy on the first part of my trip when Old Man Winter blew cold winds and rain across Denmark. Commercial campgrounds cost about $10, but there's a better option. Dansk Cyklist Forbund, a national cycling organization, has published a book with maps and descriptions of more than 700 campgrounds for cyclists and other travelers who use non-motorized transport. Most are on farms and are a good way to meet the Danes. These cycling campsites can also be in forests, people's yards, at schools, and even commercial campgrounds. The cost for these campgrounds? Only $2.50. I used these during the last three weeks of my Denmark tour and liked them very much. "Wild" camping is forbidden in Denmark, though the other countries of this trip do allow it.
Dining on the Road
Fast food places serve the only low-cost meals—mostly unappetizing greasy burgers and other meat dishes. I did stop at pizzarias three times; the pizza vegeteriano was ok. My only real restaurant meal was a fine Indian thali in Copenhagen. Other restaurants were just too expensive. Also, most restaurants are smoking. Fortunately I brought along a little stove and set of pots, so I could fix my own meals. Supermarket prices aren't too bad, and I could always get good bread, yogurt, soups, veggies, and fruit. Bakeries have wonderful selections—where else would you expect to find a better "danish"?
What I didn't like about Denmark
With so many pleasant aspects to the country, the really bad thing stands out. It's the smoking. Big Tobacco must be proud of the Danes. Despite the many social advances of Denmark, children and nonsmokers face the hazards of second-hand smoke in many indoor places. Teenagers seem to smoke a lot here. It's sad to see so many youth sucking their life away on cancer sticks. I try to develop some equanimity and stay in the great outdoors where flowers and foliage provide sweet air.
Getting Online on the Road
I had hoped to send out travel missives from free library Internet computers along the way. That didn't quite work out because libraries were often hard to find, closed, or the Internet computers weren't operating. I could barely keep up with e-mail correspondence at the libraries.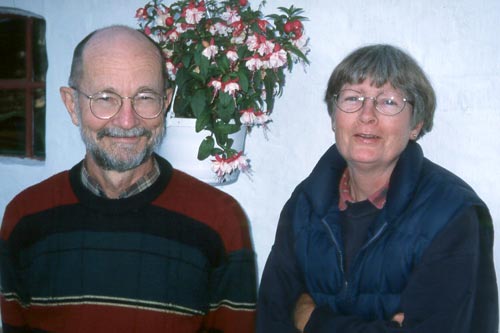 Preben and Margaret enjoy runs and walks in the adjacent forest as well as looking after their prodigious garden.
Preben has earned honors as a math teacher, while Margaret has a plum job at an arboretum.
Sunday afternoon at Nyhavn in Copenhagen. During the past 300 years, many sailors and writers have made these townhouses their home.

Keeping an eye out for opportunities.
Built in the 1620s in Copenhagen, the Børsen is the oldest stock exchange in Europe.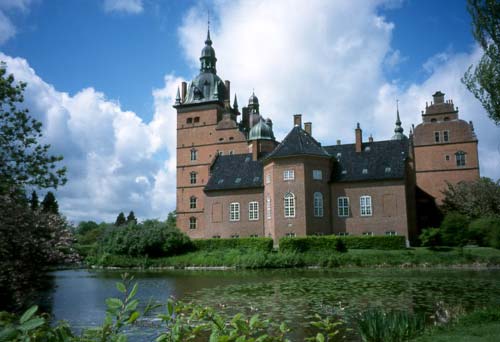 Vallø Slot became a home for "spinsters of noble birth" on the orders of Queen Sophie Magdalene in 1737.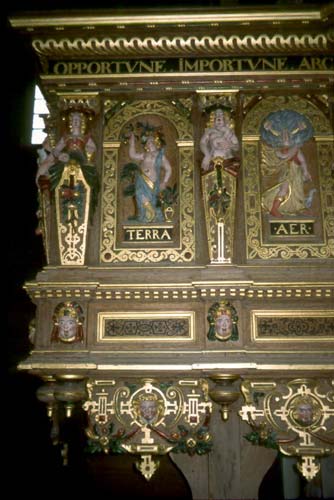 superb woodcarving and a science lesson on the pulpit
in Sankt Bendts Kirke at Ringsted
| | |
| --- | --- |
| | |
| The Elmelunde master created most of the frescoes around 1450 at Fanefjord Kirke, Møn Island. | Møns Klint towers 128 meters above the azure sea. |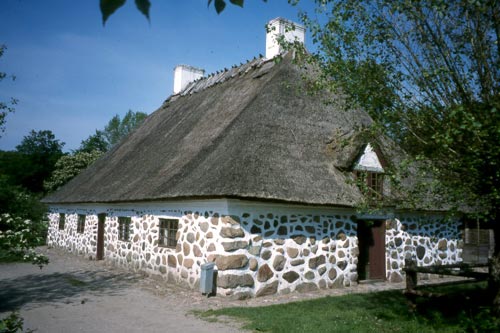 Katterød Hospital in Den Fynske Landsby, south of Odense on Fyn Island
The furnished buildings of this open-air museum show village life in the mid 19th century.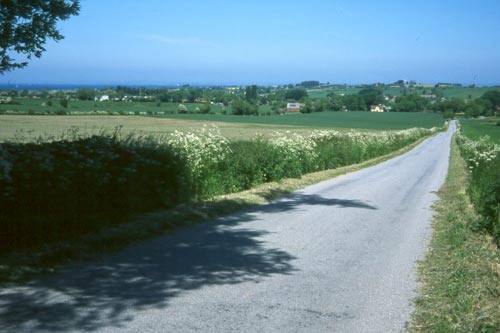 A typical country road on Ærø Island—flowers, greenery, farms, and the blue sea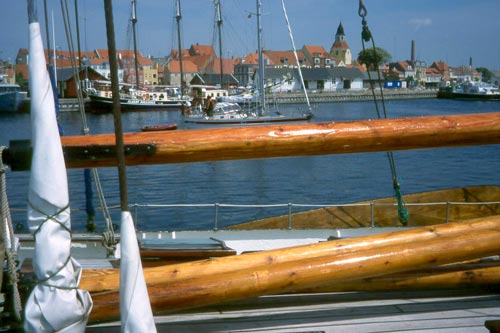 Faaborg; I got the ferry here for Ærø Island

Ribe—the oldest town in Denmark—from Ribe Cathedral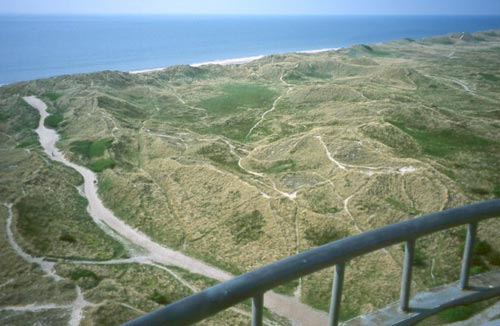 The North Sea from Lyngvig Lighthouse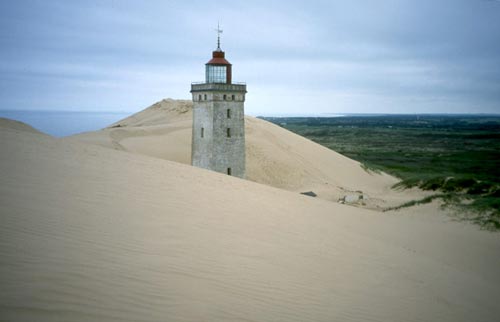 Giant sand dunes put the Rubjerg Knude Lighthouse out of business on the west coast of Jutland.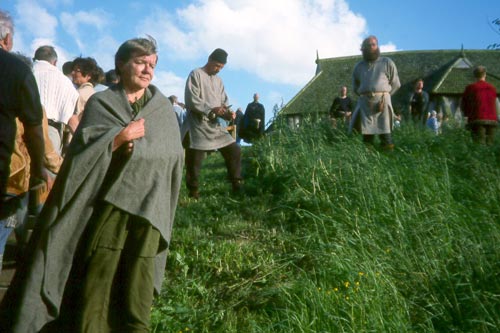 Actors pose before the Viking play begins in the reconstructed longhouse atop the hill at Hobro on Jutland.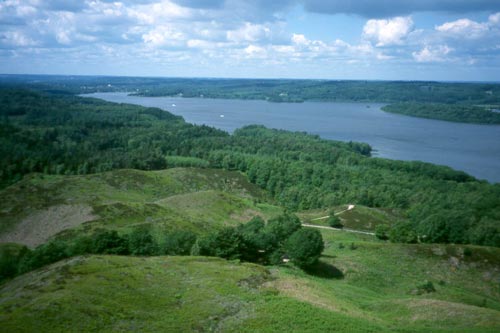 High atop Denmark on 147-meter Himmelbjerget
I climbed another 25 meters in an 1875 stone tower for this panorama.