INDIAN RAMBLE - PART 1
The Journey Begins Way Down South in Chennai
Cathay Pacific had the best deals on the long haul to India. I had first bought a ticket to New Delhi in October to take in the festival season there, but then cancelled that ticket after my father's death. On November 22nd I finally headed across the cold Pacific on a 19-hour flight, changed planes in Hong Kong, then continued another four hours to Chennai in Tamil Nadu, India's southernmost state. In 1983 I had begun my very first visit to India from this city, then called Madras.
A prudent traveler arriving during the wee hours would have arranged accommodations in advance, but I just got some cash at an ATM, hopped in old taxi, and grabbed a likely looking hotel near the center. Some things are easy in India. Chennai has relatively few sights compared to India's other big three "metros," although it's still worth a few days sightseeing. My first day was devoted just to recovering from the long flights. I set out on my second day to spiritual sites, starting early morning at Ramakrishna Mutt Temple, where a monk was singing inside the white building. Nearby at the Kapaleeshwarar Temple, entered through a towering gopuram gateway covered in colorful statues of gods and saints, a Shiva lingam took center stage, lavished with milk, flowers, and chants of praise. A short walk to the seaside led to San Thome Cathedral and a basement chapel with relics of St. Thomas, the doubting apostle who arrived on the shores of India in the first century AD. While in the beautiful soaring cathedral, the heavens opened up with a deluge of rain. I splashed my way via an auto rickshaw to the Vivekananda House, a curious ornate semi-circular building originally called the Ice House. You can imagine how homesick Brits living in a steamy tropical climate missed having a cool drink in the days before refrigeration, but an enterprising American brought giant blocks of New England ice by clipper beginning in 1833. Now the building houses exhibits on the famous wandering monk, Swami Vivekananda, who had stayed here in 1897.
On later days I swung by Fort St. George (1653) for some English colonial history in the museum and the old stone church. Next I took in the Government Museum for its collections of ancient stone and bronze statuary and modern art. Cultural organizations in the city offered performances of Indian classical music or dance, which I enjoyed. The most unusual had to be the one with 109 keyboards: Children with electronic keyboards sat on terraced rows playing Indian tunes to an appreciative audience, then a representative from the Guinness World Book of Records presented a certificate proclaiming this the biggest concert of keyboards ever!

Visakhapatnam
An overnight train ride north up the coastal plain took me to me to Visakhapatnam in Andhra Pradesh, a state that rarely makes it onto traveler's itineraries despite it having one of the world's most visited pilgrimage sites. In the south atop the holy hill of Tirumala, the Hindu manifestation of Vishnu Lord Venkateshwara attracts tens of thousands of pilgrims daily; I had visited this atmospheric place in 2006, but didn't venture farther into Andhra Pradesh at that time.
The dusty city of Visakhapatnam overlooks long sandy beaches of the Bay of Bengal. Luckily an Indian classical music festival was underway and I caught the last three nights of it. North stood two hills where early Buddhist monasteries of Thotlakonda and Bavikonda flourished around the 3rd century BC to 3rd century AD, attracting monks from India and distant lands. Today ruins of stupas, congregation halls, and rows of monastic cells still have a peaceful setting with cool breezes and views of the blue sea far below. Another pair of hills far inland at Sankaram has Buddhist rock-cut caves, a profusion of stone-carved stupas, and monastery that lasted from the 1st to 9th centuries. Nearer Visakhapatnam I wandered in a spacious zoo and took a cable car up to a park with giant white statues of Shiva and his ideal wife Parvati. On the town's main beach, a long-serving submarine of the Indian navy had been converted to a museum, so I toured the cramped innards of the Soviet-built sub. Later, when walking along the beach, I heard an explosion and saw a spout of water shoot high into the air. Indians love explosives, but this seemed extreme. Then I saw a group of skydivers—all this was a rehearsal for the annual Navy Day. Warships maneuvered offshore, a landing party hit the beach with more explosions, and aircraft roared overhead.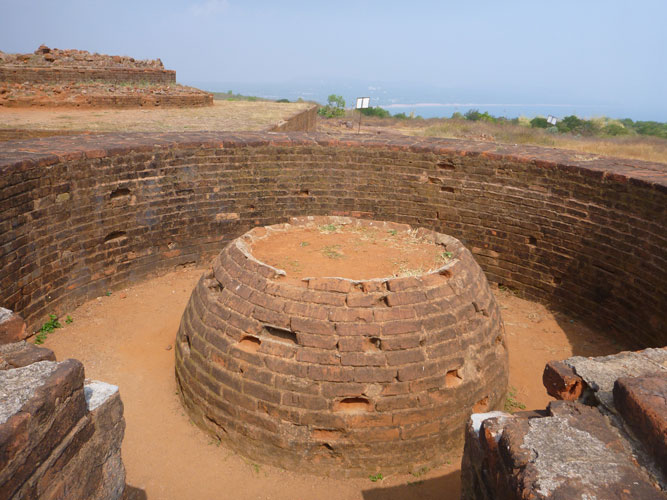 At Thotlakonda, worshippers once circumambulated this small stupa as well as the large beyond on the left. You can just see the shore of the Bay of Bengal in the distance.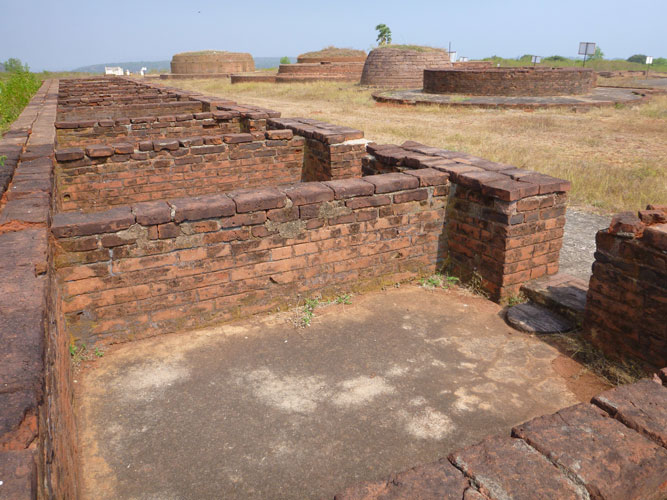 Monks' cells and yet more stupas at Bavikonda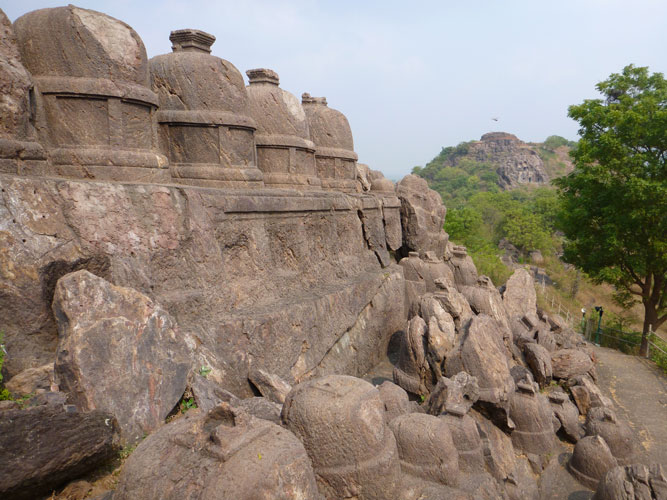 The two hills of Sankaram: The near one has a profusion of stupas. You can make out rock-cut caves and a large stupa on the distant hill.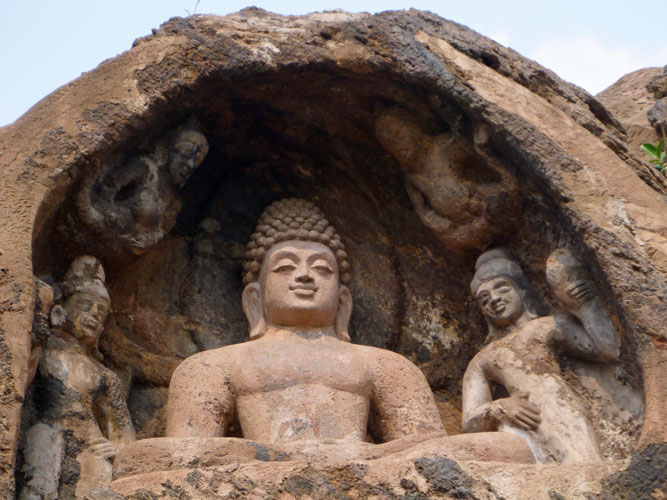 Devas (angels) and disciples flank a Buddha at Sankaram.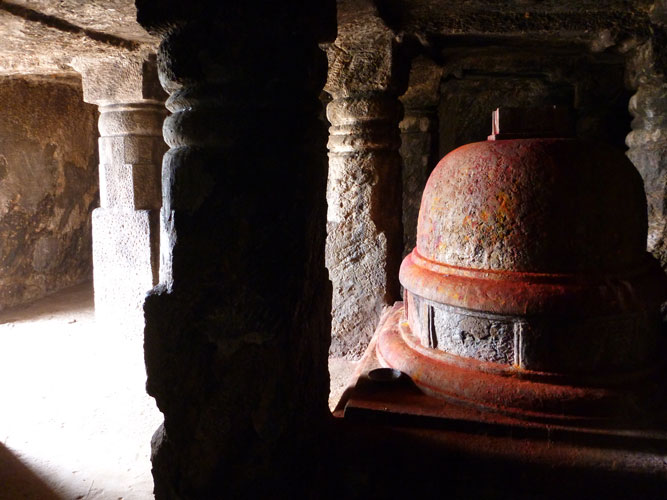 Inside the largest rock-cut cave at Sankaram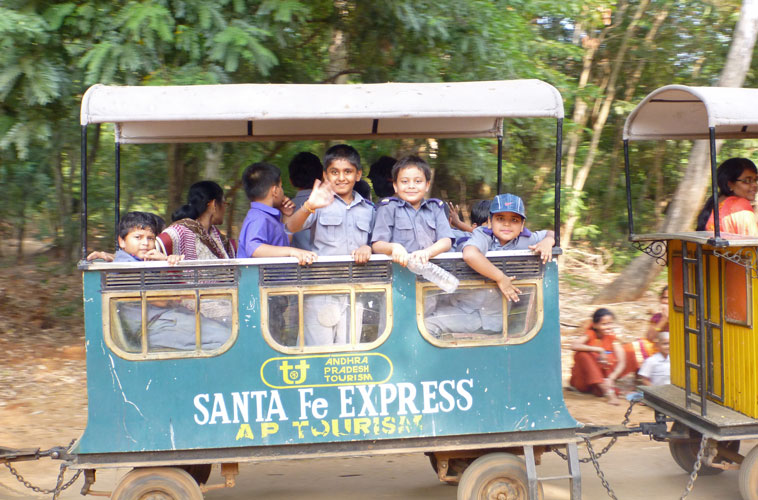 What kid wouldn't enjoy a train ride? We are at the zoo just north of Visakhapatnam.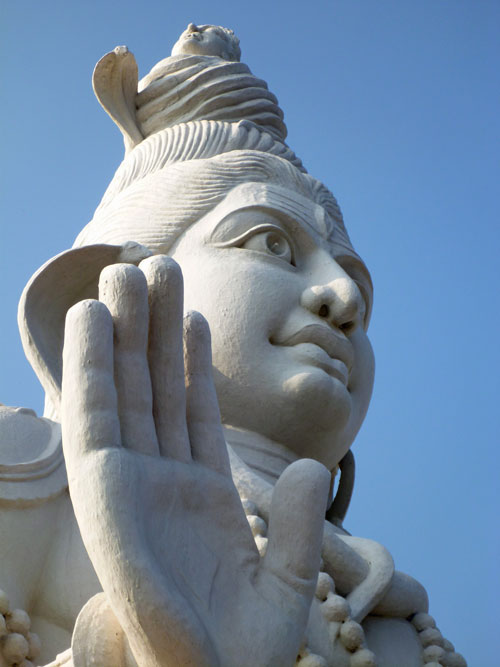 Shiva lords atop Kailasagiri Hill, also just north of Visakhapatnam.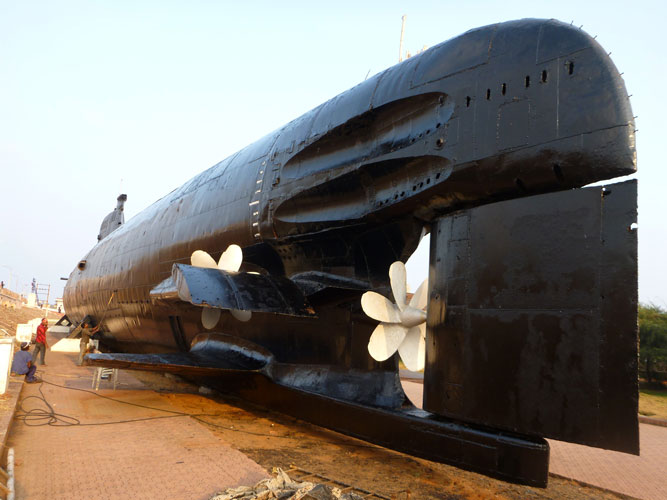 Touching up the paint of the Visakha Submarine Museum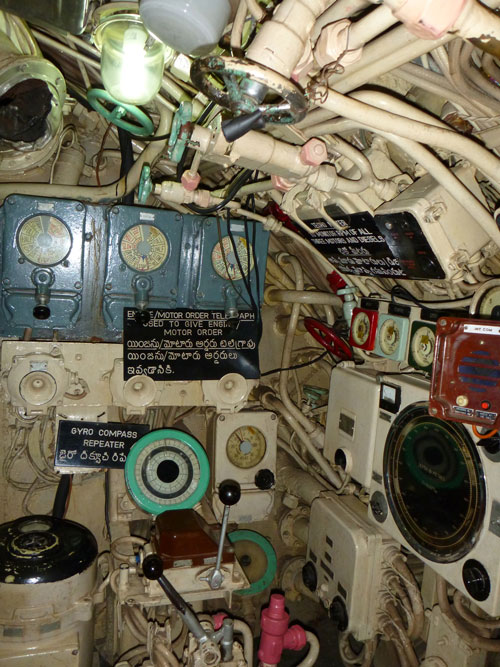 Steering controls, Visakha Submarine Museum

Koraput
For scenery and peace and quiet, I took a train journey northwest to Koraput in a tribal area of southwestern Orissa state. I didn't feel comfortable dropping into tribal villages, but I took in the town's Tribal Museum. The hilltop Jagannath Temple is a smaller scale version of the great temple at Puri, but unlike that one, here non-Hindus are welcome inside. Jagannath is the god Vishnu as Lord of the World; he and many other gods also appear on the temple exterior and in small shrines all around.

Vijayawada and Amravathi
In the port city of Vijayawada, I dropped by the curious little building of the Victoria Jubilee Museum to see the sculpture and artifacts of long ago; the 1877 building honored the queen's coronation jubilee, but is better known to Indians as where India's flag was first introduced in 1921. Undavalli Cave Temples, just outside town, may have started as a Buddhist monastery around the 2nd century AD, then became a multi-level rock-cut Hindu temple around the 7th century; it's fun to explore. Farther up the Krishna River valley, Amaravathi is India's largest stupa, yet it takes a lot of imagination to visualize how it once appeared. There's very little left as most of the elaborate railings, gateways, and decorative covering have scattered to museums. Luckily the nearby museum has many of the beautiful white marble decorations such as lotus medallions, lions, garland motifs, and worship scenes; there's a scale model as well.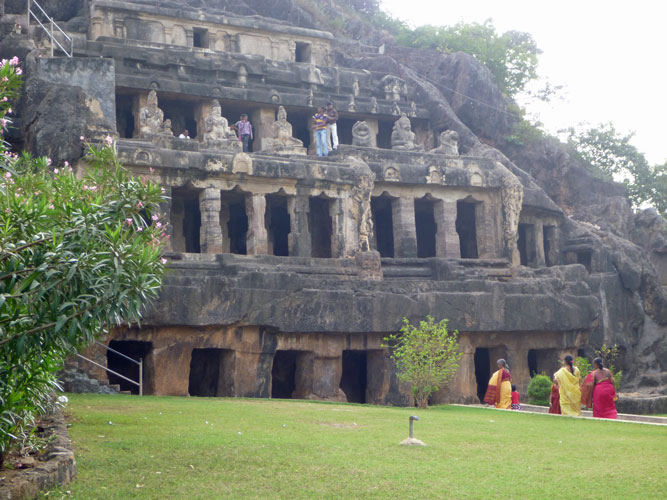 Undavalli Cave Temples honor the Trimurti—Shiva, Vishnu, and Brahma—in a peaceful setting.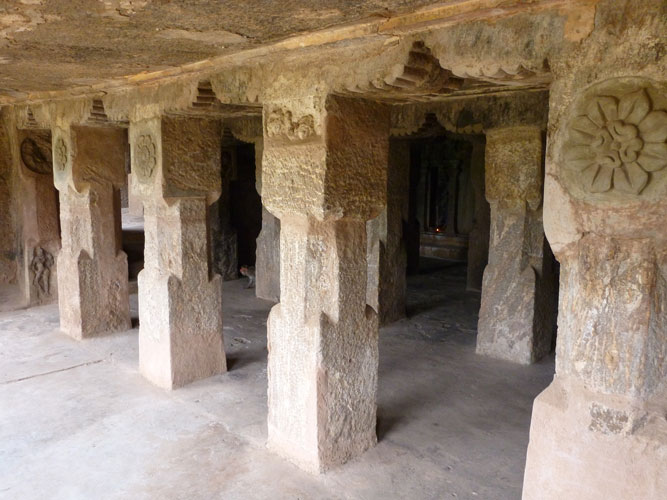 Inside one of the Undavalli Cave Temples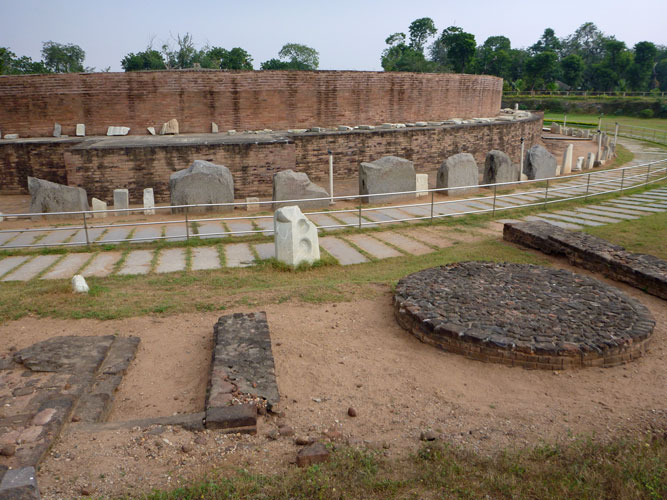 A row of gray stones once formed a railing around India's biggest stupa at Amaravathi. Brick foundations in the foreground may have been part of a monastery.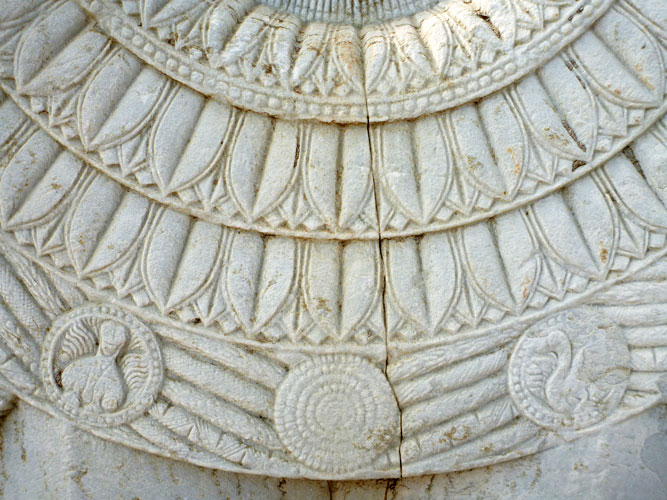 Detail of a lotus design from Amaravathi Stupa's railing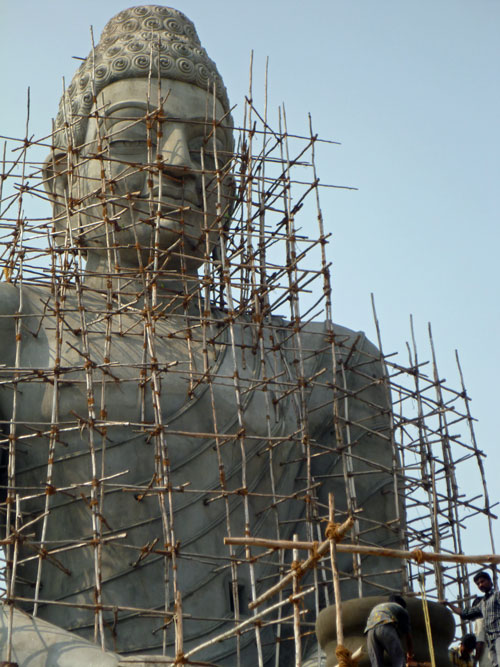 This Dhyana Buddha, near Amaravathi Stupa, stands 20 meters high and marks the site where the Dalai Lama gave Kalachakra teachings in 2006.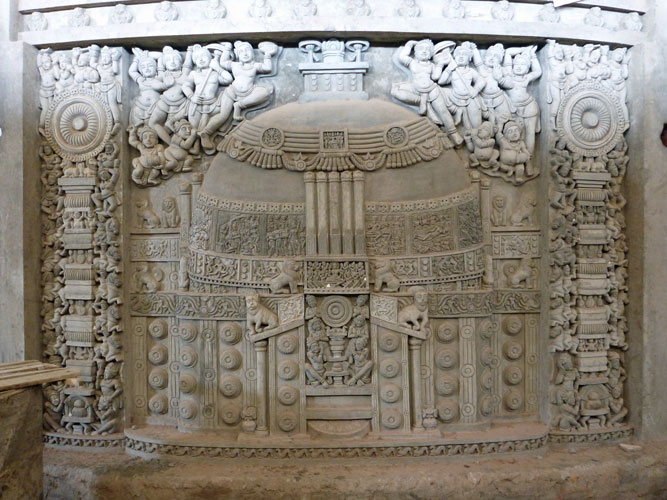 Reliefs inside the Dhyana Buddha give an idea of how Amaravathi Stupa once appeared. Amaravathi's museum has original reliefs like this, but no photos are allowed.