INDIAN RAMBLE - PART 6
Mathura
I had a wait-listed train ticket for the long ride northward from Vidisha, but only managed to get a seat for the last half of the journey. This route passed many places of interest that I had visited on a non-cycling trip in 1993, such as Agra's Taj Mahal, but I was content with the memories of them and continued beyond to Mathura, birthplace of the beloved god Krishna. The next morning I headed over to Sri Krishna Janmbhoomi temple complex and descended into a small room to see the rock slab onto which Krishna had been born 3500 years ago. Just above towered Katrid Masjid, a mosque built by Aurangzeb after destroying the Krishna temple here in 1661. That deed still causes strong sentiments among Hindus, some of whom would dearly love to tear down the mosque; very heavy security prevents such action. Next door, a new temple with a glittering interior has arisen to Krishna and other Hindu gods; giant murals on the ceiling depict events in the life of Krishna. I had thought of visiting other temples in Mathura and nearby Vrindavan, but Mathura, although one of India's sacred cities, was cold, foggy, and very dirty. I decided to move on to New Delhi that afternoon. A bus might have been the best choice, slow though it would have been, but I tried my luck at the crowded train station. The train was packed as usual and I had to stand for the two-hour ride. Train travel had become no fun at all.

New Delhi
I felt relief on arriving at India's capital city and cultural center as I would find much of interest and wouldn't have to deal with trains for awhile. Nippy mid-winter weather of cold breezes under a hazy blue sky greeted me. In the tourist ghetto of Paharganj, I got a room in the Northern Palace Hotel, a place I had stayed in 2004. My room was cheap at $8, but late night and early morning noise from a group of Mumbai youth had me packing to nearby hotel, the White Castle, the next morning. Although no more a castle than the other hotel was a palace, my room was a bit quieter and had the luxury of an outside window at the same price. Paharganj has a great variety of Indian and traveler's restaurants, so I was spoiled for choice and enjoyed Western breakfasts, Italian dinners, and a variety of Indian cuisines.
The downside of staying in Paharganj is that it's a trash dump, with the main street literally serving as the place for households and businesses to deposit rubbish and piles of dirt. Wandering cows and street dogs add to the mess. Apparently the local people don't see the mess and don't care. Nor can city authorities be bothered with providing such high-tech equipment as rubbish bins. Now and then workers will scoop the trash off the street and haul it away, but dust and papers swirl around between collections. Chaotic traffic slowly weaves around obstacles, such as the lowly pedestrians. South Delhi would be a more pleasant place to stay, but accommodation costs there are prohibitively high for me. So I spend my nights in Parharganj, then days and evenings at art galleries, museums, and theaters.
The wonderful thing about New Delhi is that lots of cultural events always seem to be going on. Also most performances are free or very cheap. My priciest ticket was just $4, and most ticketed events were one or two dollars. The hard part is deciding which performances to attend. By chance I had arrived on the first day of a two-week drama festival, Bharat Rang Mahotsav. During event, I took in 23 highly varied productions that came from the far corners of India and the world. They ranged from fast-moving non-verbal dances to mythical stories of India to Peking opera. None that I saw were in English, but except for Hindi-language plays, most had English translations. Many plays came from the great Benali poet Rabindranath Tagore (1861-1941) in commemoration of his 150th birth anniversary and incorporated beautiful songs and dances. A joint South African-Indian play Inkosazana had the wildest singing and drumming in telling a story of an ancient African kingdom over three generations. In Chorus of Women, an all-woman group from Poland revived and updated the ancient Greek style of tragedy chorus to express their femininity and expose stereotypes. A group from Kerala retold the well-known Ramayana story in Lankalakshmi not from the usual viewpoint of hero Rama, but from the experiences of villain Ravana and his family, showing that Ravana was not so much evil as a victim of his ego and personality. Chinese Peking Opera excerpts were a big hit with the audience, and I was lucky to get a ticket. A Turkish production of the Greek tragedy Antigone may have been the saddest of all the plays. Mythical Surrender from Manipur of India's far northeast and Wattepaed from Kashmir pushed the boundaries of political dissent, indirectly criticizing actions of Indian counter-insurgency atrocities in those regions. On the last day of the festival, two plays featured actors from minorities that face great discrimination in India: Santaap told a story of squabbling Hijras (eunuchs and transvestites who dress as women) and their peaceful flute-playing friend. Finally, Kin Kao "What to Say" was a large group of small people (dwarves) who gave a mostly light-hearted performance. With many languages flying around, I was glad that most plays had English translations on TV monitors.
For three days I dropped out of the theater-going to attend a festival of Indian classic and folk dances, Indradhanush Dilli 2012. This festival featured young professional dancers, with all seven of the Indian classical dance styles represented. Strangest of all happened to be a Kathakali dance from Kerala: a male dancer—dressed to the hilt in a long white dress with lots of costume jewelry and glossy red lipstick—portrayed the story of a woman servant who fell in love with a son of the god Indra. Most of the action took place on the dancer's face with lots of eyebrow movements up and down (ala Groucho Marx), head movements from side to side, and bulging eyes. The dancer turned furious toward the end when the son of Indra (not portrayed in the dance) rejected the amorous advances. Lively folk dances came from Rajasthan, Punjab, and Manipur; two guys from Manipur staged a sword fight that looked terribly dangerous.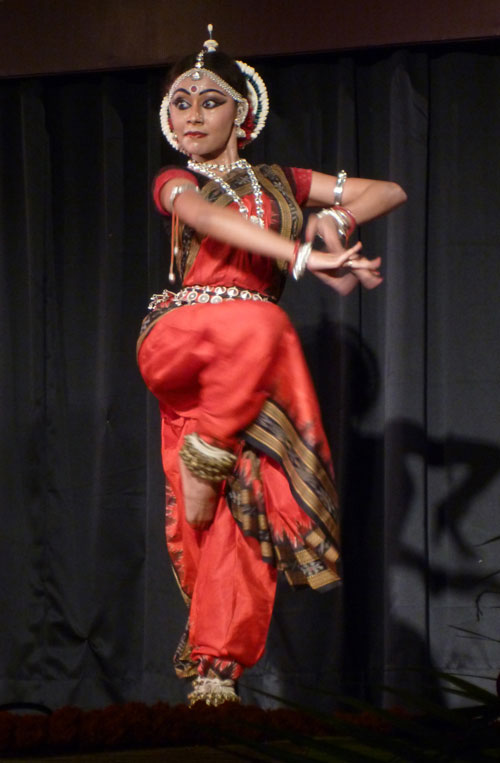 An Odissi dance by Kaustavi Sarkar in the annual festival of Indian classical dances, Indradhanush Dilli 2012.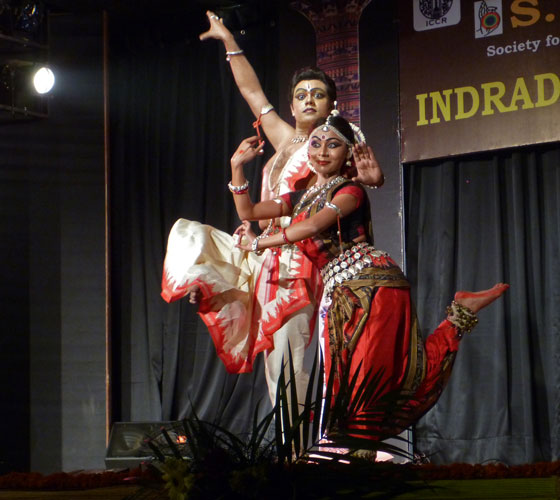 Subikash Mukherjee joins Kaustavi Sarkar in an Odissi dance, Indradhanush Dilli 2012.
After the theater festival, I continued going to performances of Indian classical music or dance at a variety of venues—there's so much going on every evening. Amidst all the Indian music and dance, one night I caught something totally different—a variety of Western songs sung by an Indian lady with a Japanese accompanist on piano.
By day I've been swinging by some of the many contemporary art exhibitions around town, admiring lots of Indian and international art at galleries of the Indian Habitat Centre, Triveni Kala Sangam, India International Centre, Sangeet Natak Akademi, Alliance Francaise (France), Instituto Cervantes (Spain), and other centers. Most have been very good, including a ceramic show "Shimmering Scarlet" by a Mumbai family. On the other hand, the Japanese-Indian show "Omnilogue: Journey to the West," was a total loss; I don't know what the artists were thinking and wasn't sure they did either. Grandest of all was a major art festival with about 1000 artists represented by nearly 100 galleries; all the famous Indian modern and contemporary artists had a presence, and even some Western artists such as Dali and Picasso had artworks on display—all very entertaining, even if much was toward the wacky end of the scale.
New Delhi celebrated India's Republic Day on January 26 with a spectacular parade to commemorate the founding of the Republic of India in 1950. I got a ticket, then braved the crowds and slow lines, hoping to get in. I almost didn't make it as my assigned area had closed. I tried another area and got turned away, then found one that let me in and had lots of seats. Whew! A red-jacketed honor guard rode horses beside two black limos, and I could make out a woman waving behind one of the dark windows; she was probably either India's President Pratibha Patil or Yingluck Shinawatra, the prime minister of Thailand on an official visit. A helicopter dropped flower petals above the parade route and crowd. Next came more mounted cavalry, including one on camels, then one marching band after another, interspersed with precision marching troops. Some bands played bagpipes, though they weren't so daring as to wear kilts. One band didn't march, but rode camels. Imagine playing music while rocking back and forth from a perch high atop a camel! Tanks and big trucks laden with rockets and a giant missile rumbled past. Next came elaborate floats representing many of India's states and some of the national ministries. Lastly, trick motorcyclists entertained the crowd, followed by groups of fighter jets. As the crowds headed home, countless balloons rose into the skies, with the larger ones unfurling the national tricolor.
Another spectacle, called Beating Retreat, brought the Republic Day celebration to a close a few days later. My ticket was actually for the full-dress rehearsal a day early, but I got in and found a good seat. Under the setting sun, massed bands from military services marched across the vast parade ground Vijay Chowk beneath India's grand government buildings of the North and South Secretariat (government ministries) and Rashtrapati Bhavan (President's House) standing atop Raisina Hill. With the colorfully clad troops and camel cavalry posed high on the steps, the scene would have brought a nod of approval from early filmmaker Cecil B. DeMille. After the black limos rolled in, minus the dignitaries this time, a bagpiper band marched across and demonstrated lots of fancy footwork while playing their tunes. Two regular marching bands next performed, followed by a drumming presentation. Toward the end, the bands marched off, the Indian flag was lowered, then the buildings lit up brilliantly in thousands of white lights, generating lots of oohs and ahhs.
Some of New Delhi's major sights are worth repeated visits. The Hindu Akshardham Temple honors the saint Swaminarayan who set out as a child on a long and arduous pilgrimage around India, then became a teacher. Opened in 2005, the multi-domed temple is exceptionally large, and its pink sandstone and white marble have a profusion of delicate carvings inside and out. On another day, I swung by the Crafts Museum where a giant carved wood balcony and separate haveli, both from Gujarat, are star attractions, as is the vast textile gallery of brocades, embroideries, and ikats.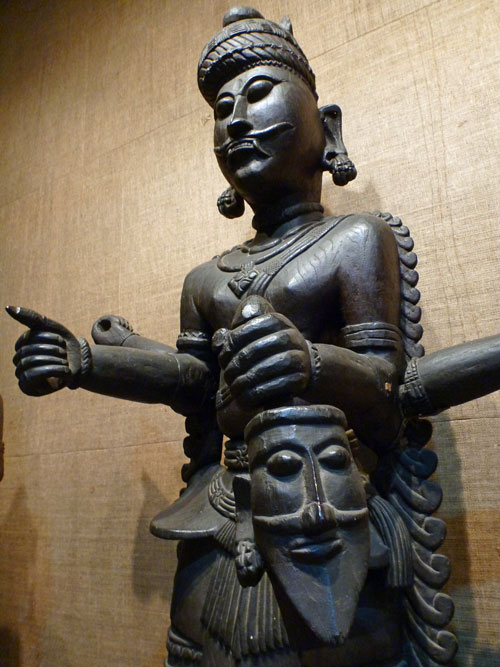 The Bhuta Gallery in the Crafts Museum has this wooden sculpture from coastal Karnataka state.
These statues came to the museum after they were replaced by new ones.
If you get a chance to visit New Delhi, I highly recommend the festivals, concerts, art exhibits, and other goings on. Handy sources of information include the biweekly magazine Time Out Delhi and the little weekly Delhi Diary, both available at newsstands. In autumn 2010, I stayed more than a month in New Delhi to take in the height of the festival season, further enhanced by events to celebrate the Commonwealth Games in town; I wrote up sights and practicalities, along with a travelogue and lots of photos, at www.crazyguyonabike.com/doc/AsianJourney.
The New Delhi Railway Station, as at the one in Chennai, has a foreigners' ticket office with quotas for visitors, making it easier for us tourists to get tickets. It took an hour to sort things out for a ticket to Gaya on the overnight Mahabodhi Express for Jan. 30th and an onward ticket to Kolkata on the Poorva Express for Feb. 4th. Tickets were very cheap, and I also got a senior's discount because I had reached the advanced age of 60. As Indian Railways is highly politicized, rail fares have not risen for nearly a decade, preventing needed expansion of services.
Originally I had thought of visiting additional places between New Delhi and Kolkata, but getting train tickets along the way would have been very difficult. Reserved seats and berths are in such short supply that one must book more than a week in advance. I'll have to do that the next time I travel here without the bicycle.
I'm now booked for onward travels all the way back to the USA. First the train to Gaya, the station for nearby Bodhgaya, a Buddhist temple town surrounding the spot where the Buddha realized enlightenment 2600 years ago and now a very active pilgrimage center with temples from many Buddhist traditions and lands. Four days later I hop on a daytime train ride to Kolkata, a major cultural center of arts, history, and religion. After 12 days knocking around Kolkata, I fly to Bangkok for a 60-day visit before heading back to the USA.