CYCLING IN THE INDIAN HIMALAYA
E-MAILS AND PHOTOS
FROM A BICYCLE ADVENTURE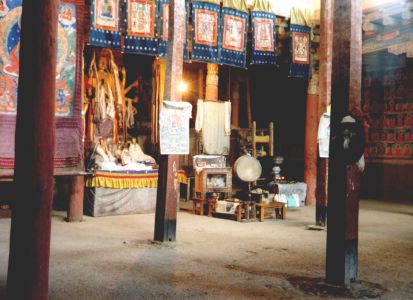 The many-armed Buddhist god Avalokitesvara radiates compassion in Leh Palace.
Bill and Bessie Too arrive in the mountains of Ladakh
Leh, Ladakh, India
11 August 2002
Dear Friends and Family,
The cool air and bright sun feel wonderful—we're happy to be back in the Himalayas. Actually, there's not that much air at this 3,500-meter (11,500-foot) elevation; we're nearly as high as Lhasa, Tibet. Leh is a market town with surrounding villages and green fields, all overlooking the broad Indus River Valley. Ice-capped peaks of the Zanskar Range rise across the river. Barren, brown ridges of the Ladakhi Range stand above town to the north.
Flights went well—Korean Air had the cheapest fare ($752 RT) between San Francisco and Bangkok. August is high season, though I can't see why super-humid Bangkok would be popular in the rainy months. The India-Pakistan border situation looked bad two months ago, so I held off buying tickets for India until reaching Bangkok. Reservations were easy to make there for the Delhi flight and even the hard-to-get ticket on to Leh.
We arrived early Saturday morning, in time for a festival put on by the Women's Alliance of Ladakh, an organization to preserve Ladakhi traditions and improve the lives of village women. They showed off weaving skills, sold Ladakhi food (their apricot jam is yummy), sang songs, and put on some dances. Stovepipe hats decorated with embroidery are the fashion for Ladakhi ladies; otherwise, their dress looks much like the Tibetans'.
Yesterday I climbed up to the 17th-century Leh Palace, which towers like a smaller version of the Potala in Lhasa. Inside the dusty passages and chambers, only the shrine room with large statues of the Buddha and Avalokitesvara (god of compassion) is well preserved. On the top floor, the king's audience hall and bedroom have some wall paintings of Tibetan Buddhist symbols. There's a great panorama of the Leh area from the rooftop. This morning I climbed the L-O-N-G staircase up to Shanti Stupa, built in 1985 by a Japanese Buddhist group in support of world peace. Like others scattered around the world, it is white with four images of the Buddha depicting the most important parts of his life—his birth, enlightenment, first teaching, and passing away. Great views here too.
I'll be doing more local sights and some short bicycle rides over the next couple of weeks, before heading south across the high passes of the Himalaya to Himachal Pradesh state. The scenery, Ladakhi villages, and Buddhist temples and monasteries are likely to be the highlights. My first roll of film is already used up!
Happy Trails,
Bill Weir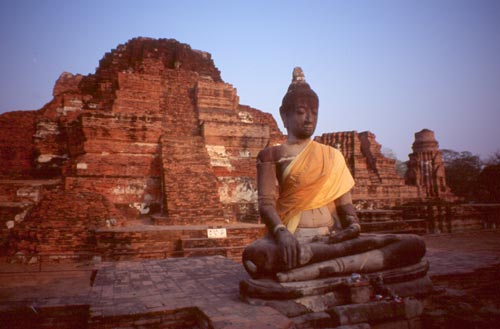 Ladakhi ladies slowly turn.
The Women's Alliance of Ladakh sponsored this festival.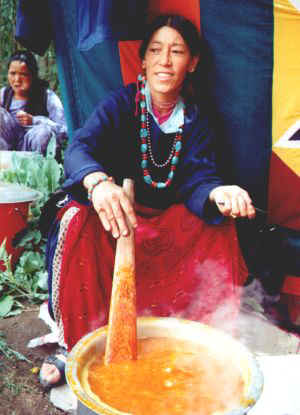 Apricot jam bubbling over a fire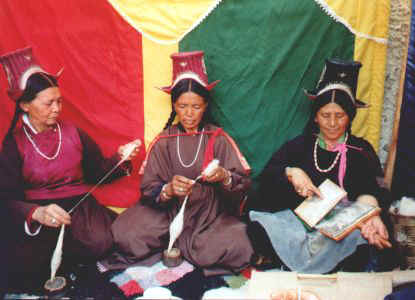 Ladakhi ladies preparing their wool for weaving.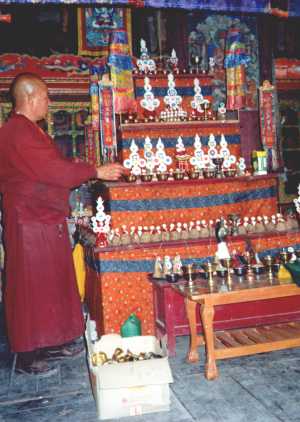 A monk looks after an altar in Shey Gompa.
The white flower-like offerings are probably made of butter and tsampa,
two of the most important items in the daily life of Ladakhis and Tibetans.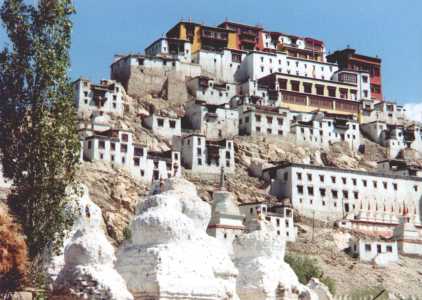 Tikse Gompa is normally full of monks chanting or studying, but not today!
I made the mistake of visiting when the Dalai Lama was in nearby Choglamsar.
Everyone had gone to see him and Tikse was like a ghost town.

An exciting week in Ladakh
Leh, Ladakh, India
15 August 2002
Dear Friends and Family,
It rained this week—the clouds had enough oomph to get over the Great Himalaya Range and drop some light showers for the first time in months. On Tuesday, the rains stopped for a visit by the Dalai Lama. A large crowd gathered in the courtyard of Soma Gompa in the center of town, then waited patiently for more than an hour. Ladakhi women, dressed in their finest jewelry and turquoise-studded bonnets, lined the path and held offerings of flowers. A band of drums and oboe-like horns struck up a tune as the Dalai Lama entered the gate. He slowly walked by, smiling and nodding, seeming to make a connection with each person. After a short ceremony with monks inside the gompa, His Holiness walked back across the courtyard, again radiating happiness and compassion. He is amazing!
Today is the 55th birthday of India, and the sun was out. Nearly everyone in town gathered around the polo grounds for a parade by soldiers and uniformed school kids who marched around, swinging their arms high, as bagpipes and drums played. After a speech in Hindi by a high official, a small boy gave in English a good rendition of Nehru's original independence speech of 1947. Then followed a program of folk dances and songs, plus some short dramas. While having lunch, I saw some polo players clatter by on their ponies; there will be a polo game tomorrow.
Leh has long been a crossroads for many cultures. Besides the native Ladakhis, there's a large settlement of Tibetan refugees nearby. Indians from all parts of the country come to do business. Kashmiris play the hard sell, soft sell, or whatever works to attract customers for their beautiful rugs, kilims, and pashmina scarves. Leh also caters to tourists, most of whom are Europeans or Israelis, though numbers are said to be down this year. Life is easy for us tourists—there are countless guesthouses, "German bakeries," restaurants, trekking agencies, and curio shops. I think the agency and shop owners outnumber the tourists! Many people come for the trekking—there's a large network of trails where people can trek from 3-4 days up to 3-4 weeks. Ponies carry the food and luggage. Costs are very low in town: a room with hot shower might cost $4, a big American breakfast or a flavorful Indian dinner would run just $3, and treks start at about $25/day all inclusive. Ok, what are you waiting for?
My plans have started to come together...on Saturday Bessie Too and I will ride down the Indus River Valley toward the Dha-Hanu area, inhabited by an Indo-Iranian people; they're mostly Buddhist but have a different culture from the Ladakhis'. Dha village is as far as one can go toward Pakistan-occupied areas; even for Dha I need a permit. From Dha I'll backtrack some to take the Srinagar Road to Kargil, then turn south into Zanskar, a very remote valley with glaciers and spectacular mountains. The road entered the region only in 1981. By the time I return to Leh, it will be hosting a Ladakhi festival Sept. 1-15.
All the Best,
Bill Weir and Bessie Too the Bicycle
A short note from Bill and Bessie Too
Leh, Ladakh, India
16 August 2002
Dear Friends and Family,
The polo games this afternoon were fairly laid back compared with the one I saw downstream in the Indus Valley last year in Pakistan—no lines of riot police were in place here! Two pairs of teams played, and those resting took their horses up into the spectator stands. Do polo players do that in England?
I've got the permit—in quadruplicate—for the Dha-Hanu area on the Indus River. So bright and early tomorrow morning I plan to hit the road for several weeks exploring the mountains and valleys to the west of Leh. You may not hear from us for a while, but don't worry unless you hear about us on the evening news—then it's time to fret!
I'm not alone here in Leh. A correspondent with Slate e-magazine is also sending dispatches on his experiences in the Leh area. He has a satellite phone, digital gadgets, famous tour guide, and a motor vehicle. I'm more fortunate in having a bicycle and more time.
Julay (hello, goodbye, and thanks in Ladakhi language),
Bill and Bessie Too