Part Three: Cycling in Western India—Rajasthan (continued)
Subject: Camels and color at Pushkar Fair
Date: Fri, 30 Nov 2001 14:28:03
Pushkar, Rajasthan, India
There may never be a better time to purchase a new or used camel! Villagers from all over Rajasthan state had brought more than 10,000 camels to trade or sell at the Pushkar Fair. The camel camp covered a huge area of sand dunes—nearly as big as the town of Pushkar itself! Camels seemed to stretch to the horizon. Turbaned men put the camels through their paces, checking teeth, the retractable legs, and other details, then sat around a camel-dung fire sipping camel-milk tea. Walking around seeing the villagers train, milk, and insert nose pegs was fascinating. Some fine horses, including many painted ponies, were lined up, or one could pick out some cattle or water buffalo for the farm back home. I cannot imagine anyone milking the enormous Brahma cows; at their judging it took at least three people to keep the feisty animals from charging off.
For women, the Fair was their big chance to get out of the house and take in all of the bright lights and music. Although Hindu, they normally lead a fairly sequestered life. Here they could meet other women and roam around in small groups away from their husbands and fathers.
Of course I rented a camel (He was named Moti, though not for "motivation") with a camel driver for a day's excursion through the encampment and out into the desert and villages. No, I haven't replaced Bessie Too. She is much faster and smoother to ride than a camel.
Squatters peppered the fields next to the encampment. Toilets are not popular among the rural folk—and the Fair didn't have public toilets anyway—so people would squat (in full view of passersby) in the fields or along the roads to do their "business." Here in India, if a person squats, he or she becomes invisible according to Indian custom. It's really a case of the emperor's new clothes, but in India it works.
Last night dancers and singers put on fine performances. Fireworks sparkled on the ground and burst in the sky.
Today, the full moon, is the last day of the Pushkar Fair and the best time of the year to wash away one's sins in the holy waters of Pushkar Lake, according to Hindu belief. Crowds of brightly dressed women, wearing embroidered dresses and scarves of red and yellow, often contrasting with cool blues and greens, filed into town with their menfolk. The streams of people continued nonstop through the night. Men could splash around in the lake water wearing their undershorts, but women had to be more modest and usually just perched—fully dressed or topless—at water's edge and poured water over themselves.
Loudspeakers endure a harsh life in India. Amplifiers have only one setting—full blast—and the poor speakers groan and shriek as they blast out music, religious hymns, or announcements. The noise level in the carnival area of the Fair shook the ground and everyone on it. I did brave the noise to watch a magic show and a rather suggestive Hindi dance program (The small boys in the front row seemed bored, however.).
The commercial site http://www.pushkar-fair.net has information on the annual fair.
Tomorrow morning I plan to head south to Chittorgarh, a large hilltop fort whose bloody history epitomizes Rajput chivalry. Then on to Udaipur, a romantic city of palaces and lakes. By mid-December I expect to head south toward the southern tip of India and new adventures. Will I make it? Time will tell.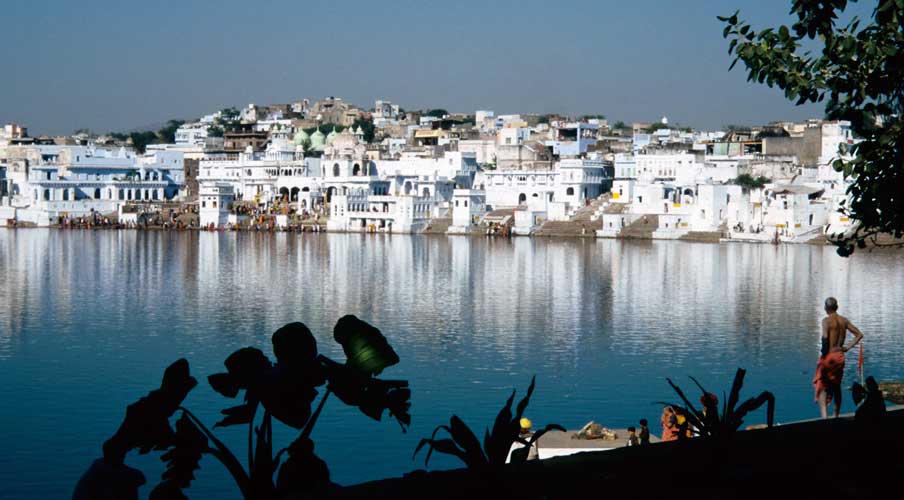 Pushkar Lake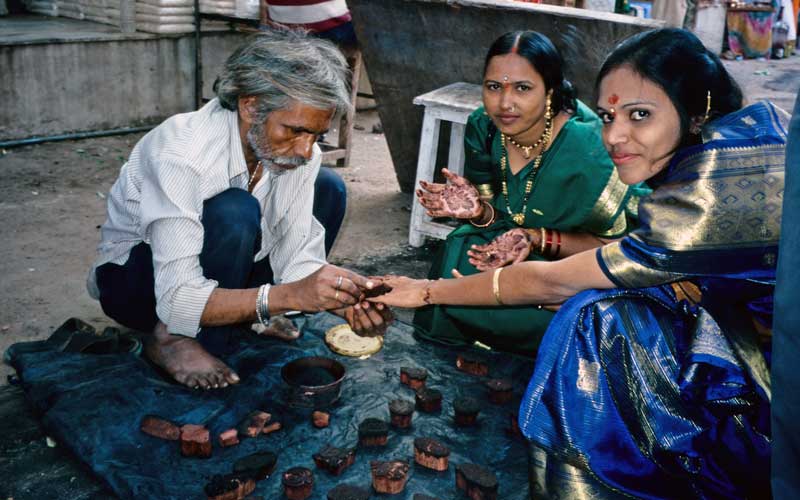 When Indian women dress up, they like to have elaborate designs painted on the hands with henna, a natural dye.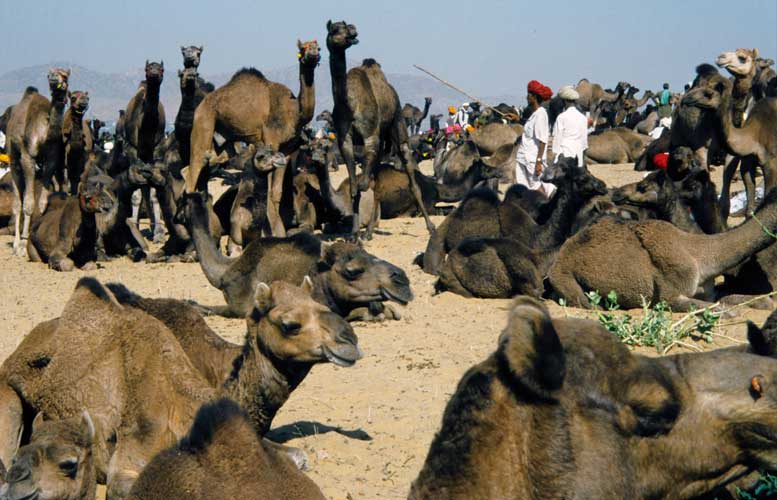 Thousands to choose from!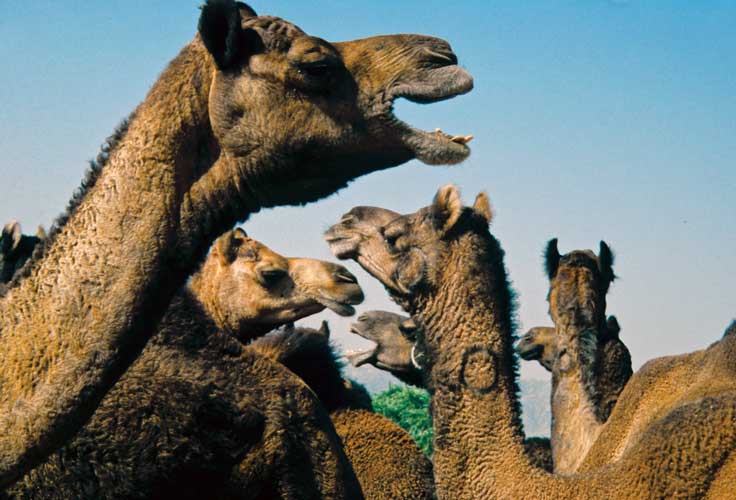 Camels don't hesitate to speak their minds.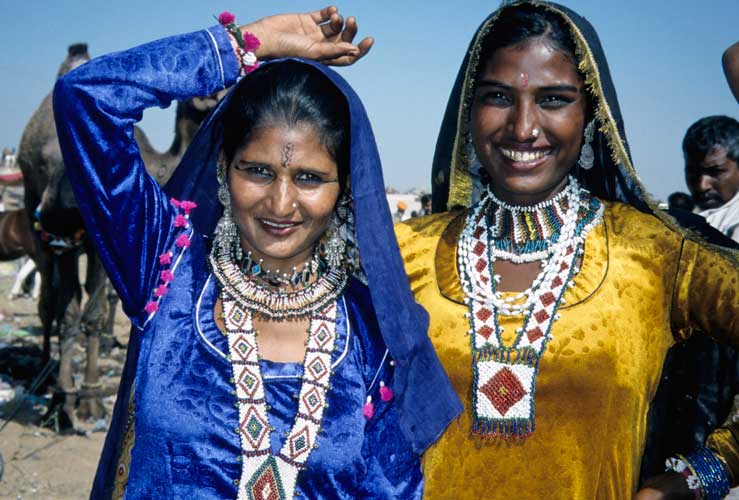 The pilgrimage to Pushkar is a rare opportunity to get out of the house for Rajasthani women.
These ladies are making some rupees by posing for tourists.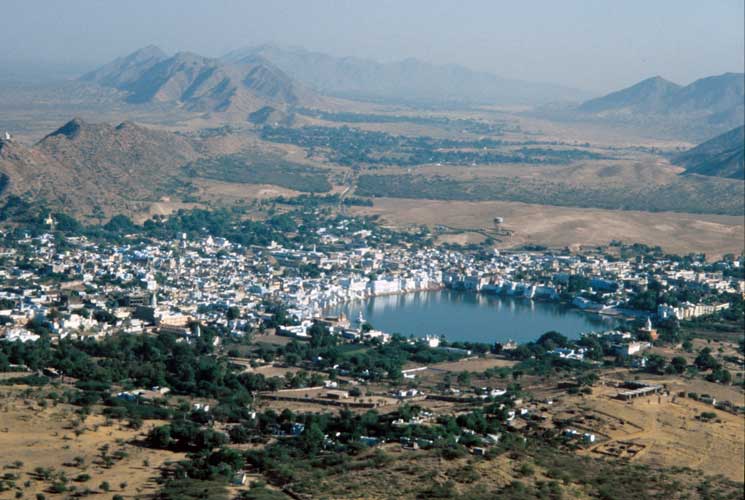 Pilgrims file up the long path to Savitri Temple for blessings at the small shrine and this spectacular view of Pushkar.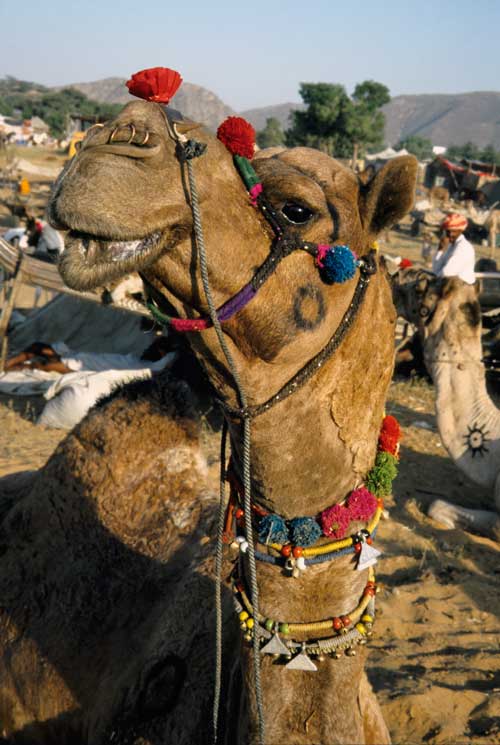 Hi there!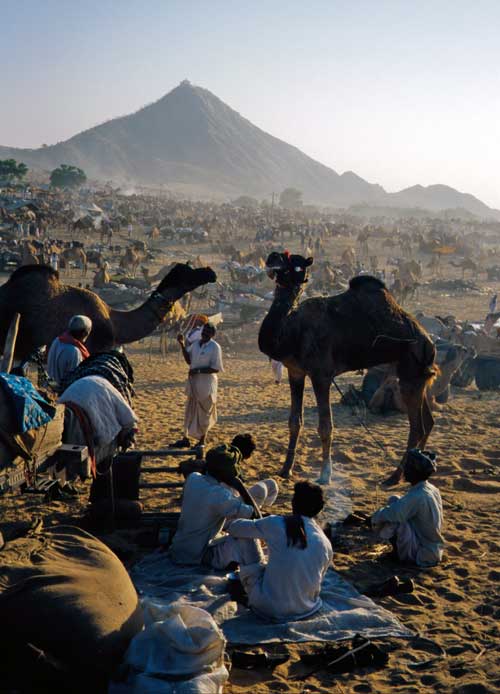 Thousands and thousands of camels at Pushkar! You can see Savitri Temple on the distant hill.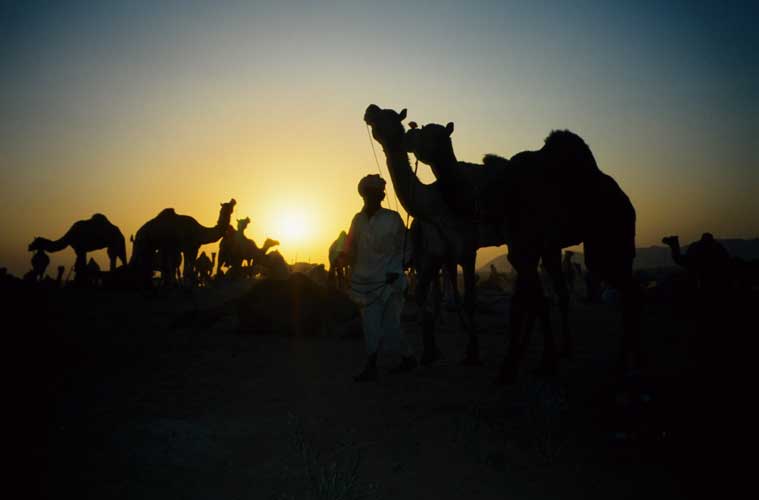 camel sunset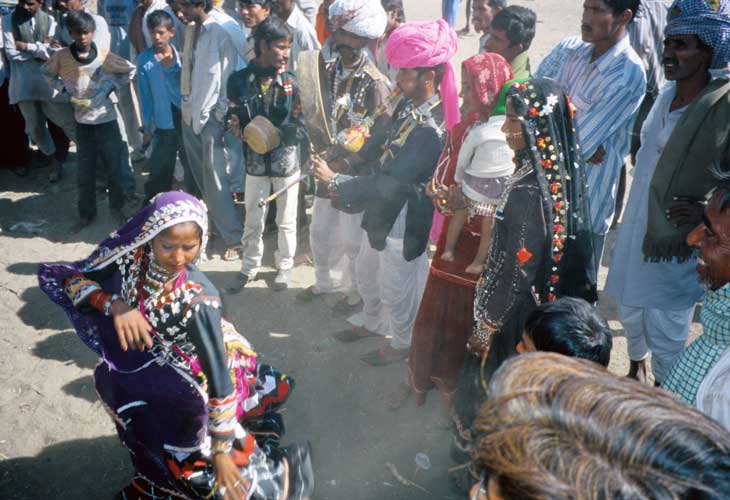 village dance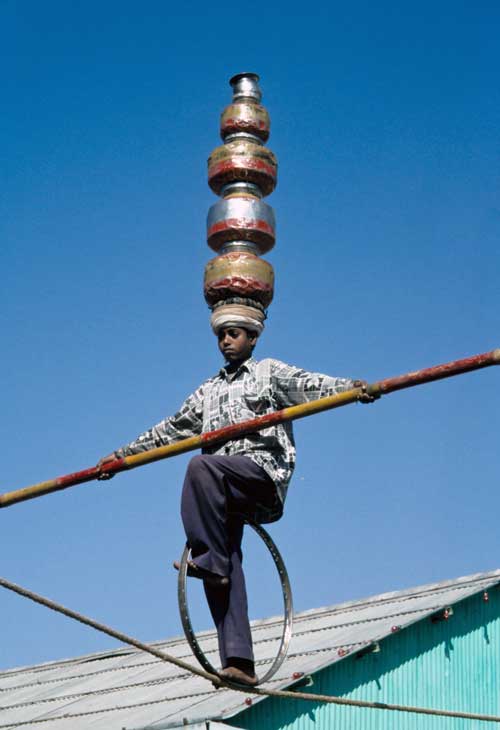 family circus
---
Subject: Amazing India
Date: Thu, 06 Dec 2001 14:46:31
Udaipur, India
"Come sit beside me," the woman said. I was taken aback because Indian women are not so forward, but on second look I realized that this was no lady, rather a man dressed in woman's clothes. He was probably a hijra, a eunuch who takes on an effeminate appearance and has an auspicious role as an entertainer at weddings and other family events. At Pushkar I saw some more, performing bawdy dances. The hijras are somewhat controversial as they're organized in secretive groups and not all of the men are castrated voluntarily, it's said.
On the main street of Bijainagar, north of Chittorgarh, I saw a procession led by a marching band coming toward me. Part of a marriage ceremony I assumed—until I saw the happy couple behind the musicians. Serenely walking along behind the band were two men wearing not a stitch of clothing! They were followed by a group of clothed people in a religious procession. The two men were "sky-clad" monks of the Jain faith. The Jains date back 2500 years—the same time as Buddhism got started. The Buddha pointed out that the "naked ascetics" did not follow the recommended "middle way."
I've started to figure out why the Indians are so cheerful and easy going. Hardly anything bothers them! If the streets flood with sewage, the neighbor's TV plays full blast all night, the lights go out, or flies crawl all over their food—it's no problem. Life goes on just fine. Things that would drive a Westerner up the walls are simply accepted here as part of a normal existence. Not that Indians don't care about things—religion is very important, and cricket has a fanatical following. The rest of the world could learn something about acceptance from the Indians. On the other hand, a lot of things that need fixing in India don't get fixed right away.
Bessie Too and I have arrived in one of the most popular destinations of Rajasthan—Udaipur, a city of palaces, gardens, and lakes. It is very picturesque, and the sunsets over Lake Pichola are memorable. I spent much of yesterday touring the public parts of the City Palace, through gardens, courtyards, mirrored and painted rooms, and a sun room (The maharajas here claim to be descended from the sun.).
Today I indulged in a buffet lunch at the magical Lake Palace Hotel, which seems to float out in Lake Pichola. White walls enclose gardens and fountains. The restaurant's Indian food was great and the dessert table became much lighter after my visits. The royal splurge cost about $16 after all the taxes and tip were added, but worth it. Dining here everyday would be hazardous—I would gain so much weight that I wouldn't be able to cycle. Pictures of the maharajas show most of them as being very heavy. Now I understand.
On the way to Udaipur, I spent an enjoyable day in the great hilltop fort at Chittorgarh. It has a special place in the hearts of the Rajputs. Three times conquerors invaded and each time the men donned saffron robes and rode forth to certain death, while the women consigned themselves to the saffron flames of a funerary pyre. Honor was far more important than life. Today the abandoned former city within the walls has two elaborately decorated towers, palace ruins, and several beautiful temples—a fascinating place to wander about.
I'll spend another day or two here before making a little loop north to some famous temples and a big fort, then head south to Madya Pradesh state and beyond.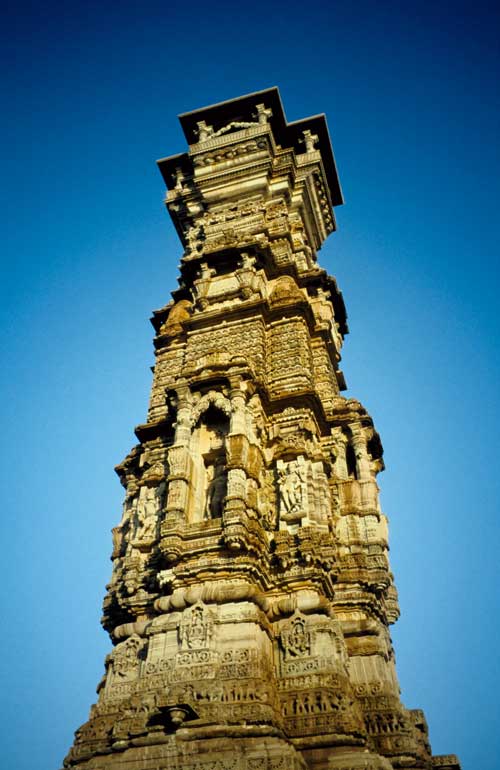 The 22-meter Tower of Fame (Kirti Stambha, ca. 12th century) at Chittorgarh Fort
honors the first Jain Tirthankar Lord Adinath. I cycled up to the vast hilltop fortress
of Chittorgarh—full of temples, palaces, and fortifications—on the ride to Udaipur.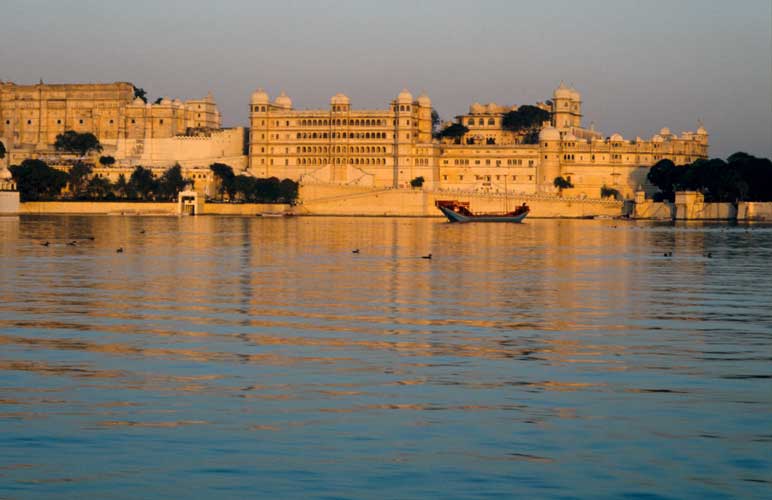 Three palaces in a row on the shore of Lake Pichola in Udaipur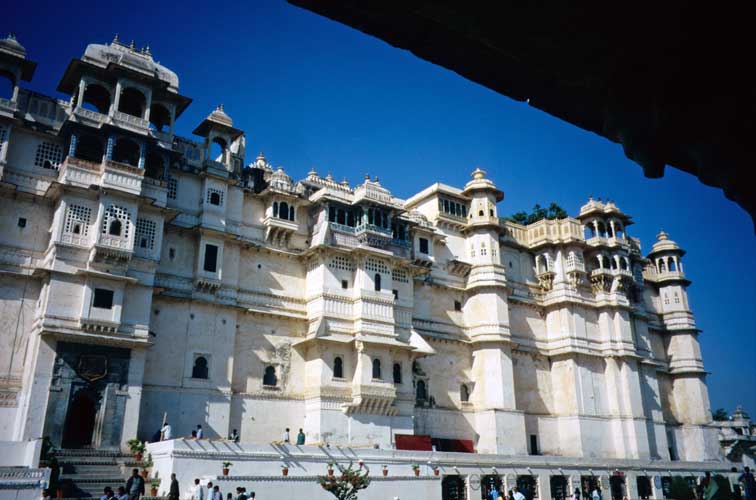 The City Palace in Udaipur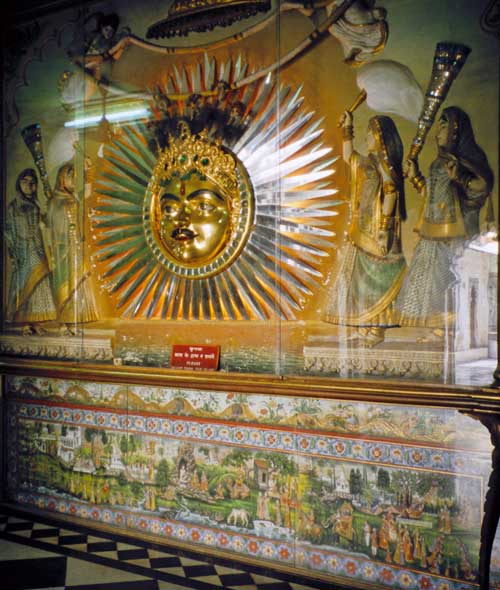 Surya Chopar (sun symbol) inside Udaipur's City Palace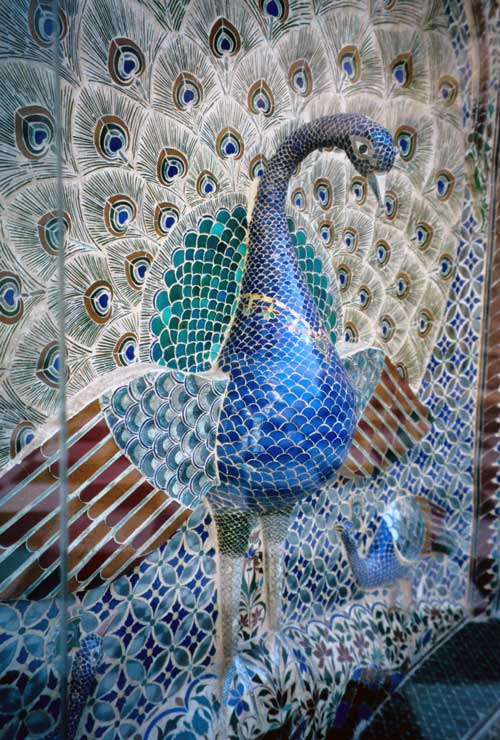 tile peacock in a courtyard of Udaipur's City Palace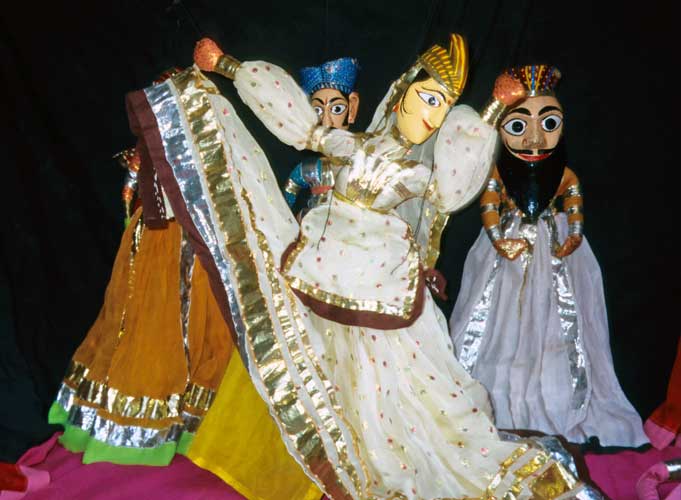 You'll meet many puppets in Udaipur.
---
Subject: Bill and Bessie Too return to Udaipur
Date: Sat, 15 Dec 2001 16:17:31
Udaipur, India
Bessie Too and I just returned to Udaipur after a ride through the scenic Aravalli Range northwest of town. Two visits of famous Hindu temples showed just how devout the Indians are. The 15th-century Eklinji Temple complex had 108 shrines or temples to various gods, but the main one housed a four-faced black marble Shiva lingam. Devotees felt enormous power from the image. The maharana of Udaipur also visits each Monday, it's said.
Farther down the road, I entered the huge gate of the 18th-century temple to Vishnu at Nathdwara. The image, of black stone, was brought here to protect it from the ravages of Moghul emperor Aurangzeb in 1669. Hordes of highly enthusiastic pilgrims packed the viewing hall for a glimpse of the god after it "awoke" from its afternoon siesta.
Everyone knows that the Great Wall of China is the biggest in the world, but did you ever wonder what is number two? The Indians will say it's the 36-kilometer wall of Kumbhalgarh, a 15th-century fortress in a remote mountain location. The walls climb up and down the hilltops, taking maximum advantage of the steep hillsides. The stonework is in amazingly good condition. Wide pathways atop the wall offer unusual hiking along with good views over the forested ridges and valleys all around. A 19th-century castle and many temple ruins scattered within the fort add to its enchantment.
A cycle ride over the mountains and down a gorge led to fantastically beautiful Jain temples carved out of white marble at Ranakpur. A cast of thousands of marble deities, animals, mythological creatures, along with geometric and floral designs, covered the domed ceilings, walls, exterior, and the 1444 columns.
Where to next? Tomorrow I ride south to another Jain temple, Rishabdeo, and the town of Dungarpur, which has two palaces. Then I leave Rajasthan—it has been almost two months that I've been traveling in this desert state—and continue south across Madhya Pradesh and Maharashtra states on the way to Goa and beyond. More on these later...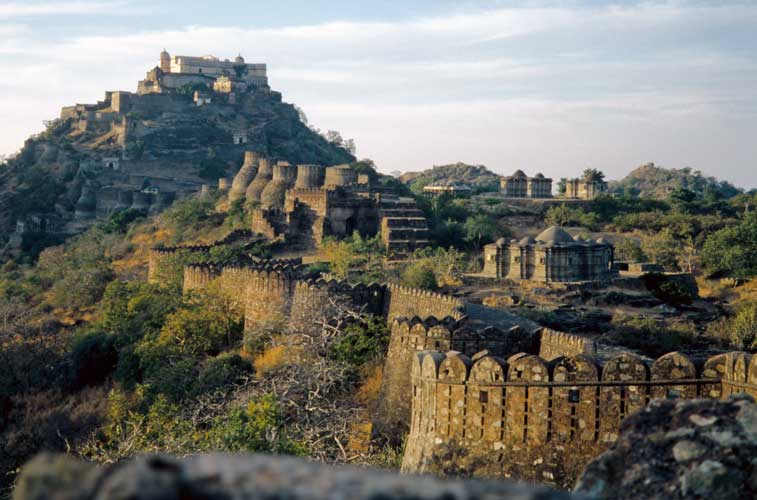 Kumbhalgarh encloses many old temples and a village; the palace is on the hilltop.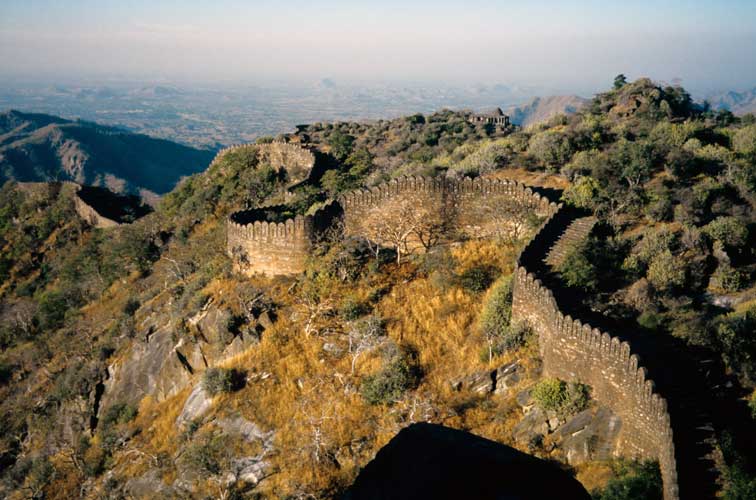 The walls of Kumbhalgarh twist and turn to make best use of the cliffs on this remote hilltop.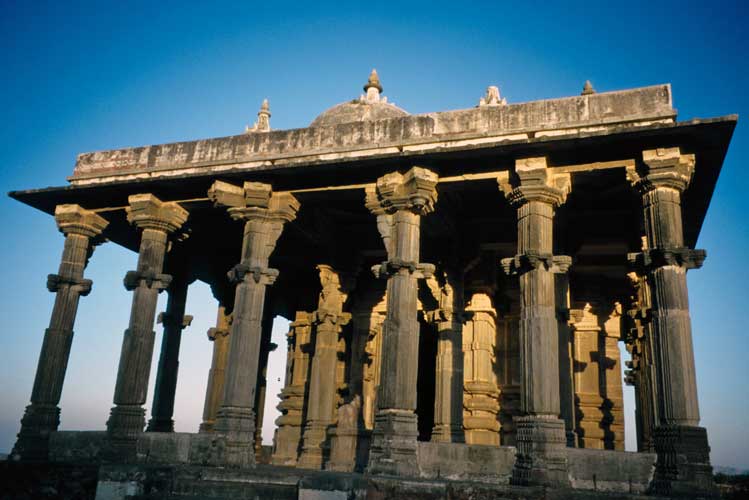 Nilkanth Maha Dev, a Hindu temple to Shiva at Kumbhalgarh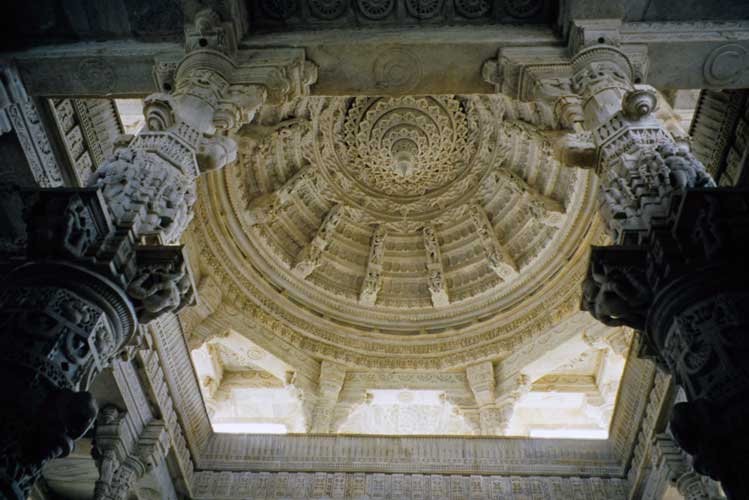 Intricate marble carving inside the Jain temple at Ranakpur