ABOUT THE AUTHOR

Back in school, I always figured that I would settle down to a career job and live happily ever after. Then I discovered traveling! After graduating with a B.A. degree in physics from Berea College in 1972, I found employment with corporate America, but the very short vacation breaks just didn't provide enough time for the trips I dreamed of.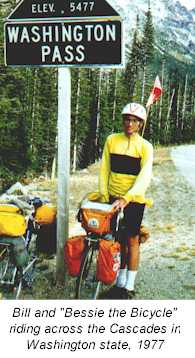 So in May 1976 I took off on my trusty bicycle "Bessie," and rode across the United States from Virginia to Oregon with Bikecentennial '76. The following year I took off on an even longer bicycle trip, from Alaska to Baja California. Then came the ultimate journey—a bicycle cruise around the world. I pedaled the globe from 1980 to 1984, spending most of my time in the South Pacific and Asia, getting as far west as India's Thar Desert. I used Moon Publication's excellent South Pacific Handbook and Indonesia Handbook. Correspondence with the authors led to the idea of writing a guidebook of my own. When I returned to my home base of Flagstaff, Arizona, I set to work researching and writing Arizona Handbook, which took nearly two years.
As soon as that book reached completion, I headed north to the Beehive State to create Moon Handbooks: Utah. Back in Arizona, I plunged into yet another comprehensive guide, Moon Handbooks: Grand Canyon, centered on the wonders of the colorful chasm. I've also written the text for National Geographic Traveler Arizona, which describes the state's highlights accompanied by beautiful photography.
I continue to explore Arizona and beyond, always discovering new places and learning more about the old. Since completion of my round-the-world bicycle ride with ol "Bessie the Bicycle" in 1995, I've continued to cycle extensively with my new "Bessie Too the Bicycle."
My motto is that "Travels in the world and in the mind add to life's richness of experiences."
See Bill's Exotic Travels for tales of my recent adventures.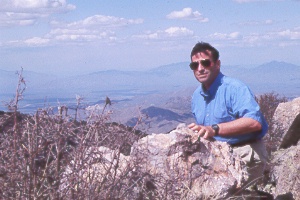 Bill atop the summit of Mt. Wrightson (elev. 9,453 feet).
This peak crowns the Santa Rita Mountains, southeast of Tucson.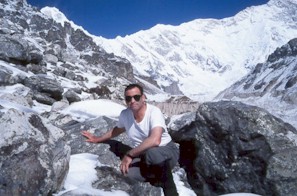 Bill trekking in Nepal below the south face of
Mt. Kangchenjunga, the world's third highest summit, 1998