NORTHERN UTAH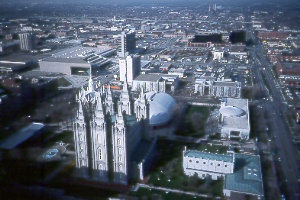 Temple Square
Easily Salt Lake City's most famous attraction, this complex has a special meaning for members of the Church of Jesus Christ of Latter-day Saints, often referred to as the Mormons. Brigham Young chose this spot for a temple in July 1847, just four days after arriving in the valley. Though far from the nearest railhead or city, the settlers took their few tools and began construction of a temple and tabernacle. You're welcome to see these buildings, along with the Assembly Hall, exhibits in the North and South visitor centers, and historic monuments—all of which provide an excellent introduction to the Mormon religion and Utah's early history. Only church members in good standing may enter the sacred temple itself; others can learn about temple activities and see photos of interior rooms in the South Visitor Center. Enthusiastic guides offer several tours in Temple Square. Seeing all the Mormon exhibits on Temple Square and adjacent blocks could easily take more than a day. Flowers and beautiful landscaping on the square give a feeling of peace despite the hustle and bustle outside the walls. Signs request visitors to refrain from smoking on the grounds.

Conference Priesthood Session in the tabernacle


inside the tabernacle organ

The Tabernacle
Pioneers labored from 1863 to 1867 to construct this unique dome-shaped building. Brigham Young desired a meeting hall capable of holding thousands of people in an interior free of supports that would block vision and sound. His design, drawn up by bridge-builder Henry Grow, took the form of massive latticed wooden beams resting on 44 supports of red sandstone. Wooden pegs and rawhide strips hold the structure together. Because Utah lacked many of the building supplies familiar to the workers, they often had to make substitutions. The large organ pipes resemble metal, balcony pillars appear to be marble, and the benches look like oak, yet all are pine wood painted to simulate those materials. The tabernacle has earned fame both for the phenomenal acoustics of the smooth arched ceiling and the tabernacle organ, regarded as one of the finest ever created. From 700 pipes when constructed in 1867, the organ has grown to about 12,000 pipes, five manuals, and one pedal keyboard. Daily recitals demonstrate the instrument's capabilities.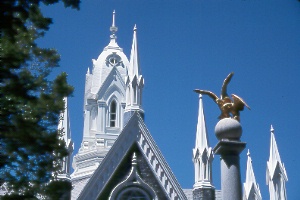 Assembly Hall (detail)
Thrifty craftsmen built this smaller Gothic-revival structure in 1877-82, using granite left over from temple construction. The truncated spires, reaching as high as 130 feet, once functioned as chimneys. Inside the hall, there's seating for 1,500 people and a choir of 100. The baroque-style organ, installed in 1983, has 3,500 pipes and three manuals; the organ's horizontal pipes are trumpets. Initially, the Salt Lake Stake congregation met here; now the building serves as a concert hall and for a variety of church functions.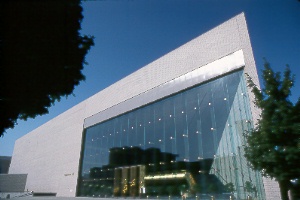 Abravanel Symphony Hall
Easily the most striking modern building in Salt Lake City, this hall glitters with gold leaf, crystal chandeliers, and more than a mile of brass railing. A glass wall 43 feet high and 135 feet long forms one side of the lobby. Extensive use of oak adds warmth inside. Great care with acoustic design has made it one of the best concert halls in the world. Construction took three years and $12 million before the Utah Symphony Orchestra could inaugurate its new home in 1979. An illuminated fountain plays outside on the plaza during concerts. Call the box office for concert dates at 801/355-2787 or 888/451-2787, www.utahsymphony.org. On the southwest corner of S. Temple and W. Temple streets.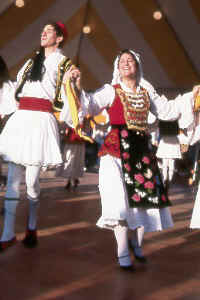 Salt Lake City's Greek Festival celebrates Greek culture in September with food, music, folk dancing, and tours of the historic Holy Trinity Greek Orthodox Cathedral.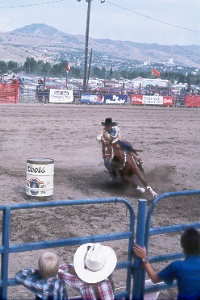 Women's barrel racing at the Utah State Fair
The fair celebrates the state's agricultural heritage and features a rodeo, livestock shows and judging, art and craft exhibits, musical entertainment, and a midway, all at the fairgrounds, North Temple and 1000 West, tel. 801/538-8400, http://www.utah-state-fair.com.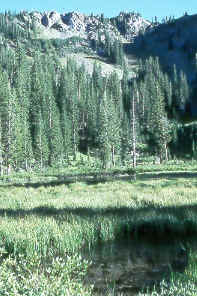 Dog Lake, just off Brighton Lakes Trail in Big Cottonwood Canyon
Cliffs towering thousands of feet form the gateway to Big Cottonwood Canyon, about 15 miles southeast of downtown Salt Lake City. Brighton Lakes Trail winds through some of the prettiest lake country in the range. Families enjoy outings on this easy trail, which begins in Brighton behind the Brighton Lodge, 14 miles up Big Cottonwood Canyon at an elevation of 8,700 feet. The first section follows Big Cottonwood Creek through stands of aspen and evergreens. The trail continues south across meadows filled with wildflowers, then climbs more steeply to Brighton Overlook, one mile from the start. Dog Lake, surrounded by old mine dumps, lies 200 yards to the south. Continue on the main trail a half mile to Lake Mary, a large deep lake below Mt. Millicent. Lake Martha is another half mile up the trail. An additional mile of climbing takes you to Lake Catherine, bordered by a pretty alpine meadow on the north and steep talus slopes of Sunset and Pioneer peaks on the south. Total elevation gain for the three-mile hike to Lake Catherine is 1,200 feet. Hikers can also go another half mile to Catherine Pass and descend 1.5 miles to Albion Basin in Little Cottonwood Canyon. Sunset Peak (elev. 10,648 ft.) can be climbed by following a half-mile trail from the pass. See the Brighton 7.5-minute topo map.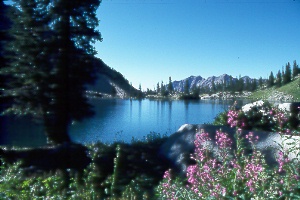 Red Pine Lake in Little Cottonwood Canyon
White Pine, Red Pine, and Maybird Gulch trails lead to pretty alpine lakes. Red Pine and Maybird Gulch lie in the Lone Peak Wilderness. All three trails begin from the same trailhead, then diverge into separate valleys. On any one, you'll enjoy wildflowers and superb high-country scenery. Enter Little Cottonwood Canyon from the junction of UT 209 and 210, four miles south of the entrance to Big Cottonwood Canyon. Start from White Pine Trailhead (elev. 7,700 ft.), 5.3 miles up Little Cottonwood Canyon and one mile beyond Tanners Flat Campground. The trail crosses a bridge over Little Cottonwood Creek and contours west, then southwest to White Pine Fork. The effects of several avalanches can be seen along this section. The trails divide after one mile, just before crossing White Pine Fork; turn sharply left for White Pine Lake or continue straight across the stream for Red Pine Lake and Maybird Gulch. Red Pine Trail contours around a ridge, then parallels Red Pine Fork to the lake (elev. 9,680 ft.), a beautiful deep pool ringed by conifers and alpine meadows. Energetic hikers can rockscramble along the stream another half mile (no trail) to Upper Red Pine Lake. The upper lake sits in a glacial cirque devoid of trees. Trout lurk in the waters, though the lake may remain frozen until late June. Maybird Gulch Trail begins two miles up Red Pine Trail from White Pine Fork and leads to tiny Maybird Lakes. From the trailhead, White Pine Lake is 3.5 miles (2,300-foot elevation gain), Red Pine Lake is 3.5 miles (1,920-foot elevation gain), and Maybird Lakes are 4.5 miles (2,060-foot elevation gain). See the Dromedary Peak 7.5-minute topo map. This whole area receives heavy use from hikers, so greater care with the environment is needed than usual. Please follow the Forest Service regulation that prohibits wood fires within one mile of the lakes.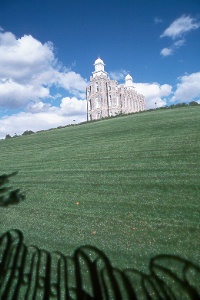 Logan Temple in Logan
The distinctive castellated temple rises from a prominent hill just east of downtown. After Brigham Young chose this location in 1877, church members labored seven years to complete the temple. Architect Truman O. Angell, designer of the Salt Lake Temple, oversaw construction. Timber and blocks of limestone came from nearby Logan Canyon. Only Mormons engaged in sacred work may enter the temple, but visitors are welcome on the grounds to view the exterior. Located two blocks east of Main St. at 175 N. 300 East.